At a Glance
Expert's Rating
Pros
Great entry-level price for budding professionals
Excellent, crisp HD display
Wacom's patented pressure-sensitive technology
Same great HUD as the Intuos5
Cons
Only Cintiq model that doesn't offer a Multi-Touch version
Some Mac users will need an HDMI -> Thunderbolt adapter
Our Verdict
At $999, the Cintiq 13HD is a wonderful small-screen tablet display and an easy purchase. It's held back only by its lack of Multi-Touch.
As an on-again, off-again graphic designer and doodler, I've long lusted after Wacom's Cintiq line. My very first Wacom product, an Intuos, sparked my dreams: How amazing would it be if I could not only draw with pressure sensitivity, but see my digital canvas as I sketched? But Cintiqs in the early 2000s were far too pricy for a day-dreaming high schooler, and I had to make do with my (still perfectly useful) Intuos.
Had the Cintiq 13HD been around when I was learning to do digital inks, however, I would have blown my savings in an instant. Not only is the pressure-sensitive tablet display compact enough that it doesn't require getting another desk on which to use it, but it's incredibly inexpensive for a Cintiq—just $999. I realized that at first glance, $1 less than a thousand doesn't seem particularly price-conscious—until you consider the $2499 and $3699 price tags on the 13HD's bigger siblings.
It has many of the same features, benefits, and build quality as those more-expensive tablet displays, including a 178-degree viewing angle, 2048 levels of pressure sensitivity, and a 1080p HD screen, but in a smaller package—the screen size is 13.3 inches diagonally compared with the 22HD's 21.5 inches. Measure it up against another recent Wacom product, the Intuos5, and you'll find it has almost the same footprint as the medium version of the company's drawing tablet. Add that to the 13HD's weight—just 2.65 pounds—and the display is practically portable.
I say practically because the Cintiq still has one major limitation—unlike Wacom's display-less tablets, it needs a power outlet to function. The cord that connects the 13HD to both power outlet and computer looks much like Apple's 30-pin dock connector: It snaps into the Cintiq on one side, with multiple cables trailing from that—one to connect the display via HDMI, one for USB, and one that leads to the (fairly small) power brick. (Gone is the 12WX's breakout box, thank goodness—these new cords are much sleeker.) Given that no Mac currently offers an HDMI port, you'll also need an HDMI-to-Thunderbolt cable if you want to hook up the 13HD to your iMac or a non-Retina portable Mac.
I had hoped that despite this excess cordage the 13HD would still be relatively moveable, but beyond its viewing stand, that doesn't seem to be the case. When I moved the Wacom from its stand to my lap, the slight jostling of the cable made my iMac lose the 13HD's connection; the only cure was fully unplugging and replugging in the dock connector to the Cintiq. Granted, Wacom's Cintiq line isn't really designed to be constantly moved, but the small form factor makes me want to turn and twist it like I might a sketchbook or an iPad.
If you don't plan to move the 13HD during drawing beyond its stand, however, it should serve you very well. I had only an instance or two of the stand slipping away from the tablet, and that was mostly due to improper seating—in order to properly seat the 13HD in the stand, you need to line up the stand with a small slot in the tablet's back. And it's an excellent tablet for traveling artists—just so long as your actual art allows you to be stationary with your tablet. I like the 13HD much better than the previous small-screen Cintiq, the 12WX.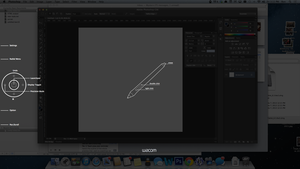 The actual drawing process is as lovely as I always imagined it would be on a Cintiq. It has the same comfortable stylus as the Intuos line, and there really is no substitute to being able to draw directly on your surface (even if that surface is digital). I did have to break a few habits I picked up from drawing on the iPad: namely, the weird "don't let your palm touch the screen" claw formation I would contort my drawing hand into, but also any stray Multi-Touch gestures.
In fact, the lack of touch-sensitivity is the one major disappointment I have with this entry from Wacom. Almost every tablet in the Wacom line now has Multi-Touch support, but the 13HD was introduced as a screen only. While this was perhaps to keep its price at that magic $999 number, I think it hurts the device overall: We've gotten so trained at this point to interact with our screens that to limit it to just stylus and button input makes the 13HD seem crippled in a way. I can't tell you how many times I tried to pinch-to-zoom my canvas or tap on a window before I realized, sadly, that it just wouldn't work.
The 13HD's button and HUD interface certainly isn't bad; it has all the same bells and whistles as Wacom's other tablets, allowing you to map buttons to your liking through a System Preferences widget. The display toggle HUD is also nice, offering a slew of additional user-configurable options. But these features together can't quite replace the pleasure of a touch interface.
Bottom line
At $999, the Cintiq 13HD is a wonderful small-screen tablet display and an easy purchase. It has the same great display and excellent pressure-sensitivity controls as its larger siblings at a fraction of the price, while maintaining solid build quality. If you want something a little more portable and need Multi-Touch support, however, it may not be the tool for you.
Updated at 11:55 a.m. ET to add that some Macs have HDMI ports.