Editor's note: The following review is part of Macworld's GemFest 2013. Every day (except Sunday) from mid-July until late September, the Macworld staff will use the Mac Gems blog to briefly cover a standout free or low-cost program. Learn more about GemFest in this Macworld podcast. You can view a list of this year's apps, updated daily, on our handy GemFest page, and you can visit the Mac Gems homepage for past Mac Gems reviews.
We've long been fans of Objective Development's $35 LaunchBar, an app-launching, file-managing, data-accessing, do-everything utility. We've even published a couple videos ( part 1 and part 2) on getting more out of LaunchBar. The latest version, 5.5, is better than ever.
As always, you can use the app, Spotlight-style, to find and open apps and documents; control iTunes playback; create calendar events; contact your contacts; manage multiple clipboards; run scripts; and much, much more. You can check out our review of version 5.0 for more info on the basics.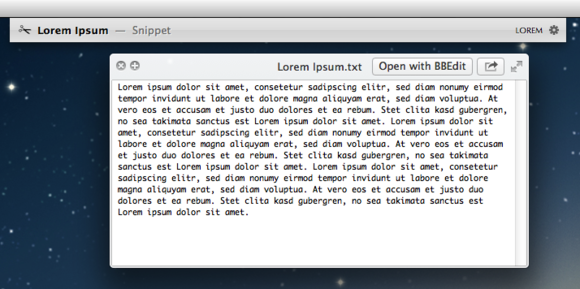 But version 5.5 adds a slew of useful new features. For starters, you can now save, and quickly paste, snippets of frequently used text. The feature isn't as powerful as what you'll get from fellow Mac Gems standout TextExpander, but if LaunchBar's workflow is already second nature to you and your fingers, you may prefer it (or, like me, use it along with TextExpander).
There's also new Automator-workflow integration, so you can both run workflows from LaunchBar and pass data and arguments between workflows and LaunchBar itself. Objective Development has also made significant accessibility/VoiceOver improvements; you can now directly access iCloud-stored documents from within LaunchBar; and new built-in actions let you can take advantage of OS X's sharing services (Twitter, Facebook, AirDrop, and the like) using the LaunchBar methods you're already familiar with.
The list of improvements and enhancements is long, but the short version is this: One of our all-time favorite utilities is now even better.
(Note that Objective Development is currently running a promotion where if you purchase LaunchBar, you get a free copy of the ebook Take Control of LaunchBar.)
Want to stay up to date with the latest Gems? You can follow Mac Gems on Twitter or on App.net. You can also subscribe to the Mac Gems RSS feed.