Editor's note: The following review is part of Macworld's GemFest 2013. Every day (except Sunday) from mid-July until late September, the Macworld staff will use the Mac Gems blog to briefly cover a standout free or low-cost program. Learn more about GemFest in this Macworld podcast. You can view a list of this year's apps, updated daily, on our handy GemFest page, and you can visit the Mac Gems homepage for past Mac Gems reviews.
The number of employees who work outside an office has only increased in the last decade; those of us who don't go into the workplace rely on technology like virtual private networking (VPN) to connect with our office networks. While OS X's built-in VPN tools are fairly robust, networking is inherently an unreliable beast to certain extents.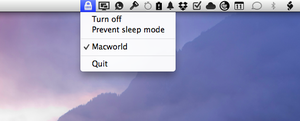 That's where VPN AutoConnect 1.0 ( Mac App Store link) comes in. This simple $1 utility sits in your Mac's menu bar and has a singular purpose: to keep you connected to your VPN. Just choose Turn On from the menu, and whenever your VPN disconnects, VPN AutoConnect will re-initiate the connection. (Depending on your authentication settings, it may be completely transparent—for my work VPN, it just means I get re-prompted for my VPN password.)
When you truly want to disconnect from the VPN, say, at the end of the day, just choose Turn Off from its menu-bar icon. It would be handy to have a global keyboard shortcut to toggle that status, but that's about my only complaint.
VPN AutoConnect supports multiple VPN connections; just select from the menu the one you want to use. There's also an option in the menu to "prevent sleep mode" just in case you don't want your VPN disconnected when your computer goes to sleep.
Want to stay up to date with the latest Gems? You can follow Mac Gems on Twitter or on App.net. You can also subscribe to the Mac Gems RSS feed.