Editor's note: The following review is part of Macworld's GemFest 2013. Every day (except Sunday) from mid-July until late September, the Macworld staff will use the Mac Gems blog to briefly cover a standout free or low-cost program. Learn more about GemFest in this Macworld podcast. You can view a list of this year's apps, updated daily, on our handy GemFest page, and you can visit the Mac Gems homepage for past Mac Gems reviews.
Noted 1.1.0 ( Mac App Store link) is a note taking application that is less powerful than your typical word processor, but much better organized. Noted bills itself as so intuitive that you already know how to use it, and that's largely true—the UI resembles the modern Lion OS, complete with folders.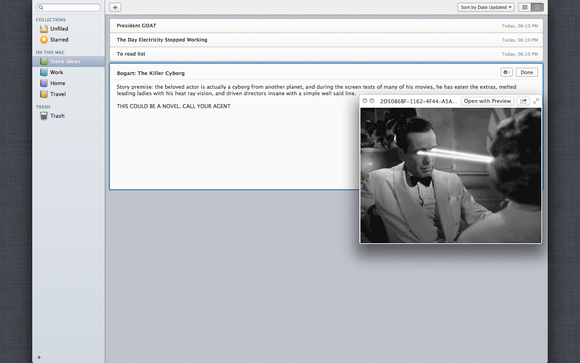 Noted also has competent auto correct, spell-check and markdown features. Creating a numbered list is a breeze, and you can also color coordinate your different folders and items for more organized projects.
While notepad apps are a bit of a niche market, Noted is definitely a step up from OS X's Notes, and at $5, is a lot more affordable than Microsoft Word.
Want to stay up to date with the latest Gems? You can follow Mac Gems on Twitter or on App.net.