Editor's note: The following review is part of Macworld's GemFest 2013. Every day (except Sunday) from mid-July until late September, the Macworld staff will use the Mac Gems blog to briefly cover a standout free or low-cost program. Learn more about GemFest in this Macworld podcast. You can view a list of this year's apps, updated daily, on our handy GemFest page, and you can visit the Mac Gems homepage for past Mac Gems reviews.
Chances are, your Mac is full of movies and TV shows—and your tags are probably a mess. IDentify 2 ( Mac App Store link; note that the Mac App Store version is listed as 521) is a snazzy little utility to help organize your content.
Feed IDentify a pile of videos, and it queries multiple databases (TagChimp, TheMovieDB.org, and TheTVDB.com) to fill in the missing metadata in your files.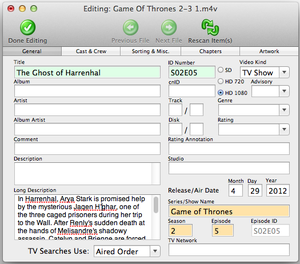 Using IDentify is simple enough. Click the Add Files button and point it at some MP4 videos. Depending on where your files came from and their existing tags, IDentify's results can vary.
I tested IDentify with a variety of movie files and Season 2 of Game of Thrones ripped from DVD. Most of the movies succeeded, but my GoT episodes needed a little prodding to produce matches.
For files that don't match, editing the file names and re-scanning the files usually produced more complete results, although IDentify often requires a little bit of manual tweaking to complete your files' metadata.
Want to stay up to date with the latest Gems? You can follow Mac Gems on Twitter or on App.net. You can also subscribe to the Mac Gems RSS feed.