The word "scrapbooking" may conjure visions of arts-and-crafts sessions for children with paper, scissors, and glue. But if you've ever done research for a project that required you to save data like images, videos, and webpages from different sources, you're already familiar with the adult version of this activity.
To that end, Realmac Software on Tuesday released Ember ( Mac App Store link), a $50 app aimed squarely at professional users who need to build a library with all sorts of digital information.
Quite the lineage
Ember is the successor to LittleSnapper, which has been around for many years and developed quite a following; true to its past, the app continues to allow you to take screenshots and annotate them with drawings or text; you can also rotate and crop the screenshots you take to make sure that the information you actually want to highlight is front and center.
In addition, the app also allows you to capture and store entire webpages, either directly through a built-in Web browser, or by subscribing to a site's RSS feed. Once inside the app, the pages are treated like every other image, and can be manipulated by the same means. If you've ever done any kind of Web design work, the ability to just scribble and type some text on a document is going to be of great use—particularly when coupled with the app's sharing features, which allow you to send any piece of data to a friend or colleague using a variety of methods.
Speaking of the Web, Ember also ships with a set of extensions that can be installed directly in your browser—both Safari and Google's Chrome are supported—which allow you to dynamically capture webpages.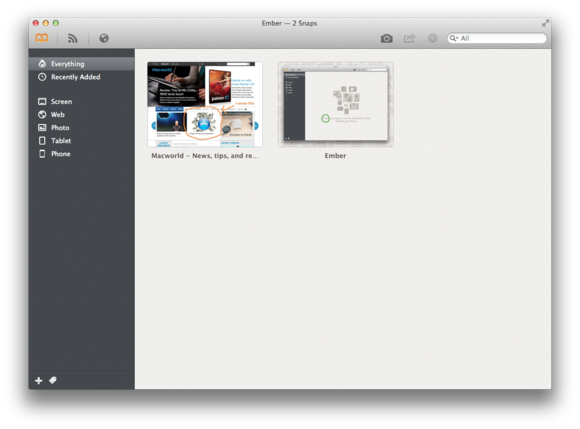 Tag me, sort me, find me
Given the amount of information that you are likely to collect in an app like Ember, I was curious to find out how good its search capabilities are.
For starters, you can attach an arbitrary number of tags to each piece of information that you add to a collection; these are displayed in a convenient utility window to help ensure that you do not inadvertently duplicate a tag and make your data harder to search on.
The app also supports full-text search against all your collections and scraps, using a convenient "live-fill" mechanism that shows you the results visually while you type your search query.
Unfortunately, it doesn't seem that the contents of a webpage are included in the search database; this would be a nice addition for the future.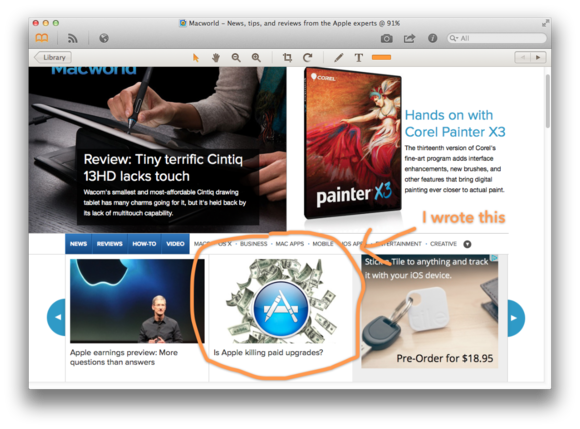 A good start
Ember is an extremely slick app whose developers have paid fanatical attention to every detail of the user experience. As a result, you can find little touches all over the interface, from the way the software remembers the URL of a captured Web document, to its ability to automatically detect and categorize screenshots from an iPhone or iPad.
As I mentioned, the app is designed for professionals, and priced accordingly—particularly when you consider that owners of LittleSnapper don't get any breaks in the form of a upgrade discounts. If you work in a visual field like Web development or graphics design, however, Ember seems well poised to pay for itself in no time, and make your life much easier.