Editor's note: The following review is part of Macworld's GemFest 2013. Every day (except Sunday) from mid-July until late September, the Macworld staff will use the Mac Gems blog to briefly cover a standout free or low-cost program. Learn more about GemFest in this Macworld podcast. You can view a list of this year's apps, updated daily, on our handy GemFest page, and you can visit the Mac Gems homepage for past Mac Gems reviews.
Everyone with a laptop Mac needs to know a handful of tricks to help squeeze a few more computing minutes out of a MacBook battery. Some may decrease the screen brightness, others turn off Wi-Fi, but how do we know if these actions are truly helping matters? Information really does equal power and Battery Health 2.5 provides the battery information you need to get all you can from your Mac laptop.
Available for the low, low price of free from the Mac App Store, Battery Health can reside in either your dock or your menu bar and provide realtime specifics of the state of your MacBook's internal battery.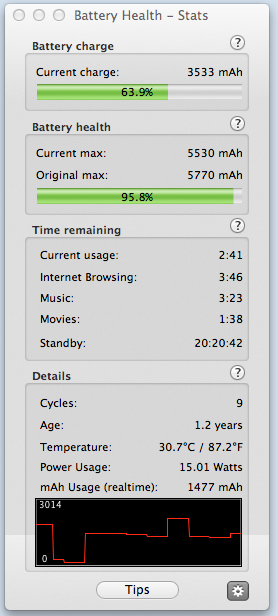 There are many battery status apps, but Battery Health has an attractive, easy- to-use interface and some features not found in similar apps, including OS X's built-in battery monitor software.
Battery Health shows your current charge in both its percentage of full and in its remaining milliampere hours (mAh). The app also shows how much of your battery's original capacity remains (the 14 month old 13-inch MacBook Pro that I'm using still has 97.4 percent of its original 5770 mAh capacity remaining.
Battery Health will estimate (as will Mountain Lion's software) the amount of time your battery—at its present charge—will last doing what you're currently doing. Battery Health goes further, though. When I wrote this review, Battery Health estimated that my MacBook Pro has 5 hours and 55 minutes of battery life left under current conditions. It also estimated the amount of time I have left under different usage scenarios, like browsing the Web (5 hours and 35 minutes), playing music (5 hours and 1 minute), playing movies (2 hours and 25 minutes) or just sitting in standby mode (30 hours and 22 minutes).
One of coolest features of Battery Health is the realtime power usage chart that's available when running on battery power. You can see the Watts or mAh being used currently and see how actions like closing applications, turning of Wi-Fi, or decreasing display brightness affect the amount of power your MacBook demands.
And if you could use a couple of more battery saving tricks in your arsenal, Battery Health also provides a handy list of ten battery-saving tips, including instructions for calibrating your battery.
If you need the most out of your laptop's battery, the more information you have about your computer's energy demands and conditions, the better. Battery Health offers a wealth of such information, laid out in an attractive, unobtrusive style. And for free, this app is hard to beat.
Want to stay up to date with the latest Gems? You can follow Mac Gems on Twitter or on App.net. You can also subscribe to the Mac Gems RSS feed.