BillGuard began life as a a Web app for monitoring your credit cards. You grant the service access to your credit card accounts, and it monitors them for rogue or unwanted charges. And now, there's a BillGuard iPhone app, too.
The company says that so-called grey charges are often legal, but they're still unwanted. Most of these unwanted charges are hard-to-notice small amounts on your bills, BillGuard says, in the $12 to $18 range.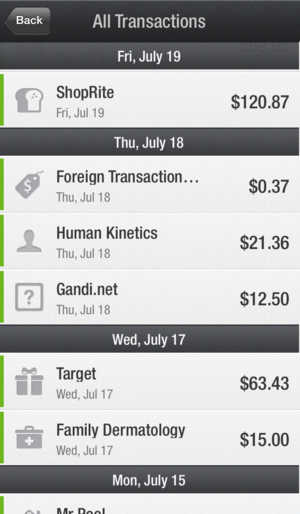 BillGuard looks for "zombie" subscriptions, recurring memberships, unwanted auto-renewals, slowly increasing monthly fees and the like, and warns you when such charges come up—complete with push notifications with the app.
When you first use the BillGuard app, you're prompted to set a passcode. That's separate from your iOS-wide passcode, and prevents snoops from browsing your latest purchases.
You can then add one or more accounts to the app. You provide your login credentials for the bank's website, and BillGuard says it encrypts those and then maintains just read-only access to your accounts.
Any transactions that BillGuard's algorithms detect as potentially concerning get flagged in the Priority section of the app. You can also browse recent purchases, under the appropriately named Recent section. And a third section, Recurring, lists any recurring charges that the app notes.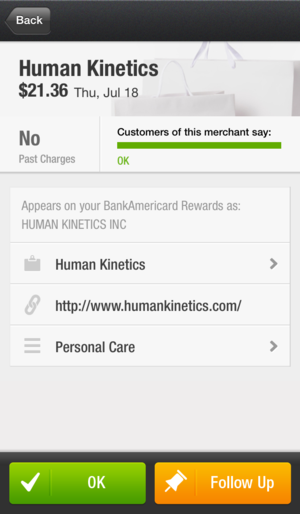 There's also the intimidating All section, which breaks down every purchase you make on your credit card, day by day.
Every purchase is automatically categorized, replete with little icons that reflect what kind of charge each item is. You can tap into each charge for further details, including how many times you've been charged by the same merchant before, a URL for the business when possible, and the ability to flag the charge for further review.
If you can't figure out what a charge is, you can ask a BillGuard analyst, email a friend, iMessage a friend, or Google it, thanks to buttons within the app's interface.
The app is free, and includes the ability to track up to two credits. You can add up to ten cards with BillGuard premium, via a $10 in-app purchase.