Editor's note: The following review is part of Macworld's GemFest 2013. Every day (except Sunday) from mid-July until late September, the Macworld staff will use the Mac Gems blog to briefly cover a standout free or low-cost program. You can view a list of this year's apps, updated daily, on our handy GemFest page, and you can visit the Mac Gems homepage for past Mac Gems reviews.
Apple's forthcoming Mavericks update to OS X will finally bring some new features to the Finder. But BinaryAge's TotalFinder 1.4 still offers the real power tools for users who work with files frequently and need more control (or users who have a Mac that they won't be upgrading to Mavericks).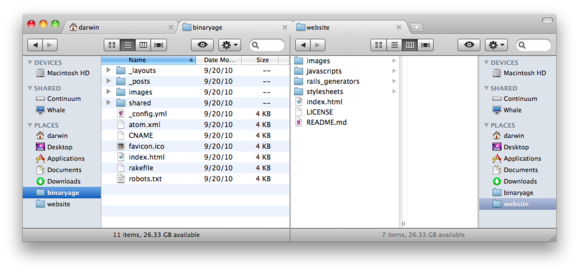 TotalFinder is a plug-in—a modification, really—for the Finder that goes way beyond tabbed browsing (which Mavericks will include). One nice feature is a Dual Mode for displaying two folders side by side in tabs, which makes shuffling files around much easier.
Then there are TotalFinder's many preferences that make the Finder fit much better into your workflow. You can do everything from show system files to change how folders and files are listed together. You can even flip a switch and reintroduce some color to the Finder's sidebar icons. Oh, and TotalFinder adds a Cut command to the copy-and-paste file-management process.
In short, if the Finder hinders your file-organization efforts, TotalFinder is probably the help you need.
Want to stay up-to-date with the latest Gems? You can follow Mac Gems on Twitter or on App.net. You can also subscribe to the Mac Gems RSS feed.