In the span of a few short years, I've learned that my iPhone, among its many virtues, can be a valuable ally in making an agonizing experience slightly less agonizing. Take shopping, for example.
At the risk of perpetuating a stereotype, I confess that I don't love shopping. I hold no grudge against those who do; it's just that the idea of wandering aimlessly through aisle after aisle or waiting in line at the till while others fumble with their wallets is not how I like to spend my spare time.
Even though frequent trips to some store or other cannot be avoided, I've noticed that having Apple's handset with me has subtly changed the way I—and, I suspect, many others—shop.
Remember, remember…
One of the hardest aspects of shopping is remembering everything you wanted to buy, particularly when you're dealing with a long list of mundane items (think weekly grocery shopping). Using pen and paper to keep track of the products you need to buy requires patience and discipline, and often results in forgotten purchases and repeated trips to the store. Computers, on the other hand, are good at this task, which explains the plethora of apps dedicated to to-do and grocery lists in the App Store.
You don't need to buy fancy software to get effective shopping reminders, however; the humble Reminders app makes the process of tracking your needs easy, particularly now that you can share lists between users and add items to them using Siri: Whenever inspiration strikes (or supplies run out), you need only reach for your iOS device or Mac and either type or dictate the items that need buying; later on, the list will be neatly available as you navigate the store aisles. Partners, spouses, and roommates can even add items to the list when they think of them, heading off arguments about whose fault it is that you're out of milk.
Of course, even with technology, things don't always go smoothly. But Reminders still offers a vast improvement over the old-school alternatives, particularly when you consider that its functionality is baked right into Apple's operating systems and integrates well with so many other technologies that we already use every day.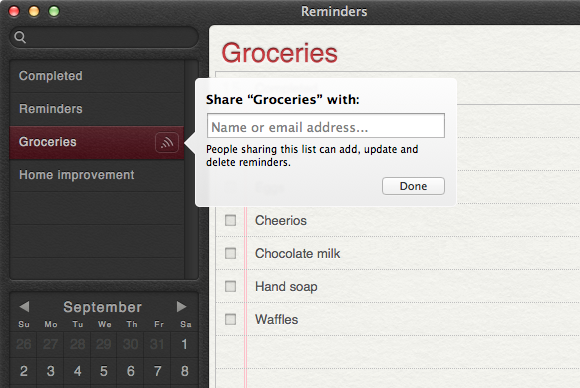 Find, compare, shop
To the chagrin of many a traditional retailer, the Internet has made comparison shopping extremely easy: A bit of planning and a couple of Google searches will quickly point you in the direction of a store that has the best price in your area; plus, because many retail chains now make their inventory available on the Web, you can actually be sure that your trip will not be in vain.
Having an iPhone in your pocket, however, turns this process on its head. You can quickly analyze and compare an item in one store against a multitude of other stores, both traditional and online, either via the Web or through one of many apps built for just this purpose; some of them, such as Amazon Mobile and eBay's Red Laser, even allow you to find products by taking a picture of their UPC barcodes.
This ability to meld the traditional retail experience with the wealth of information available on the Internet makes it easier than ever to be a smart shopper; even if you ultimately decide that the immediacy of the brick-and-mortar purchase is worth a small premium over buying online, you can still make well-informed decisions on the spot.
An express espresso
Once you've decided to buy something, you need to pay for it. Using cash requires figuring out the right combination of banknotes and coins, followed by waiting for the cashier to count your change. Even paying by card is often complicated by the fact that an overwhelming number of cash registers are seemingly unable to automatically differentiate between credit and debit tender.
Apple's Passbook, however, can make the payment process smooth and quick. Even better, it helps you keep track of everything you buy, making participation in loyalty programming and expense tracking much easier. Despite Passbook's somewhat shaky start, more and more companies, like AirBnB and even the McDonald's French subsidiary are allowing customers to use it for everything from renting a room to grabbing lunch, while other companies, like Boston-based LevelUp are turning it into a veritable virtual wallet.
Nowhere is Passbook's potential more obvious than at any of the average neighborhood's two dozen Starbucks. With my iPhone in hand, I can order and pay in a matter of seconds—at least on days when the customer in front of me isn't ordering a 30-syllable beverage. While I don't love Starbucks' coffee, the level of convenience that Passbook provides keeps me a loyal customer.
No more lines
Of course, I would much prefer not having to deal with lines at all, and this is where the iPhone has changed my shopping experience most of all.
Visits to one of Apple's retail locations used to be a fun affair; the staff is knowledgeable, the atmosphere is great, and watching so many nontechnical people browse and eagerly buy all sorts of electronic gear is a pleasure. Of late, however, the stores tend to be very busy, with the result that catching the attention of an employee can be challenging, and even simple purchases take longer than they should.
Thanks to the Apple Store app, I can now walk into a store and complete most minor purchases without having to interact with anyone. I simply place my order (something I can either do at home, or right at the store—where the app even allows me scan items using my iPhone's camera), grab the product, and leave minutes later.
In a sense, the Apple Store app is the ultimate marriage between tradition and technology: You get the convenience of online shopping and the convenience of a brick-and-mortar retail experience. Of course, Apple gains in the bargain as well, since you don't take up the valuable time of a store clerk who could otherwise be selling high-ticket items to a different customer.
A quiet revolution
Perhaps the most interesting aspect of how Apple's devices have affected the way I shop is that they have been able to do so using technology that has mostly been available to smartphone manufacturers for more than a decade.
While other vendors spent their time trying to convince the world that consumers needed broad support for near-field communication to reinvent commerce, the folks from Cupertino have quietly introduced profound changes to our shopping habits by taking what was tried and true, and making the most out of it.
This kind of ingenuity is precisely what makes me love Apple's products so much; I can only hope that more retailers will adopt technologies like Passbook, and take inspiration from what the company has done with the Apple Store app. And maybe, just maybe, I will hate shopping a little less.