Editor's note: The following review is part of Macworld's GemFest 2013. Every day (except Sunday) from mid-July until late September, the Macworld staff will use the Mac Gems blog to briefly cover a standout free or low-cost program. You can view a list of this year's apps, updated daily, on our handy GemFest page, and you can visit the Mac Gems homepage for past Mac Gems reviews.
The issue of what your house or office contains often comes up under unpleasant circumstances, like after a robbery, when you need to figure out exactly what to claim with your insurance company. MYStuff Pro 2.0.12 is designed to ease this process by keeping track of all your purchases and acquisition, neatly grouping them in a variety of categories, recording their value, and even helping you remember when your warranties expire.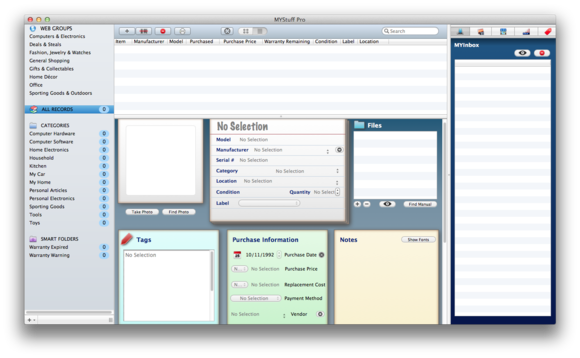 MYStuff Pro is a complex app with lots of features designed to cater to the needs of a diverse user base, including the ability to input your possession by scanning their UPC barcodes through your computer's built-in camera (or from your smartphone).
Should the time ever come to produce a full inventory, the app can produce a neatly-printed spreadsheet, complete with all the appropriate details, that you can hand over to an adjuster or even just keep for your records.
Want to stay up to date with the latest Gems? You can follow Mac Gems on Twitter or on App.net. You can also subscribe to the Mac Gems RSS feed.