Editor's note: The following review is part of Macworld's GemFest 2013. Every day (except Sunday) from mid-July until late September, the Macworld staff will use the Mac Gems blog to briefly cover a standout free or low-cost program. You can view a list of this year's apps, updated daily, on our handy GemFest page, and you can visit the Mac Gems homepage for past Mac Gems reviews.
If it's a Minority Report computing interface you desire, Flutter 0.5 ( Mac App Store link) might get you one step further. The app aims to let you control your music and Keynote slides with hand gestures and your FaceTime camera, with ambitious long-term goals for scrolling, swiping between screens, and more.
Flutter, in its current implementation, uses three hand gestures: fist with thumb pointing to the left to go back; fist with thumb pointing to the right to go forward; and an open palm to play or pause your music or slides. It works out of the box with iTunes, Keynote, Spotify, Rdio, MPlayerX, VLC, Ecoute, and QuickTime; with a free Chrome extension you can also control YouTube, Netflix, Pandora, and Grooveshark.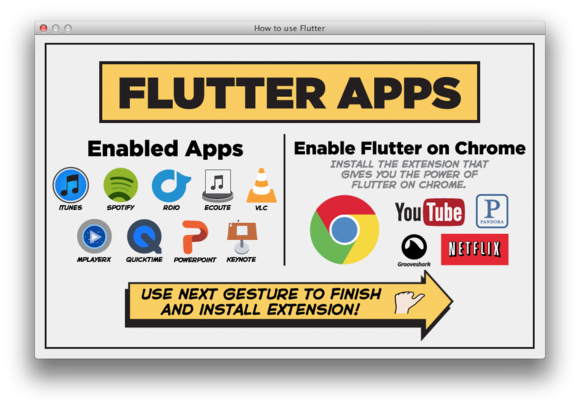 On one hand, this app is exceedingly cool: You feel a bit like a superhero holding up your hand to pause music, and Flutter's gesture detection works very well. On the other, you have to run your webcam whenever you want to make a Flutter gesture.
Even though the company states that no photo or video is being recorded—and you have to opt-in to send anonymous data—it still feels a wee bit creepy. That said, there's a very easy toggle to disable the camera whenever you're not actively making a gesture, which I appreciate.
I can also see this being fantastic for casual parties—no need to tap on a screen when you can just wave at your computer to go to the next song. I'm looking forward to what Flutter has in store in the next year.
Want to stay up to date with the latest Gems? You can follow Mac Gems on Twitter or on App.net. You can also subscribe to the Mac Gems RSS feed.