If you have an Apple ID, then you have an iCloud email account. This free account gives you up to 5GB storage for your emails, minus what you use for documents and other data you store in the cloud. It's easy to work with your iCloud email from Apple's Mail, on the Mac, or on an iOS device. Still, you may not know about the many extra options and features available if you log into iCloud on the Web.
Before you can take advantage of any of the following tips, you need to turn on iCloud. If you already have an Apple ID, which you use on the iTunes store, you may never have set up iCloud. Read this article to get it up and running. Once you've done that, you can use your email account and these five tricks.
1. Access email anywhere
While you may check your email on your Mac, iPhone or iPad, you can also access your messages on the Web. This is useful if you need to get or send email from a shared computer, but also if you need to send or receive files when you're on the road. Just log into icloud.com, and click the Mail icon. You'll have access to all of your email—and all of your contacts, if you've set iCloud to sync them—so you can send and receive messages and files. This can be useful if you need to get a file and print it out when you're visiting a client or friend.
2. Create rules that work on all your devices
You can set up rules—filters that act on incoming email messages—using Mail for OS X. (See this article for tips on using rules.) But these rules only work on your Mac; they don't have any effect on your iPhone or iPad, unless you leave your Mac on all the time. If your Mac's not running, your email will simply flow into your iCloud account's inbox.
But you can set up rules on the icloud.com website that will move messages before they get to any of your devices. For example, you can filter your email so all the messages from your employer go into a specific mailbox.
To do this, you need to create a new mailbox; you can do this on your Mac or iOS device, but with iCloud on the Web, just click the plus-sign (+) icon next to Folders, then type a name for the new mailbox.
Next, click the gear icon at the top-right of the iCloud Mail interface, and choose Rules. Click Add a Rule, then choose one of the first conditions: if a message is from a specific person, has a subject containing a specific word, and so on. In the next field, enter an email address (for a specific person), a domain name, such as macworld.com (this will filter any messages from that domain), one or more words for subject filtering, and so on.
In the next section, choose either Move to Folder, Move to Trash, or Forward to. Then select the folder to move the message to, or the email address to forward it to. Click Done, and the rule will become active.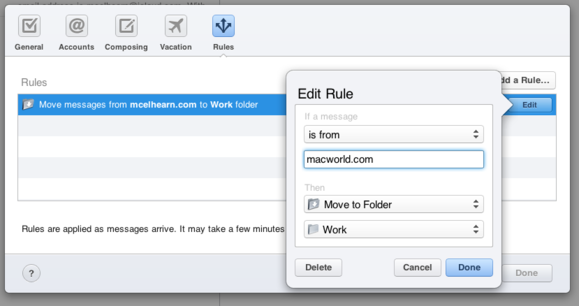 Now, any messages meeting these conditions will be filtered on the iCloud server, and you won't need to leave your Mac on to do the job.
3. Let everyone know you're away
Here's something you can't do in Mail on the Mac, or on iOS. If you're away from work, or on vacation, you may want to set up an auto-response to tell people when you'll be back. Click the gear icon at the top-right of the iCloud Mail page, then click Preferences. Click the Vacation icon, and check Automatically reply to messages when they are received. Enter the text you'd like sent, and then click Done.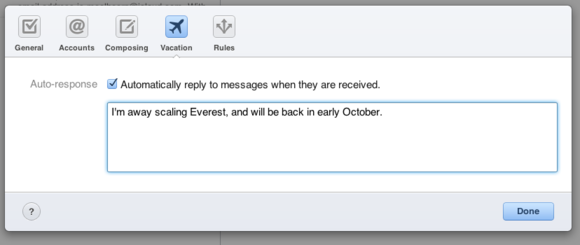 You can combine this with Rules to route work messages to colleagues, too. After you've set up the auto-response, click Rules, and create a rule for specific addresses or domains, and forward them to the person at work who's filling in for you while you're away. When you get back from your trip, just delete the rule.
4. Forward emails to another account
You probably don't have just an iCloud account; you may have another account for work as well. If you get some emails in your iCloud account, you can choose to forward them all to another account. This is a good way to use your iCloud account for some of your email, and download it when you check your main email account. Instead of checking two accounts, you can just check one.
Click the gear icon at the top-right of the iCloud Mail page, click Preferences, and then click General. Next to Forwarding, check Forward my email to, and enter an email address, such as your other account. You can also check Delete messages after forwarding, if you don't want them clogging up your iCloud mailbox.
5. Avoid spam with iCloud aliases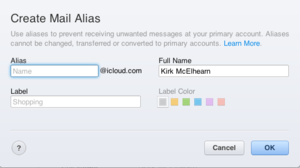 While you only have one iCloud email account, you can set up aliases or other addresses that you can use to send and receive emails with that account. In the iCloud email preferences, click Accounts, then, below the account list, click Add an alias. You can choose up to three aliases, and you may want to create one to use for online shopping sites, and another for friends, so you only use your main account for work. To avoid getting spam to your main address, use an alias when you have to give an email address to register.
The Create Mail Alias dialog box lets you choose an alias and apply a label to it. If the alias you want is taken, you'll be told that it's not available. Click OK to save the alias; you can then use it to send or receive email.
With these tips, you can take advantage of some great features available with your iCloud email account. While you're at it, you can also check out our article on using VIPs to better manage emails from friends and colleagues.