Editor's note: The following review is part of Macworld's GemFest 2013. Every day (except Sunday) from mid-July until late September, the Macworld staff will use the Mac Gems blog to briefly cover a standout free or low-cost program. Learn more about GemFest in this Macworld podcast. You can view a list of this year's apps, updated daily, on our handy GemFest page, and you can visit the Mac Gems homepage for past Mac Gems reviews.
Let's face it, multiple monitor support on the Mac has been painful. That's set to finally be cured in OS X Mavericks, but in the meantime (or if you have no plans to upgrade to Mavericks), Aaron Ng's Multimon 2.51 ( Mac App Store link) eases the pain. Multimon adds a menu bar to your external displays, so you don't have to drag your cursor across multiple displays just to operate your apps.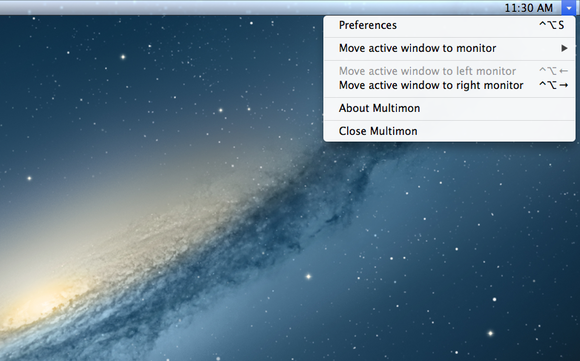 While Multimon's main function just works—even across multiple monitors and desktops—Multimon also enables you to move windows between displays with a keystroke. Just press Control-Option and then an arrow key to move the active window to another monitor.
Best of all, Multimon remembers your window positions, so if you unplug an external monitor from a MacBook, then plug it back in, all your windows return to the same position, instead of winding up a jumbled mess.
If you work with multiple monitors, Multimon is a must-have.
Want to stay up to date with the latest Gems? You can follow Mac Gems on Twitter or on App.net. You can also subscribe to the Mac Gems RSS feed.