Editor's note: The following review is part of Macworld's GemFest 2013. Every day (except Sunday) from mid-July until late September, the Macworld staff will use the Mac Gems blog to briefly cover a standout free or low-cost program. Learn more about GemFest in this Macworld podcast. You can view a list of this year's apps, updated daily, on our handy GemFest page, and you can visit the Mac Gems homepage for past Mac Gems reviews.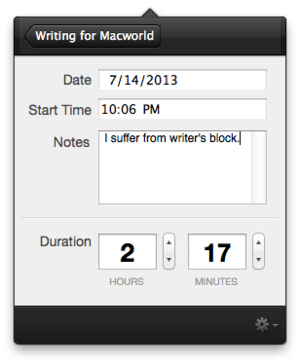 Time, as the saying goes, is of the essence. Whether you're a professional that charges its clients by the hour, or are simply trying to make sense of where your days are going, TicToc (Mac App Store link) is a great little utility that helps you keep track of the amount of time you dedicate to your tasks.
Upon installation, the app stashes itself away in the Menu, where you can use its simple (and elegant) interface to configure and track everything you do down to the minute.
In order to collect a richer level of information, you can also attach notes to individual tasks when necessary—for example, once a month when you need to invoice your clients—you can export all the data to an XML or CSV file, the latter of which can be easily imported into a spreadsheet program like Microsoft Excel or Numbers.
Want to stay up to date with the latest Gems? You can follow Mac Gems on Twitter or on App.net. You can also subscribe to the Mac Gems RSS feed.