Reader Susan Erich seeks a bit of organization in her literature. She writes:
I've downloaded hundreds of free ebooks in a variety of formats and I need help organizing them. Some, I guess, are meant for a Kindle and others can be read on my iPad. I think there are duplicate titles and some of the author information is incorrect. Is there an easy way to sort these things out?
I was completely with you until you mentioned "easy." Separating ebook types is a cinch, locating and deleting duplicates isn't terribly difficult, but when you talk about tidying up title and author information (which relies on the book's metadata) you could be looking at a long and tedious process. But let's hope for the best and run through the steps.
Organizing your books
There are multiple ways to organize ebooks. Some people are concerned only with placing their Kindle-compatible files (with the .mobi extension) in one folder and their iBooks-compatible files (epub files) in another. You can do this with a couple of smart folders.
Move to the Finder and choose Finder > New Smart Folder (or Command-Option-N). In the window that appears click on the Plus (+) button near the window's top-right corner so that you see a row of conditions that reads, by default, Kind is Any. Click on the Kind pop-up menu and choose Other. In the sheet that appears enter extension in the Search field. Two matching items will appear—File Extension and File Extension Hidden. Tick the box to the right of File Extension and click OK.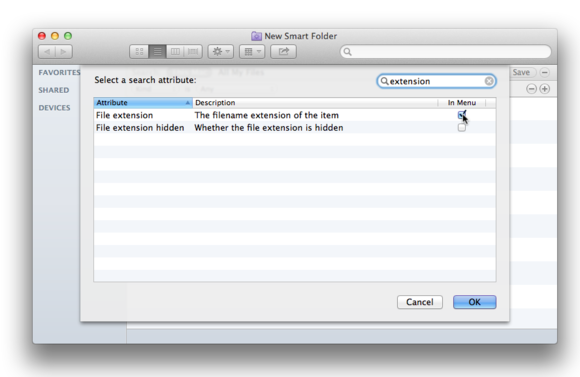 The window's condition will now read File Extension Is. Enter mobi. The window will fill up with ebook files. These are the files compatible with the Kindle. Click Save and in the sheet that appears name the smart folder "Kindle Books," ensure that Add to Sidebar is checked, and click Save.
Repeat this process with a new smart folder, but this time enter epub as the file extension. Save this smart folder as well with a title such as "iBooks Books." You've now created virtual folders for each kind of book.
But you want more. And more is what you'll get.
Using Calibre
Download a copy of the free and open-source Calibre ebook management application. This is a powerful tool, but one that's not entirely intuitive. However, in your case, we can manage what you want without digging into the really obscure stuff.
Create a library: You'll want to start by creating a folder for your books. When you first launch Calibre it will prompt you to do that. By default the library is called Calibre Library and is placed within your user folder, but you can change that location if you like. When you click Next in the setup wizard you'll be asked to choose the kind of device you're using. If you have a Kindle or want to use the Kindle iOS app, choose Amazon. If you have an iOS device, click on Apple. Or you can choose Generic if you like. Then click Finish in the next window and the Calibre library window appears.
Importing your books: Now let's get your books into Calibre. If you've created those smart folders I suggested, you can do this by choosing Add Books > Add Books From a Single Directory and in the sheet that appears, select the appropriate smart folder from the sidebar. Click on the first book in the resulting list, hold down the Shift key, and then click on the list's last book. Then click Open. Those books will be imported into Calibre's library.
Alternatively, if you have all your ebooks jammed into the same folder or volume rather than in a smart folder, choose Add Books > Add Books From Directories, Including Sub Directories (Multiple Books Per Directory, Assumes Every Ebooks File Is A Different Book). And yes, we have a winner for the world's longest menu command. Navigate to the folder or volume that contains your ebooks and click Choose. Calibre will dig down and add all the ebooks it finds to the library.
If you have a mix of ebook types—mobi as well as epub books—all of these files will appear in the library. We can sort them out later.
Cleaning up the metadata: You can clear up a lot of your problems simply by attaching better metadata—information such as author, title, genre, and year of publication, for example—to your books. In order to do that, select all the books in your library and choose Edit Metadata > Download Metadata And Covers. Calibre will go online and try to track down the most appropriate metadata for the books in your library, including cover art. This can take a long time if you have a large library.
Once the process is complete you'll be asked if you'd like to replace your books' metadata. Click Yes.

When you do this you'll find that your library contains more information than it once did. For example, you'll probably see more entries under Publisher than before. You might also find ratings and tags. Hopefully, title and author information will be cleaned up as well. Instead of Dickens, Charles—which is sorted under C rather than D—you should see Charles Dickens. (Though this doesn't always work.)
Note: When you purchase something after clicking links in our articles, we may earn a small commission. Read our affiliate link policy for more details.
Chris has covered technology and media since the latter days of the Reagan Administration. In addition to his journalistic endeavors, he's a professional musician in the San Francisco Bay Area.