Editor's note: The following review is part of Macworld's GemFest 2013. Every day (except Sunday) from mid-July until late September, the Macworld staff will use the Mac Gems blog to briefly cover a standout free or low-cost program. Learn more about GemFest in this Macworld podcast. You can view a list of this year's apps, updated daily, on our handy GemFest page, and you can visit the Mac Gems homepage for past Mac Gems reviews.
Sitting all day is bad for you—we all know this by now. There are a number of apps that will prompt you to take scheduled breaks, and among the better ones is LessApps's Healthier 1.3.1 ( Mac App Store link).
As with many of its competitors, such as the excellent BreakTime, Healthier allows you to set how often you'd like to be interrupted to take a break—between 10 and 90 minutes, at one minute intervals—and how long that break should be—between one and 20 minutes. Healthier resides in the menu bar, where you can see on its icon how long you have before your next break. Clicking on the icon will open a window showing you a timer, counting down to your next break.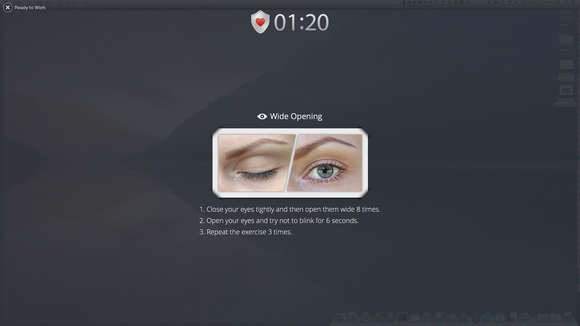 What happens during those breaks? Healthier takes over your screen, counting down the seconds until your break time is over. (You can opt to skip the break by clicking the Ready to Work button in the top right.)
As for what's shown on the screen during your break, you have a couple options. By default, Healthier shows you health exercise you can do to rest those muscles that you tax while sitting at your desk. It might involve shrugging your shoulders for two minutes, or blinking your eyes, or even stretching—there are 14 separate tips in all, and Healthier rotates through them. If exercises aren't quite your thing, or you're more in need of a mental refresh than a physical one, you can disable the HealthierTips in the app's preferences, and instead enjoy one of 50 motivational quotes.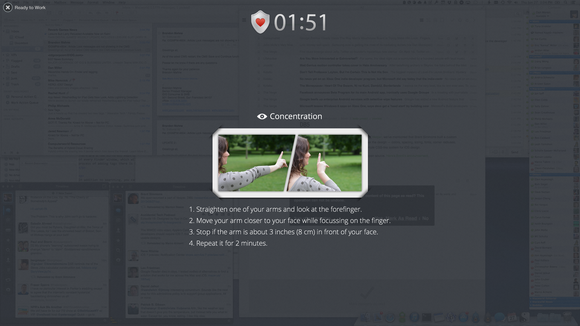 Healthier is simple, and does its job well. It handles multiple displays, lets you easily reset your timer or take a break whenever you want, and will automatically reset the timer when you wake your Mac from sleep.
If I had one complaint, it was that I found some of the exercises to be occasionally tedious, especially when repeated over the course of a multi-minute break—but I'm all too aware that the fault there lies not in Healthier, but in myself.
Want to stay up to date with the latest Gems? You can follow Mac Gems on Twitter or on App.net. You can also subscribe to the Mac Gems RSS feed.