Editor's note: The following review is part of Macworld's GemFest 2013. Every day (except Sunday) from mid-July until late September, the Macworld staff will use the Mac Gems blog to briefly cover a standout free or low-cost program. Learn more about GemFest in this Macworld podcast. You can view a list of this year's apps, updated daily, on our handy GemFest page, and you can visit the Mac Gems homepage for past Mac Gems reviews.
A good number of websites—one is too many—use JavaScript and other code to prevent you from opening links in new tabs. ⌘-Click Avenger is a nifty Safari extension that works behind the scenes to override such code, restoring standard link behavior.
With ⌘-Click Avenger installed, whenever you Command-click a link (or right-click it and choose Open Link In New Tab), the link opens in a new tab, regardless of what the website's developers want.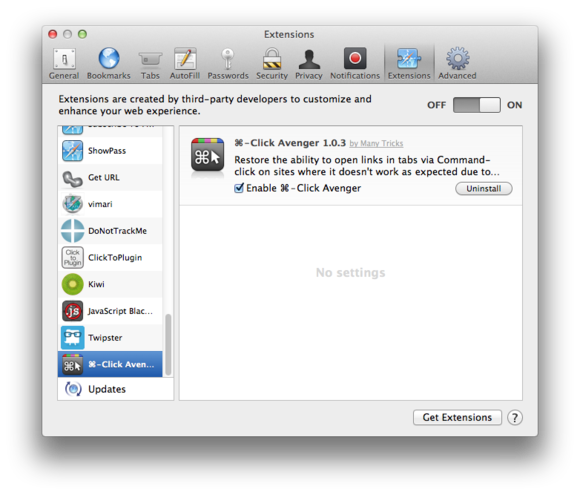 ⌘-Click Avenger doesn't do anything else, but if, like us, you prefer to browse using tabs, it's enough to remove a good amount of Web-browsing frustration.
Want to stay up to date with the latest Gems? You can follow Mac Gems on Twitter or on App.net. You can also subscribe to the Mac Gems RSS feed.