Editor's note: The following review is part of Macworld's GemFest 2013. Every day (except Sunday) from mid-July until late September, the Macworld staff will use the Mac Gems blog to briefly cover a standout free or low-cost program. Learn more about GemFest in this Macworld podcast. You can view a list of this year's apps, updated daily, on our handy GemFest page, and you can visit the Mac Gems homepage for past Mac Gems reviews.
SwitchUp is one of those focused utilities with a single purpose, but a very valuable one. If you ever wished you could have separate profiles, or libraries of data, for apps that don't support it, SwitchUp 1.6 is your answer.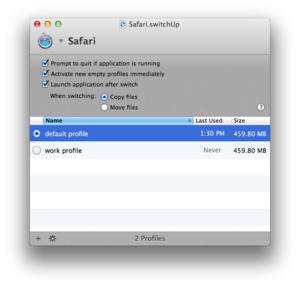 Think about apps like Safari, Evernote, and OmniFocus. They make it easy to organize bookmarks, notes, and tasks (respective) into folders, but you're still limited to the one single library or bundle of folders that the apps support. What if you want to have one Safari profile for your personal bookmarks, or OmniFocus library for personal tasks, then a separate library for work? That's where SwitchUp comes in.
SwitchUp makes it easy to create separate libraries of data for apps that weren't designed that way. Simply drag an app from the Finder onto SwitchUp and you can create as many separate profiles for your needs as you like. It's just a single click to switch libraries, though one downside is that Mountain Lion requires SwitchUp to wait 30 seconds each time you switch.
If you need more flexibility with some Mac apps that don't support multiple libraries, SwitchUp is a great solution.
Want to stay up to date with the latest Gems? You can follow Mac Gems on Twitter or on App.net. You can also subscribe to the Mac Gems RSS feed.