Bare Bones Software on Wednesday released Yojimbo 4, which—at long last—adds syncing to the venerable information organizer for OS X.
Yojimbo 4 will allow syncing across multiple Macs. A sync subscription is free for the first 30 days; after that, sync costs $3 per month. The subscription renews automatically, though you can cancel from within the app at any time.
Were Yojimbo to rely upon iCloud, synchronization would be free. But, as the company has noted frequently in the press and on its own website, Bare Bones simply found that iCloud's sync options for data just weren't good enough.
More than a year ago, company founder Rich Siegel told Macworld, "We are hard at work on implementing iCloud synchronization in Yojimbo…" but that the company had "encountered unexpected technical challenges while bending iCloud synchronization to our will."
At some point, Bare Bones had to give up the fight. "iCloud just turned out to not be workable," Siegel told Macworld this week. "We ended up pursuing an alternative solution." That solution is Wasabi Sync, a third-party paid service for developers, which bills itself as "Core Data cloud syncing done right."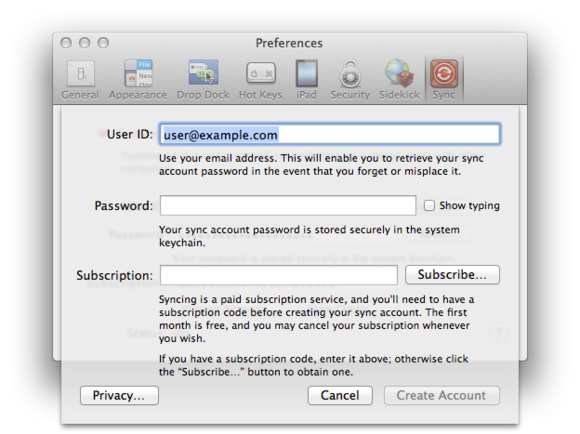 There's a little more friction to get Yojimbo sync set up than there would have been had iCloud worked properly. You need to create a sync account in Yojimbo's preferences and enter your payment details—but of course the sync is optional: If you don't want to sync, you don't have to.
Though Yojimbo for Mac has long offered Wi-Fi-based syncing with Yojimbo for iPad, "for this release, we have focused on Mac to Mac sync," Siegel said. You can still use any one of your Macs to sync with Yojimbo for iPad the old-fashioned way. "Of course, we know customers want to have all their devices possible syncing, and we understand how important that is," Siegel said. Which seems to imply that the iPad app will one day gain the ability to sync automatically, too.
While Siegel stresses that Bare Bones "does not consider the current syncing solution to be a stopgap," he further acknowledges that he and his team "have not painted ourselves into a corner." If Apple improves iCloud data sync significantly, offering value "so strong as to be irresistible, we would be able to adopt it without difficulty."
How to get it
Yojimbo 4 is being released directly through Bare Bones's website only; it won't be made available via the Mac App Store. Siegel explained that the Mac App Store's support for recurring subscriptions wasn't far enough along for Bare Bones to rely on it during Yojimbo 4's development.
Mac App Store customers longing for the synchronization option aren't out of luck, though. Bare Bones says it will offer its assistance in transitioning from a Mac App Store license to a direct one. "No matter how they bought the app, they are our customers," Siegel said.
Yojimbo 4 costs $30; upgrading from earlier versions of the app costs $20. If you bought Yojimbo 3 after June 14, 2013, you can upgrade to Yojimbo 4 for free. The app requires OS X 10.8.2 or later, making it the first version of the app to drop support for 10.6 and 10.7.
Updated at 2:20 p.m. ET to correct the price for Yojimbo. It's $30 new, not $39.