After some 42 lessons, we've tackled most of the parts of OS X that are relevant to new Mac users. But, as they say in the late-night-commercial racket, "But wait, there's more!" And by more, I mean the iLife applications bundled with each new Mac: iPhoto, iMovie, and GarageBand.
These applications, respectively, help you catalog, edit, and share digital images; capture and edit digital videos; and create and edit musical scores, podcasts, and video soundtracks. Although you may not think of yourself as a photographer, filmmaker, or musician, there's absolutely no shame in being an enthusiastic dabbler. Your Mac and these applications can make that possible. As almost everyone has some variety of digital camera—whether it's a DSLR (digital single-lens reflex), a point-and-shoot, or a mobile phone—we'll start our iLife explorations with iPhoto.
The iPhoto interface
iPhoto is a deeper application than it appears at first glance. But in that first glance you can see three major elements: the Library pane, a toolbar that runs along the bottom of that window, and the large viewing area that takes up most of the iPhoto window. Let's take a look at each.
The Library pane
In days gone by, when we depended on printed photos rather than digital images, two photo-management techniques ruled the roost. In one group you had people who carefully placed their pictures in albums or neatly filed their slides in trays. And then there were the rest of us, who tossed every developed picture into a shoebox or drawer. The purpose of the Library pane is to make the first technique easier for those who'd otherwise practice the second.
The program accomplishes that through a variety of processes that depend almost entirely on something called metadata. Normally, metadata is defined as "data that provides information about other data," which ranks right up there with "Chocolate is chocolatey" as one of the world's most unhelpful definitions. Let's go with a concrete example instead.
You've taken a picture with your digital camera, producing an image file. In addition to the image information—all the bits and bytes that re-create whatever you've taken a picture of—the file contains information that describes how large the image is, when it was taken, the format it was saved in, and, perhaps, where it was taken. This additional information is the image's metadata. iPhoto uses the metadata to help you organize your images.
Events: For example, the first entry under the Library heading is Events. This group consists of pictures that you've taken within a particular period of time—a day or, if you've taken just a handful of shots over the course of a week or two, an event that spans several days. Because iPhoto knows when you took these images, it can gang them together without your having to lift a finger. Just double-click an event in the main viewer, and you'll see thumbnail images of all the pictures within that event.
Photos: On the other hand, iPhoto doesn't revoke your ability to toss all your photos into a single bin. Under the Photos entry in the Library pane, you'll find all the images you've imported into the application represented as thumbnails. Unlike a jumbled shoebox full of photos, however, iPhoto allows you to sort your images. Just choose View > Sort Photos, and you can organize your pictures by date, keyword, title, or rating (all of which we'll get to in future lessons). You can also choose to sort your photos in ascending or descending order.
Faces and Places: The Faces and Places categories are significant enough that I'll address them in the coming weeks. For the time being, understand that they're another means for organizing your images. Faces uses a face-recognition technology that seeks out and attempts to identify people who appear in pictures in your library, such as all the photos of your mate or child. Places gathers images based on their location information—all the pictures you've taken in Dubrovnik, for instance.
Recent: The Recent heading includes listings for the most recently added event, images you've taken in the past 12 months, the last batch of images you imported, any images you've flagged, printing projects you've created, and a Trash category. Of these items, Trash is worth a deeper look.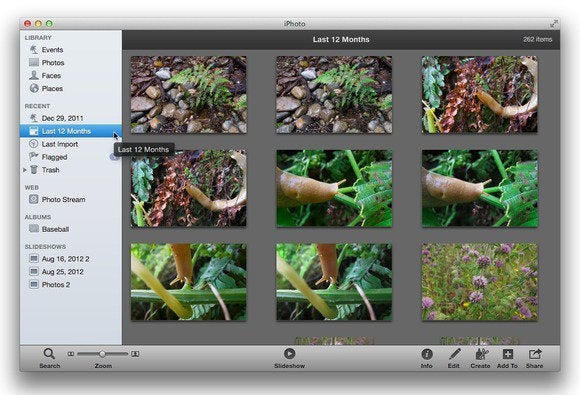 Similar to Apple's Mail, iPhoto maintains its own Trash. When you delete an image or a group of images from iPhoto, they move to iPhoto's Trash rather than the Mac's Trash. This means that the images remain on your Mac, consuming storage space. For this reason it's worthwhile to click iPhoto's Trash entry every so often, confirm that the images in it are ones you don't want, and then click Empty Trash in the top-right corner of the iPhoto window. Once you do so, those images are truly gone.
Web: What appears under the Web heading depends on the services you've allowed iPhoto access to. The first entry, Photo Stream, is a service that Apple offers to iCloud users. If you enable Photo Stream on your iPhone, iPod touch, or iPad, any images they've captured will also appear when you select Photo Stream in iPhoto (provided that you've enabled Photo Stream in the iCloud system preference). They will do so because they automatically upload to iCloud's online storage area and then download to your Mac. I'll talk about Photo Stream in a later lesson, but that's the gist.
Additionally, if you've chosen to sync iPhoto with Facebook or Flickr, you'll find entries for those services here. Select one of them, and you can view any images you've uploaded to that service.
Albums: As in the days of printed pictures, you can create photo albums of your images. Such digital versions can be similar to real photo albums, where you select images from your photo library and carefully array them in an attractive order. Or you can create smart albums—albums filled with images that meet certain conditions, such as any images that you took with the camera's flash switched on, or photos to which you've assigned a five-star rating. I'll go into the specifics of creating albums in a future lesson.
Projects: Pleasing as digital images confined to a computer or an iOS device can be, digital images in their native format make a lousy gift. ("Thank you, dear. Just what I've always wanted—a USB stick!") There's still magic in the printed image, and iPhoto provides ways to produce your images in the form of printed books, calendars, and cards. When you create such a thing, you'll find it listed under this heading. And yes, this is another aspect of iPhoto that deserves its own lesson.
Slideshows: iPhoto is also capable of creating, playing, and saving slideshows of selected images. But its handling of slideshows can be a little confusing. A Slideshow button appears within the toolbar at the bottom of the iPhoto window. When you click that button, iPhoto presents a full-screen slideshow of the selected images after prompting you to choose the slideshow's theme. However, such slideshows are temporary, and will not appear under the Slideshows heading in the Library pane.
In contrast, if you select an event or some images and choose File > New Slideshow, you're well on your way to creating a slideshow that you can save and export. Any slideshows that you make in this way will appear under the Slideshow heading. (I needn't tell you that we'll examine slideshows in depth in a later lesson, right?)
The toolbar
Unlike with most other Apple applications, iPhoto's toolbar sits at the bottom of the window. It bears a feature for searching your library, controls for increasing or decreasing the size of thumbnails and images in the main viewing window, the Slideshow button that I've mentioned, and—in most views—Info, Edit, Create, Add To, and Share items. Let's run through them.
Search: Click the Search button, and a field appears where you can search for images by title, description, date, keyword, or rating.
Zoom: The Zoom slider appears when you're looking at thumbnail images or full-size pictures. If you zoom in to the point where the image exceeds the size of the display, a small Navigation window pops up to show a small representation of the image, with the active part of the image displayed in full color and the portions you can't see in a lighter tone. To navigate around the picture, drag the active portion of the image within this window. To view a thumbnail or a full-size image at its highest zoomed-out or zoomed-in setting, just click the small icon at the left or right side of the Zoom slider, respectively.
Info: Click this button to expose the Info pane. Within this pane you'll find much of the metadata attached to the image, including the file's name, the date and time the image was made, the camera that captured the image, the file format, the camera's focal length at the time of capture, the image's size, and the ISO, aperture, and exposure settings. You can also rate the image by clicking one of the five stars, and you can add a description to it. You will also see a Sharing entry if you've shared the image with a service.
Faces and Places entries are present here as well. Again, this is a subject we'll address in a future lesson.
Edit: One of the wonders of digital photography is that darkrooms are, for the majority of us, a thing of the past. We can do all our image editing on our computers. iPhoto offers just such a virtual darkroom. Within it you can crop and straighten images; change their exposure, contrast, and saturation; and add special effects (convert color pictures to black-and-white or give them an old-time look, for example). The means for making such changes in iPhoto is the Edit button.
Click Edit, and you see three tabs: Quick Fixes, Effects, and Adjust. We'll explore photo editing in another lesson, but for the time being let's look at how they work in a broad sense. The Quick Fixes tab presents Rotate, Enhance, Fix Red-Eye, Straighten, Crop, and Retouch options. You use the Effects tab to change the general exposure or color cast of your images or to apply overall effects such as Black and White, Sepia, Vignette, or Boost. And the Adjust tab is where you make finer changes such as altering exposure, contrast, saturation, definition, highlights, shadows, and sharpness, as well as tweaking de-noise settings.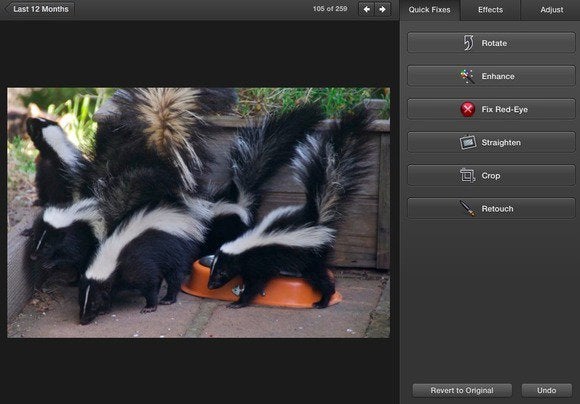 Create: Click this item to produce a pop-up menu with options to create an album, book, card, calendar, or slideshow. (These same options are available in iPhoto's File menu.)
Add To: Another pop-up menu, Add To allows you to add selected events or images to an album, slideshow, Photo Stream, book, card, or calendar.
Share: Yep, another pop-up menu. Click it to see Order Prints, Twitter, Flickr, Facebook, Email, Messages, and Photo Stream options. When you choose Order Prints, the iPhoto window displays an Order Prints area where you can pick the size and the number of prints for the selected images. Click Buy Now, and Apple will process the order via your Apple ID, much as you purchase content through the iTunes Store or App Store. The images will be printed by a photo processor and mailed to you when ready.
If you choose the Twitter, Flickr, or Facebook entry, iPhoto will prompt you to enter your username and password for that service. Once you do so, you can go on to share your images through the service.
Selecting the Email entry creates an email message within iPhoto by default. (You can choose to use Mail instead by selecting Mail from the 'Email photos using' pop-up menu in iPhoto's General preference.) When creating a message in iPhoto, you'll find a To field, a filled-in subject heading, and a From pop-up menu in which you can choose the account for sending your message. To the right are templates, much as you'd find in Apple's Mail. Thumbnails of the selected images will appear in these templates along with some text fields that you can fill in.
Below these templates is an option for attaching the photos to the message, along with a Photo Size pop-up menu (Optimized, Small, Medium, Large, and Actual Size) that's active if you've enabled the Attach photos to message option. These settings exist not only for the benefit of those who receive the images, but also to help ensure that the pictures you send actually reach their destination. Some email services limit the size of messages that you can send through them—a 10MB limit is common. If you choose Optimized, iPhoto will do its darndest to make sure that the mail will go through by creating image attachments that will slip under such a limit.
Regardless of which photo size you choose, at the bottom of the message you'll see a Message Size entry followed by the size of the message and the number of attached photos. This information can help guide you when you're choosing a size.
When choosing Messages, be aware that you can attach no more than ten images to a single message. Also, attached images will likely be converted to a smaller size.
And when you choose Photo Stream, you can place your image in a shared photo stream that other people can subscribe to. I'll show you how to do that in another lesson.
The big picture
Finally, there's the main viewing window. When you select Events or Photos in the Library pane, you'll see thumbnail images of your events or photos, respectively. Choose Faces, and a corkboard displays thumbnails of the people you've identified. Click Places, and a world map displays red pins to indicate locations where you've taken pictures. Thumbnail images will appear when you select most items under Recent or Albums.
When you choose Photo Stream, you'll see all the images in the one photo stream you have, or, if you've chosen to share images in separate photo-stream albums, you'll see each stream represented as an album.
Select an item under the Slideshows heading, and the viewing window will split into two parts. At the top will be thumbnails of your images arrayed along a line; you can drag thumbnails within this line to change the order of the images within the slideshow. Below the thumbnails, the selected image appears at a larger size. If you click the first slide, you'll see a text area, which holds the name of your slideshow. To change that name, just click the text field and type in a new title.
When you select a slideshow, you'll also see new items in iPhoto's toolbar for assigning a theme to the slideshow, choosing music to accompany it, and editing its play time per slide and transitions. Again, we'll go over the ins and outs of slideshows in another lesson.
Hover your cursor over a thumbnail, and two items appear: a downward-pointing triangle and a gray flag. Click the triangle to view options for that image; you can rotate it, hide it, or trash it. In addition, you can assign a rating to it, cut or copy it, and, in views other than Events, show the event to which it belongs. In the case of thumbnails within events, you'll find a Make Key Photo option here. Select that when you want the picture to act as the cover image that represents the event.
As for the gray flag, you can click it to add the image to the Flagged album, which you'll find in the Library pane.
To fill the viewer with an image, just double-click it. Above the image you'll spy arrows for moving back or forward through your images. (You can use your Mac's arrow keys for the same purpose.) To return to thumbnail view, just click the left-pointing arrow at the top-left corner of the viewer (which may read 'Photos' or 'All Events' or the name of an album you've created, depending on your starting point).
Where we go from here
As I said, iPhoto is a far deeper application than it appears. You now have the lay of the land, but we have much more to explore. In the coming weeks we'll look at importing and sharing images, working with albums, editing pictures, using Faces and Places, and creating slideshows and projects.
Next week: Importing and sharing images.