Macworld Expo is a great way to see products for the Mac and iOS devices. But of the thousands of products on display, a select few stand out. These products are recognized with our Best of Show awards.
Macworld's editors use their knowledge of the market and their expertise to determine the candidates, and after several spirited arguments, we figured out the winners. Here's a complete list of Macworld 2011's Best of Show.
Awind McTiVia This box attaches to an HDTV in order to display your Mac's video wirelessly. The McTiVia ($199) connects to your HDTV via HDMI, and a software component on your Mac tells it to transmit a signal to the McTiVia. The box can also act as a wireless access point for your home network, and has a USB port for connecting a mouse and keyboard to control your Mac.
BusyMac BusyToDo When you have a lot of tasks, it helps to have your to-do list handy and current. BusyToDo helps manage your to-do list, and works with iCal, your iOS device, and MobileMe to make sure your list is always in sync. It also syncs your list in real-time, so when an item is marked as done on your iOS device it's also marked as done in iCal at the same time.
Dane Elec myDitto Key The myDitto Key ($250) works with the myDitto Server to give you access to your server files from any computer. Just insert the myDitto Key into your Mac's USB port, and you'll have encrypted access to the server. No software needs to be installed on the client computer.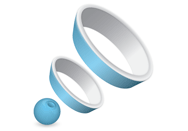 Global Delight Boom Ever wish you Mac's volume really could be turned to 11—or even 12, 13, 14, and 15? It can with Boom ($5), which works with streaming videos, iTunes music, video conferencing, and more to boost the sound volume.
OWC Mercury Aura Pro Express Solid State Drive If you have a new MacBook Air, the stock flash storage might be too cramped for your files. Thanks to OWC, you can upgrade the flash storage to 180GB ($500), 240GB ($580), or 360GB ($1,180). And OWC even provides tools so you can perform the upgrade yourself.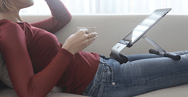 Rain Design iRest for iPad Next to iPad cases, iPad stands were very popular on the show floor. The iRest features foam cushions for resting the stand on your lap, and a torque hinge that allows you to adjust the angle.
Scosche myTrek Pulse Monitor and iOS app This heart monitor has two LEDs and an optical sensor to measures variances in blood density. It uses Bluetooth to send data to the iPhone, where the myTrek app helps manage your training.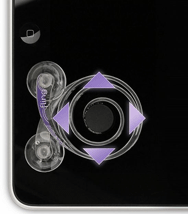 TenOne Design Fling iPad games are fun, but what's not so fun is trying to figure out how to use a virtual joystick. The Fling ($30 for a pair, $20 for one) is a joystick that uses small suction cups to attach to your iPad's screen, so you can feel like you're in control again.
Web Information Solutions Pocket Informant 2.0 This personal information manager for iOS has a fresh new interface that makes it much easier to use. For anyone who is serious about getting things done, Pocket Informant ($5 for iPhone, $7 for iPad) has a ton of calendaring, appointment, and task features to make sure you're on top of things.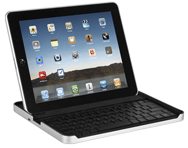 Zagg ZaggMate with keyboard It's hard to not run into an iPad case company on the show floor, but the ZaggMate ($99) stands out because it has a built-in Bluetooth keyboard. Stand the iPad on the ZaggMate, and you have an iPad laptop. When you're done, you can place the iPad screen-down into the ZaggMate, when the aluminum case provides protection.