Editor's note: The following review is part of Macworld's GemFest 2013. Every day (except Sunday) from mid-July until late September, the Macworld staff will use the Mac Gems blog to briefly cover a standout free or low-cost program. Learn more about GemFest in this Macworld podcast. You can view a list of this year's apps, updated daily, on our handy GemFest page, and you can visit the Mac Gems homepage for past Mac Gems reviews.
Dropzone ( Mac App Store link) is one of those things you don't know you need until you use it. At it's simplest, Dropzone lives in your menubar, and expands to a palate of actions, whether that's compressing a file and emailing it, or uploading a picture to your Flickr account.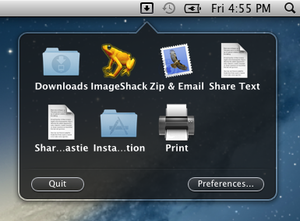 Performing an action is as simple as dragging a file to Dropzone, or clicking the action in the Dropzone interface. Choose from a wide variety of built-in actions, or add your own from an extensive list of user-built actions at Aptonic's website.
To make Dropzone even easier to use, the Circles feature let you keep a few frequently-used actions accessible from the Desktop. Dropzone is simple, elegant, and now I can't work without it.
Dropzone is quick and intuitive, and the variety of optional actions will be a boon to any workflow.
Want to stay up to date with the latest Gems? You can follow Mac Gems on Twitter or on App.net. You can also subscribe to the Mac Gems RSS feed.