Editor's note: The following review is part of Macworld's GemFest 2013. Every day (except Sunday) from mid-July until late September, the Macworld staff will use the Mac Gems blog to briefly cover a standout free or low-cost program. Learn more about GemFest in this Macworld podcast. You can view a list of this year's apps, updated daily, on our handy GemFest page, and you can visit the Mac Gems homepage for past Mac Gems reviews.
Many of the cloud-syncing services out there, such as Dropbox, sync across all your computers and devices any data you place in a specific, special folder on your Mac's drive. This approach makes these services dead-simple to use.
But as we've covered elsewhere, you can sync almost any folder on your drive through creative use of Unix symbolic links (which are similar to OS X's aliases)—assuming you know how to create them, or don't mind the hassle of doing so.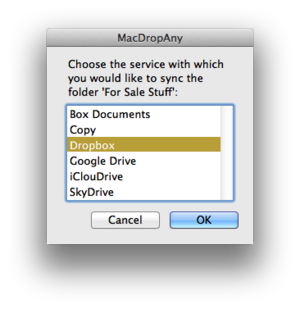 MacDropAny does all this legwork (or fingerwork, if you will) for you. Open a folder in MacDropAny—either by dropping the folder onto the utility's icon, by launching the utility and using its Open dialog box to select the folder, or by selecting the desired folder in the Finder and then using the new Sync Via MacDropAny option in the Finder's Services menu—and you get a dialog asking which sync service you want to use: Box, Copy, Dropbox, Google Drive, iClouDrive (the developer's app for using iCloud for syncing files and folders), or SkyDrive. Choose a service and click OK; choose where in your service's sync folder you want the link to go; and choose a name for the link, and MacDropAny creates the appropriate symbolic link in the necessary location—your data will begin syncing to the chosen service immediately (provided you have an active Internet connection, of course).
The developer's website provides instructions for keeping a folder in sync between multiple computers, even if that folder resides outside your sync service's special folder on any computer.
MacDropAny doesn't do anything you couldn't do on your own…assuming you knew the right Terminal commands and felt comfortable using them. But that's the case for many system tweaks in OS X. MacDropAny is simple, free alternative that anyone can use.
Want to stay up to date with the latest Gems? You can follow Mac Gems on Twitter or on App.net. You can also subscribe to the Mac Gems RSS feed.