Editor's note: The following review is part of Macworld's GemFest 2013. Every day (except Sunday) from mid-July until late September, the Macworld staff will use the Mac Gems blog to briefly cover a standout free or low-cost program. Learn more about GemFest in this Macworld podcast. You can view a list of this year's apps, updated daily, on our handy GemFest page, and you can visit the Mac Gems homepage for past Mac Gems reviews.
Compared to OS X's Reminders, Taskdesk 1.0.4 ( Mac App Store link) is an upgrade, allowing you to prioritize, attach images, create deadlines, and manage multiple lists.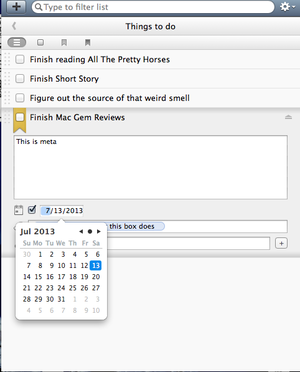 For workers in charge of multiple projects, it's a great alternative to organizing through iCalendar. The ability to not only see, clearly, when and what is due, but also to attach the pertinent documents to the task can be a real time saver.
Taskdesk appears as a dropdown menu from your navigation bar, ensuring its always there but never cluttering your home screen. I would have like to see some kind of pop up or noise component to remind people of overdue/impending tasks or assignments, but for users looking for a more robust and easy to use task manager, Taskdeck is definitely worth a look.
Want to stay up to date with the latest Gems? You can follow Mac Gems on Twitter or on App.net. You can also subscribe to the Mac Gems RSS feed.