Editor's note: The following review is part of Macworld's GemFest 2013. Every day (except Sunday) from mid-July until late September, the Macworld staff will use the Mac Gems blog to briefly cover a standout free or low-cost program. Learn more about GemFest in this Macworld podcast. You can view a list of this year's apps, updated daily, on our handy GemFest page, and you can visit the Mac Gems homepage for past Mac Gems reviews.
The Internet is full of great stuff to read, but keeping track of it all is a chore. Luckily, read-it-later Web services like Pocket, Readability and Instapaper have sprung up to help you collect articles. Words App 2.2.1 ( Mac App Store link) brings those services to the desktop, giving you quick access to your links across services, as well as cool tricks like supporting cross-platform tags and folders, search, and offline reading.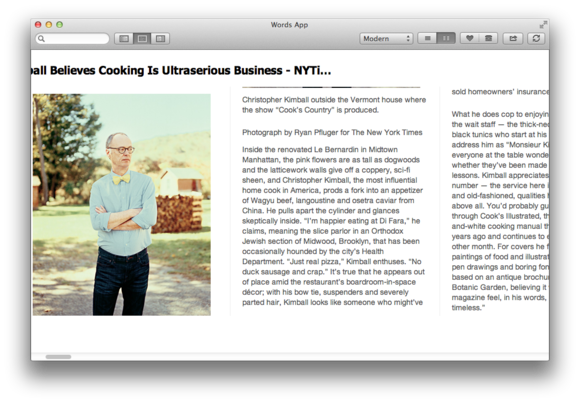 The Words App interface is clean and beautiful (except for the Comic setting, but I'm pretty sure that's a design-geek joke) and lets you switch between different font styles, as well as a single- and multi-column options for a custom reading experience.
Keyboard ninjas will appreciate the extensive keyboard shortcuts for reading, filing, tagging, and archiving stories.
If you spend time with any of the three supported services, Words App is well worth the money.
Want to stay up to date with the latest Gems? You can follow Mac Gems on Twitter or on App.net. You can also subscribe to the Mac Gems RSS feed.