Editor's note: The following review is part of Macworld's GemFest 2013. Every day (except Sunday) from mid-July until late September, the Macworld staff will use the Mac Gems blog to briefly cover a standout free or low-cost program. Learn more about GemFest in this Macworld podcast. You can view a list of this year's apps, updated daily, on our handy GemFest page, and you can visit the Mac Gems homepage for past Mac Gems reviews.
OS X doesn't provide menu-bar access to screen resolutions, but there are plenty of third-party apps that can do the trick, including Eye-Friendly, Pupil, and QuickRes. ResolutionTab 1.1 ( Mac App Store link) joins the fray and the $2 app is a viable option.
Like the other apps, ResolutionTab sits in the menu bar. Click on its icon, and you can select the resolution you want for your screen. ResolutionTab support multiple monitors, and it senses where your menu bar resides and notes that display as the Main Display.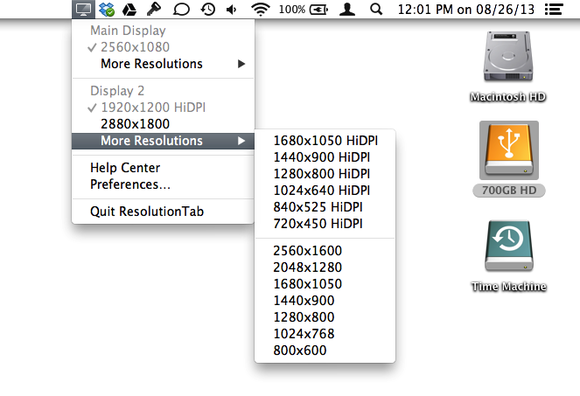 If you have a Retina MacBook Pro, the developer says that HiDPI modes for the 15-inch Retina laptop are on by default, but you have to turn on HiDPI mode for other Macs. There are two ways to do this, which are detailed in the ResolutionTab support site. The 11-inch MacBook Air does not support HiDPI.
ResolutionTab allows you to set a global keyboard shortcut for switching back and forth between the current and previous resolutions. A nice touch, though you'll have to figure out a key combination that doesn't conflict with one currently in use.
Want to stay up to date with the latest Gems? You can follow Mac Gems on Twitter or on App.net. You can also subscribe to the Mac Gems RSS feed.