If you happen to be home on this lovely Tuesday morning, you'll find a surprise awaiting you on your Apple TV: As first reported by 9to5Mac, an automatic update adds not only the rumored Vevo music-video app, but also the Disney Channel, Disney XD, the Smithsonian, and the Weather Channel. They join a slew of Apple-approved content channels already on the Apple TV, increasing the total number of available services to 20.
It's no surprise to see apps from Disney on the Apple TV, given Apple's close relationship with the studio (Disney's sports-based subsidiary, ESPN, has been on the device since June). It's worth noting, however, that both the Disney Channel and Disney XD apps are locked to your cable provider; to activate, you must open each app, visit Disney's unlock website, enter a device-specific code, then log in with your cable provider information. Not all providers are supported: DirectTV and Dish subscribers are currently out of luck in the U.S., for one.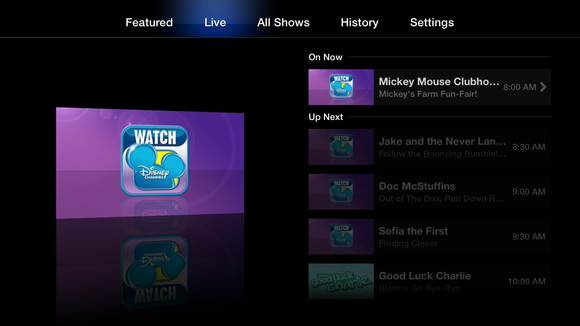 Disney also joins ESPN, Sky News, WSJ Live, and other apps in letting you watch live television from your Apple TV. You can't pause or rewind shows, as you would from a DVR, but you can view a list of what is airing next and stream any archived shows.
Meanwhile, the Vevo channel streams live VevoTV—which supports DVR-esque pause/rewind controls—along with individual music videos for the top popular music available worldwide. The Smithsonian app offers full episodes from the Smithsonian Channel, along with featured clips and popular segments.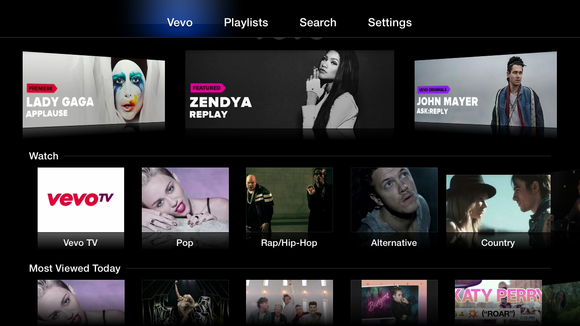 The Weather Channel is perhaps the most interesting of the new additions: It's the first third-party offering on the Apple TV that doesn't simply stream video, but instead acts more like an iOS app, displaying current weather and forecast information.
The channel's hallmark weather videos are also available, of course, but buttons let you view your current weather conditions, hourly breakdown, and a ten-day forecast. Select hourly or ten-day, and the video screen goes away, replaced with a two-column view of forecasted weather conditions. Though these features alone don't signify a huge shift in Apple's treatment for Apple TV apps or the future of Apple TV, they mark an intriguing change nonetheless.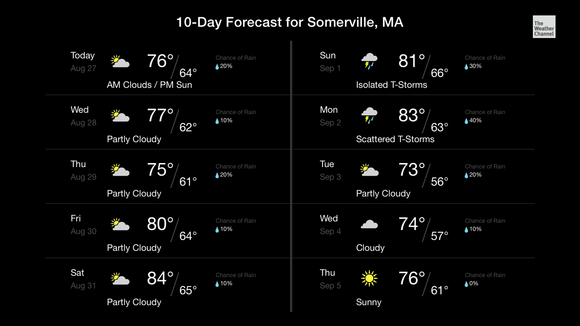 One network we're still waiting to see appear in Apple's app lineup is the CW; the network confirmed back in May that it planned to stream shows on the Apple TV the day after air with no cable subscription, but gave no release date for the app.
Vevo is available on the Apple TV in several countries, including the U.S., Canada, Australia, New Zealand, UK, Brazil, France, Ireland, Italy, Spain, the Netherlands and Poland. Other content channels may also be restricted by country.