For years now, we've been watching an ongoing tit-for-tat battle between VMware and Parallels. Both companies make virtualization apps— VMware Fusion and Parallels Desktop—which let you run Windows (and other operating systems) on your Mac. Every year or so, the two companies release new versions of their apps, each trying to one-up the other. VMware has just fired its salvo for 2013, releasing version 6 of its Fusion and Fusion Professional virtualization apps.
Given that VMware Fusion is all about running other operating systems on the Mac, it's not surprising that the new release focuses on compatibility with the latest versions of OS X and Windows.
Fusion 6 is designed specifically to take advantage of new features in OS X Mavericks, including its refined handling of full-screen apps. (Running a Windows virtual machine full-screen on one display, while still running your OS X apps independently on another, is an attractive prospect.) Fusion 6 can also bring Mavericks's enhanced dictation support to Windows apps.
Fusion 6 is also ready to support Windows 8.1 (which ships in mid-October) as one of the other OSes it'll run on your Mac. As with earlier versions of Fusion and Windows, you'll be able to run apps from the Windows Store either side-by-side with your Mac apps (with their own icons in the dock and everything) or all together in a single "Windows" window.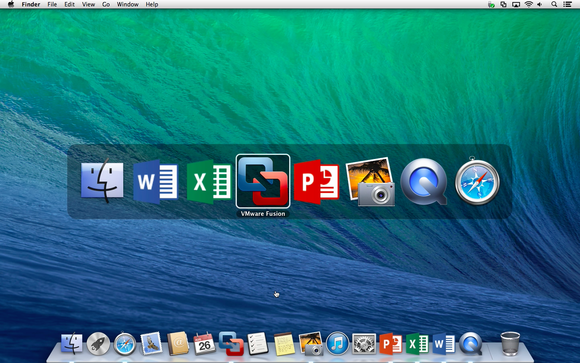 VMware says it's also optimized Fusion 6 for some of the latest and upcoming Mac hardware. It provides better support for running Windows on Retina displays, and takes care of little things like telling Windows to stop trying to defrag the hard drive when your Mac has an SSD. It can work with much more robust hardware than before, including systems with 16 virtual CPUs, 64GB of RAM, and 8TB of disk storage. ( Can't imagine why.)
The Professional version of Fusion 6 adds some features that only an IT director could love—the ability to define restrictions for virtual machines (so users can't do dangerous things to settings, for example), more efficient cloning (so you can create multiple virtual machines without wasting so much disk space), and the like.
VMware Fusion 6 will cost $60, while the Professional version will run $130. If you're upgrading from Fusion 4 or 5, you can upgrade to Fusion 6 or Fusion 6 Professional for $50 or $70, respectively. There's also a free 30-day trial available for both.