For all we've heard about iOS 7 in the lead up to next week's iPhone event, one Apple avenue has been eerily silent: iBooks and the iBooks Store (née iBookstore).
If nothing else, the app is ripe for a design change in line with the rest of iOS 7, and the WWDC preview of OS X Mavericks's iBooks for Mac would seem to suggest as much—a demo of the Mac app given by Apple senior vice president Craig Federighi showed nary a wooden shelf or animated page turn in sight. But that alone won't be enough to give iBooks its time in the spotlight next Tuesday. Instead, I suspect we'll see something a little more significant: support for iBooks Author ebooks on the iPhone.
Author, author!
When the company's free iBooks Author tool and its proprietary format were first released in 2012, Apple had a legitimate reason to exclude the iPhone. The app was designed first and foremost for textbooks, with an eye to boosting iPad adoption in classrooms; thus it featured landscape-only templates with interactive elements and fixed-size text—hardly features that were friendly to devices with smaller screens.
But times have changed. iBooks Author ebooks have expanded far beyond textbooks, and they can now be read on the iPad mini and even support portrait layouts. And when it launches this fall, OS X Mavericks will let you read iBooks Author ebooks on the Mac, leaving the iPhone—arguably Apple's flagship product—as the sole device (besides the Apple TV) that's unable to read Apple's proprietary ebook format. (You can't view or purchase iBooks Author-only books on the iPhone, either—you must instead buy them on the Mac or iPad.) Even if the company expects fewer readers to view iBooks Author ebooks on its smartphone, it seems strange to leave such a gaping hole in comaptibility.
But perhaps the time for Apple to address that oversight is nigh.
Reading the omens
In the past, viewing an iBooks Author-created ebook online or via iTunes displayed the following message under the heading of 'requirements': "This book can only be viewed using iBooks 3.0 or later on an iPad. iOS 5.1 or later is required."
While this message still shows up on the Web, visit an iBooks Author book in the iTunes Store and you'll see the following: "To view this book, you must have an iOS device with iBooks 3.0 or later and iOS 5.1 or later, or a Mac with iBooks 1.0 or later and OS X 10.9 or later." A request for comment from Apple regarding the wording change went unanswered on Wednesday, and as of this writing, the iPhone still can't download iBooks Author ebooks despite the text's claims to the contrary.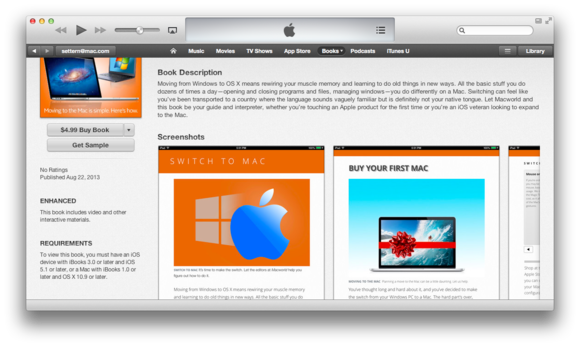 But while comparing wording can often be as truth-telling as reading tea leaves, I do think the description change is significant. If this were simply an early draft of the requirements for iBooks Author ebooks post-OS X Mavericks, it would be easy enough to leave in "on an iPad." That the wording has changed to "iOS device" intrigues me. Currently, even regular ebooks (.epub format) on the store list each model of iOS device supported. One of Macworld's own states the following: "This book requires iBooks 1.3.1 or later and iOS 4.3.3 or later. Books can only be viewed using iBooks on an iPad, iPhone (3G or later), or iPod touch (2nd generation or later)."
The coming of the phone books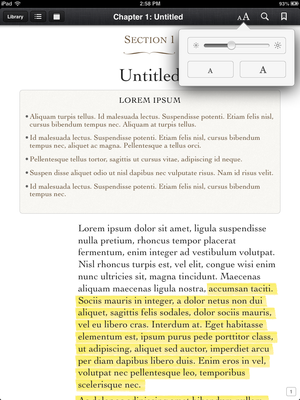 To my mind, it's likely that we'll see iBooks Author support on the iPhone when iOS 7 is released. The groundwork, after all, has already been laid. As I mentioned in my critique of the program last year, iBooks Author already has a potentially viable option for iPhone and iPod touch users—its reflowable portrait mode. In it, interactive elements float alongside the text, which itself can be resized by the reader. In addition, current iPhone models (and any that might get announced next week) will have more than enough power to display videos and other interactive content.
And from a strategic standpoint, with Amazon's Kindle platform offering new features like proprietary footnote pop-overs to publishers, Apple would be wise to bring books from its already-excellent ebooks design program to the rest of its device line-up. Building an iBooks Author-exclusive ebook is a lot more enticing if you're marketing it to the entire iOS and OS X ecosystem, rather than just users of individual devices.
Of course, no one can predict exactly what Apple might do next week. But I'm holding out hope that we'll see iBooks Author support for the iPhone very, very soon.