The iPhone 5s was officially announced this morning, confirming pretty much all the rumors we've heard about the phone over the last couple of months. (We wish that gold paint-job had stayed a rumor, though.) While Apple devotees are already lining up for the company's latest smartphone, you, the more reasoned consumer, are doing some research before plopping down your hard-earned cash and signing away the next two years of your life.
Apple's latest iPhone is an impressive piece of hardware, but the phone will go up against stiff competition when it launches September 20. Motorola, Samsung, HTC, and Nokia all have high-end phones with impressive capabilities, but at this point it's a tight race with no clear winner in sight.
Here's an overview of how the iPhone 5s stacks up against its four major competitors. (You can click the chart for a close-up view):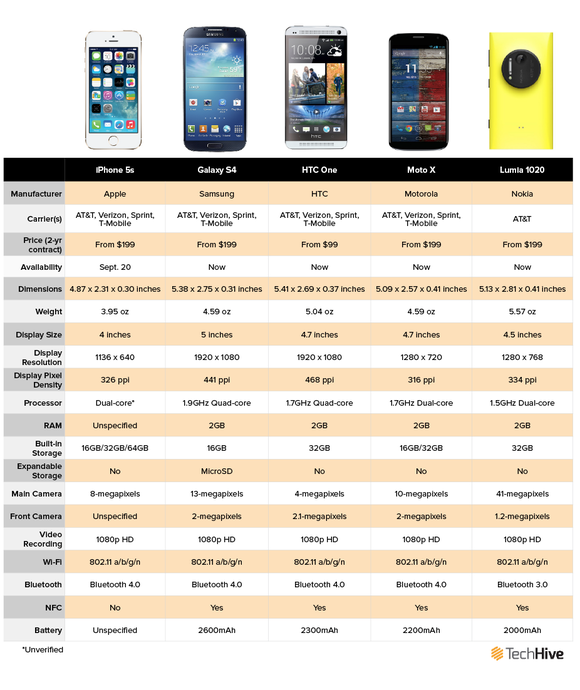 Apple kept the same 4-inch Retina display it used in the iPhone 5 for the 5s, but it bumped up the processing power and upgraded the sensor in the camera. Nokia's Lumia 1020 still has a higher megapixel count, but it'll be interesting to see what improvements are brought about by the new sensor in the iPhone 5s, especially when it comes to low-light photography. Apple's new A7 processor uses a 64-bit architecture, giving it a theoretical edge over the 32-bit processors in other current smartphones.
Cupertino claims you'll get up to 10 hours of browsing over LTE or Wi-Fi, and up to 250 hours of standby out of a single charge, but didn't give specifics on battery capacity. The Moto X can easily go a full day of mixed use on a single charge, while other Motorola handsets (like the Droid Maxx) are capable of going several days without having to recharge the phone's battery.
One aspect of the phone that isn't listed in the chart above is the inclusion of a fingerprint identity sensor that Apple calls Touch ID. The iPhone 5s may match the HTC One in performance and style, but Touch ID adds an extra layer of security to the phone, and should make it much more convenient to access for its owner. We're still curious about how easy it will be to trick the sensor and unlock the phone— something that's possible on other devices with fingerprint and biometric scanners.
This refresh to the iPhone line doesn't seem as substantial as when Apple introduced the iPhone 4 or last year's iPhone 5, but it presents a strong defense against the ever-mounting challengers in the smartphone market. We'll give you our full opinion of the phone as well as our rating in the coming weeks.