If imitation is the sincerest form of flattery, then Apple must really love its competition. Although Cook and crew are quick to throw a lawsuit at any company they consider a copy-cat, they aren't afraid to borrow good ideas from competitors and wrap them in glittery buzzwords.
Indeed, Tuesday's iPhone announcement felt like déjà vu—we could have sworn we'd seen various iPhone 5s features in competing products over the past year. So let's take a look at the new phone's key features, and point out where Apple is innovating and where it's playing catch-up.
The 64-bit A7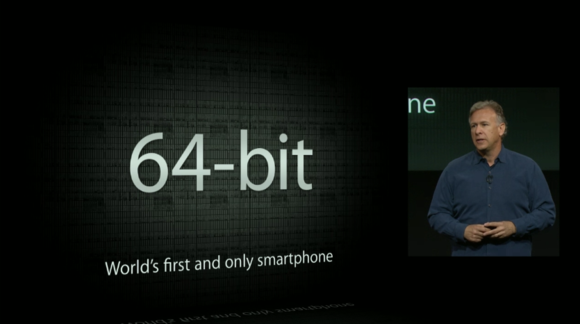 Score one for innovation. Apple is certainly on the bleeding edge of mobile processor technology with the A7 system-on-chip (SoC). Apple didn't specify the graphics core it uses, though the mention of OpenGL ES 3.0 support during Apple's presentation makes the new PowerVR Series6 a safe bet. But it's all that talk of fancy 64-bit support that makes the A7 sound like a big deal. And to some degree, it is.
Apple is bringing to market the first consumer product with a 64-bit ARM processor. (AppliedMicro offers a 64-bit ARM SoC called X-Gene, but it's just for servers.) The move to 64-bit signals that Apple has built the A7 on the ARMv8 architecture, while nearly all smartphone chips from the past couple of years have been based on the older ARMv7 architecture.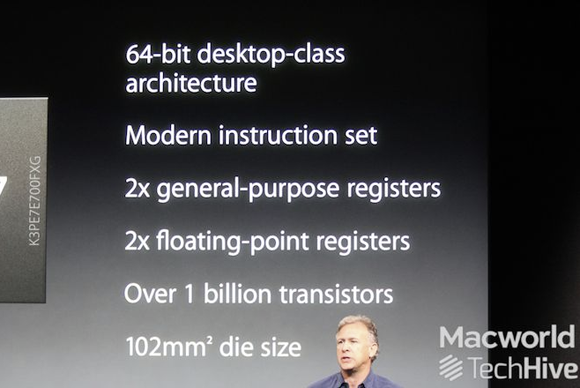 So what do 64-bit and the ARMv8 architecture get us in terms of real-world performance dividends? Well, 64-bit memory addressing is hardly necessary in phones yet, but a host of other goodies are in there. A new cleaned-up, fixed-length instruction set, wider registers, wider SIMD units, lots of stuff to speed up encryption…it's "the largest architecture change in ARM's history," according to its PDF on the subject.
We won't know how Apple's implementation performs until the iPhone 5s is released and benchmarked, but the potential gains for well-optimized apps are pretty big. Apple's in the lead here. Nvidia's "Project Denver" SoC (due in 2014) will implement the ARMv8 architecture, and the Samsung Exynos and Qualcomm Snapdragon lines are supposedly in line to get 64-bit ARMv8 models next year, too.
The upshot: While others cram four or more cores into their SoCs and ramp up clock speeds to get better performance, Apple is focusing on greater efficiency and features in a dual-core chip.
The M7 co-processor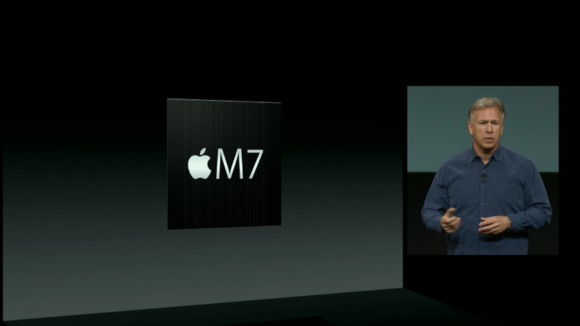 This is certainly an innovative approach to managing existing technologies—but Apple isn't the first smartphone company to try it.
Apple's M7 co-processor works alongside the core A7 processor to measure motion data for health and fitness apps. Specifically, the extremely power-efficient M7 controls the phone's key sensors—the accelerometer, gyroscope, and compass—enabling the 5s to continuously monitor the sensors' data without tapping into the primary processor, which is a battery hog.
The M7 represents Apple's first effort toward offloading sensor control to a low-power chip, but Motorola's Moto X smartphone uses a similar hardware strategy to power its Touchless Controls. The Moto X's X8 mobile computing system relies on two low-powered cores—working separately from its Qualcomm Snapdragon S4 Pro—to listen for your voice commands at all times, without killing battery life in the process.
Slo-mo video
This is a blatant instance of playing catch-up. Apple isn't the first company to let you shoot slow-motion videos using your phone: Motorola's latest line of Droids and the Moto X have that functionality built-in. Nokia's Lumia 1020 can shoot slow-motion videos, too, and a number of apps on both Android and iOS let you feign bullet time.
Big pixels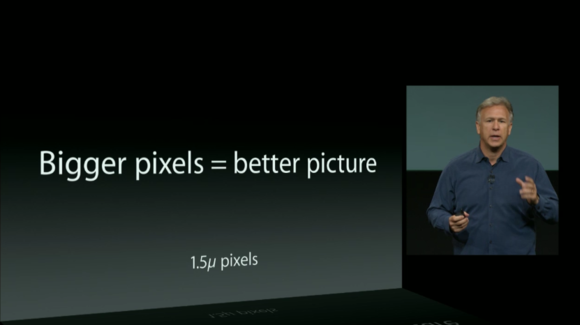 Innovation? No, not so much.
Any photography pro will tell you that sensor size matters more than the number of megapixels in your camera. A larger sensor lets you capture more light, giving you the upper hand when you're taking photos in dark spaces. So Apple is definitely moving in a smart direction with its new "bigger pixels" approach. But it's also following others on this path of enlightenment.
HTC was the first major smartphone manufacturer to put bigger (instead of more) pixels in its camera sensors. The iPhone 5s's camera boasts slightly larger pixels than the ones you'd find in most smartphone cameras, but they're still smaller than the 2-micron "ultrapixels" found in the HTC One.
That said, one advantage that the iPhone 5s has over the One is that Apple offers twice the number of megapixels, allowing you to take larger photos and crop images without losing as much clarity.
Dual LED flash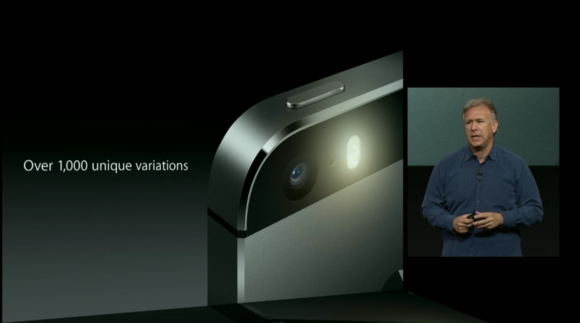 This one's a toss-up. Existing smartphone cameras do have dual camera flashes, but Apple seems to have advanced the technology.
The True Tone dual LED flash on the iPhone 5s emits two different-colored flashes, which Apple says will help balance a scene so your subjects don't look as washed out or sickly. Other smartphone dual-flash systems use the same color for both flashes—and though these systems solve lighting problems with a broad stroke, serious exposure problems often remain.
If Apple's flash implementation works according to plan, it could lead to better-lit photos that don't look as if they were taken at a Dawn of the Dead convention. Real-world testing is needed to bear out Apple's marketing claims.
Burst Mode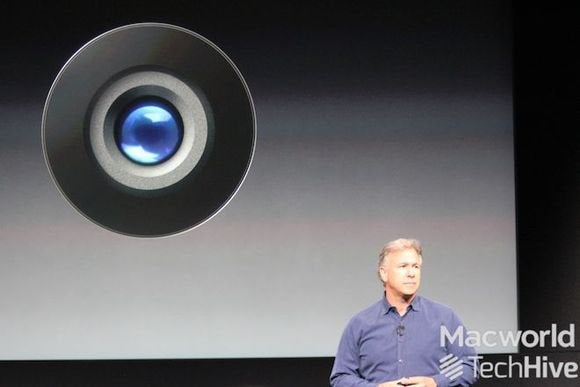 Been there, done that. Rapid-fire image capture is nothing new.
Apple doesn't want you to miss a moment. To ensure that, it has packed the iPhone 5s's 8-megapixel camera with a burst mode capable of shooting up to 10 frames per second when you hold down the shutter button. The phone then chooses the best shot of the bunch so you can avoid saving not-so-framable photos of your friends with their eyes closed.
Android handsets have been bursting their bubbles with burst mode for a while now. Sony, LG, Samsung, and HTC have all packed their latest flagship Android phones with a burst mode—and like Apple, each company has exalted the feature as if it were fresh and innovative. HTC, in fact, accused Samsung of stealing burst mode, allowing its rival to " suck in our innovation and own it in the consumer's mind."
Touch ID
In this case, Apple is playing catch-up on a technology that never took off. The Motorola Atrix was the first phone to feature a fingerprint scanner, but it wasn't all that good. The scanner frequently failed to recognize the owner's finger, and would sometimes lock up the entire phone due to software bugs. Motorola eventually ironed out the kinks a few months after the Atrix's release, but Apple had better cross its fingers and hope that its Touch ID scanner works perfectly on its latest flagship phone.
Gold
Gold-plated iPhones aren't a new development. iPhone users have been able to purchase myriad gold-plated cases and skins for their iPhone from a number of companies, including Incase and Kate Spade, going all the way back to the first iPhone. One case maker even devised this ridiculously hardcore gold-plated Knucklecase.
But before you decide on the gold iPhone 5S, ask yourself: Do you love gold?