Announced at Tuesday's Apple event, the iPhone 5s contains two big hardware improvements: a faster A7 processor with 64-bit architecture and a motion co-processor that gathers data from your device's sensors.
While these under-the-hood features might not sound very fancy to the average consumer, they have iOS developers buzzing over potential implications. We queried several to see what they had to say about Apple's impending hardware improvements.
iOS 7 goes 64-bit
Apple's new A7 ARM chip powers the iPhone 5s; the company boasts that it's not only twice as fast as the iPhone 5's A6 chip, it offers just as good—if not better—battery life as the previous model. And that's not all: The A7 is the first smartphone chip to feature 64-bit architecture. "I don't think anybody was expecting [64-bit] so soon," PCalc developer James Thomson told Macworld.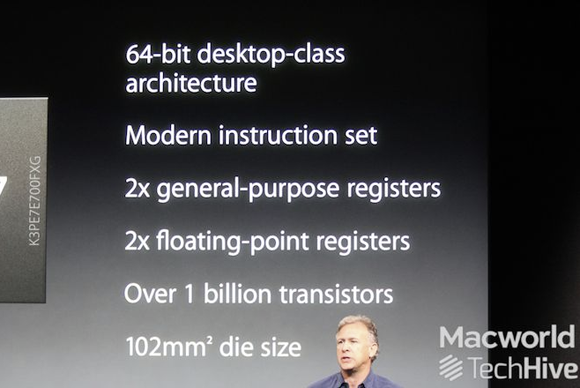 JavaScript and game developer Conrad Kreyling agrees with Thomson. "I assumed it was at least a year out, but it's a welcome change. Apple isn't ceding territory to Qualcomm or Samsung; it just leapfrogged the both of them." Kreyling was surprised to see, however, that Apple chose to update to 64-bit architecture before increasing the processor core load. "I expected quad-core to be the big drop, not 64-bit, but perhaps we'll see it in the next revision. Apple is still maintaining iOS on the single-core A4 found in the iPhone 4, which I'm sure is a large component in the decision-making process."
Of course, 64-bit architecture may not mean anything to the average user—at least, not at first. Instapaper creator Marco Arment points out that "64-bit will likely play out on phones and tablets similarly to how it played out on PCs when it started becoming widespread there almost a decade ago: It won't change much at first for most applications, but it'll be a huge benefit to some, and it lays a solid architectural groundwork for the future."
Thomson, for one, plans to wait until the 5s has launched before updating PCalc. "I'm definitely not going to ship any 64-bit versions of PCalc until I can actually test it on a real device. It won't take very long to update my app at all, but very subtle bugs could creep into the code, so it makes sense to ship a 32-bit version of any iOS 7 update first, then do a 64-bit version a few weeks from now."
But the 64-bit A7 chips on the iPhone might be just the beginning. The A7s low-power system-on-a-chip could very well be a perfect fit for Apple's laptop line down the road. Alternatively, Thomson wonders "if [the A7's 64-bit architecture] means we're going to see iOS on the desktop sooner rather than later."
M is for motion
Rumors around the Web had pegged many of the improvements in the iPhone 5s long before the event, including the rumored fingerprint scanner. But Apple's new M7 co-processor was a largely unexpected box on the Bingo card: It tracks motion data from your device's accelerometer, gyroscope, and compass without needing to wake up the A7.
On prior iOS devices, fitness trackers like Moves negatively impacted the battery because the A6 chip had to do all the work. Now, it looks as though the M7 could abate all that. Moves CEO Sampo Karjalainen is thrilled: "The new M7 co-processor and related continuous activity and step tracking are great news for our Moves app! It's good to see that Apple is starting to support our use case better now. They are doing the right thing by optimizing the hardware for continuous data collection with minimized battery use."
Does the iPhone have a chance to unseat players like Jawbone and Fitbit from the fitness-tracking realm? Karjalainen would like to believe. According to his numbers, Moves currently tracks over two billion steps a day; in contrast, information from Jawbone earlier this year indicated that the company's Up wristband tracks over one billion steps per day. Macworld reached out to Fitbit for comment, but as of press time had received no response.
You don't have to be a motion-tracking app developer to be interested in the M7, though. Iconfactory developer Craig Hockenberry told Macworld "I always get excited about iOS technologies that interact with our bodies and surrounding environment … In my opinion, the announcement of Touch ID and the M7 co-processor are most important because they let our devices become even more personal. And this added personality makes for an exciting future."