Heavens, such a lot we've learned about iPhoto. You know your way around the interface, you're up to speed on importing your images, you grok Photo Stream, and you can edit your images so they have more pow! and less patooey! In this lesson we turn to organizing and packaging your images.
The art of albums
As you know, iPhoto automatically organizes your images into events. But the application provides plenty of other avenues for image organization. The main thoroughfare in this regard is albums.
With iPhoto you can create two kinds of albums. The first I'll term the regular ol' album. This type is akin to a paper photo album that you'd pick up at your local stationery emporium or photo processing store (if it hadn't gone out of business five years ago). With this variety of album, you add and arrange the images you want that album to contain.
The second type is the smart album. We discussed Apple's smart searching and smart albums way back in lesson 9. The same principle applies here: You organize images into albums based on particular search conditions—for example, images you captured with your Canon point-and-shoot between January 1 and January 11, 2011, that you've rated 4 stars or better. Let's take a look at how each album works.
Regular ol' albums
You have a couple of ways to create a standard-issue album. The first is to choose File > New Album (Command-N). If you do so with nothing selected—meaning, you haven't selected any images or events—a window will appear asking if you're sure you want to create an empty album. If that's exactly what you intended, because you'd like to add images at a later time, click Continue. (And, perhaps, enable the Don't Ask Me Again option if you'd prefer that iPhoto butt out the next time you do this.)
If you've selected one or more events, images, or faces, and you choose this command, the new album will contain all the selected images (including all the images within selected events and faces). The name of the album is automatically highlighted, which is your cue to rename it.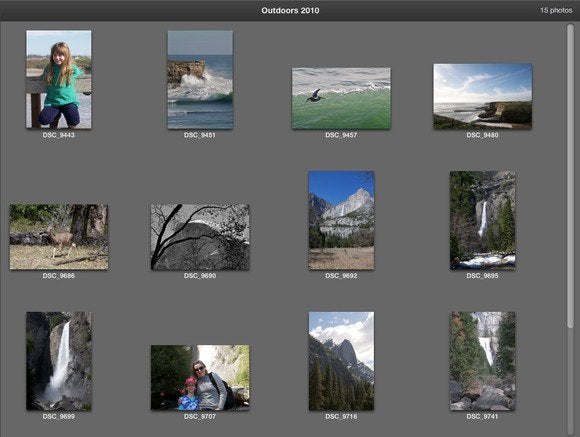 You can now arrange the album's images in the order you prefer; just click and drag to move them. Additionally you can enlarge their thumbnails by adjusting the Zoom slider at the bottom-left corner of the iPhoto window.
You can treat images within albums just as you do any other image in iPhoto. The one behavior that differs from the image you originally selected is that when you delete an image from an album, you're not throwing it away. Rather, you're simply deleting the reference to it from the album. The original image stays within your iPhoto library and in the location where you originally selected it.
Smart albums
As I explained earlier, iPhoto creates smart albums based on one or more conditions that you set up. To make such an album, choose File > New Smart Album (Command-Option-N). When you do so, a sheet appears. Within this sheet you'll find a field for entering a name for your smart album, as well as a single condition configured to read Album Is Any. If you were to click OK at this point, you would create a smart album containing any image that appears within any of your regular ol' albums.
As with other "smart" features, you configure iPhoto's smart album conditions through a series of pop-up menus. Clicking the first menu (the one that reads Album by default) produces entries for Any Text, Description, Date, Event, Filename, Keyword, My Rating, Place Photo, Title, Aperture, Camera Model, Flash, Focal Length, ISO, and Shutter Speed. As a photo dabbler, you may not fully understand what all those things are. However, the length of the list hints that iPhoto offers a lot of ways to identify photos for inclusion in such an album.
The second pop-up menu narrows the condition further. For example, if you've chosen Event in the first pop-up, the second offers several options: Is In The Last, Is Not In The Last, Contains, Does Not Contain. The final field is almost always blank, allowing you to enter search terms. In this case you might enter Hawaii if the first two pop-up menus are configured to read Place Is.
And you're not confined to a single condition. Clicking the plus (+) button next to the first condition adds another one that is just as configurable as the first. With enough conditions correctly configured, you should be able to gather together exactly the images you wish to, easily.
Making books, cards, and calendars from your images
Images are meant to be shared. And while the digerati point us toward electronic means, there's something pretty wonderful about the printed picture. Apple understands this idea, and demonstrates that awareness by providing the tools necessary to create printed books, cards, and calendars.
The general idea is this: First, you create an album that contains the images you'd like to appear in one of these projects. Next, you select images, click the Create button, and choose the kind of project you want to make. Let's see how this arrangement works with each type of project.
Book
When you click Book, a lovely interface appears where you can choose the physical form of the book (hardcover, softcover, or wire-bound), the style of the book (Picture Book, Journal, Photo Essay, Modern Lines, Crayon, Watercolor, Contemporary, Formal, Texture Border, Simple Border, Snapshots, Folio, Tropical Travel, Asian Travel, Old World Travel, and Travel), the size of the book (large or extra large), and the background color of the cover and pages (the colors vary depending on the book's theme).
You can find the price of the book near the bottom-left corner of the window. Hardcover books are, by default, 20 pages and cost $49.99 for the extra-large version ($1.49 for each additional page) and $29.99 for the large book (each additional page costs $0.99). The 20-page softcover version costs $19.99 for the large edition ($0.69 per additional page), $9.99 for the medium version ($0.49 per additional page), and $3.99 for the small version (available in three-packs only, and priced at $0.29 for each additional page). All books are limited to 100 additional pages. Wire-bound books are priced the same as the softcover editions but you can get wire-bound books only in large and medium sizes.
When you've chosen a book style, size, theme, and background color, click the Create button near the bottom-right corner of the window. This action moves you into editing mode. In the resulting window you'll see each of the book's pages laid out on a faux wooden surface. Double-click a page you'd like to edit, and you gain access to editing controls for the exposed pages. At the bottom of the page are Add Page, Layout, Options, and Photos buttons. Here's what they do.
Add Page: Perhaps you have so many images to share that they won't all fit (or, at least, fit well) in 20 pages. Click this button to add another page. The empty page appears in your layout at the beginning of the book by default, but you can drag it anywhere you like. Double-click this page (or any page, for that matter), and you'll see a small gray bubble above the page.
If you click the left side of this bubble, you can choose the number of pictures to place on the page (the number varies depending on the size and kind of book you've chosen). Select a number of images, and a submenu appears where you can choose how the images are laid out. You can also elect to make this a text page, a page that displays a map, a two-page spread, or a blank page. Click the right side of the bubble to choose the page's background color.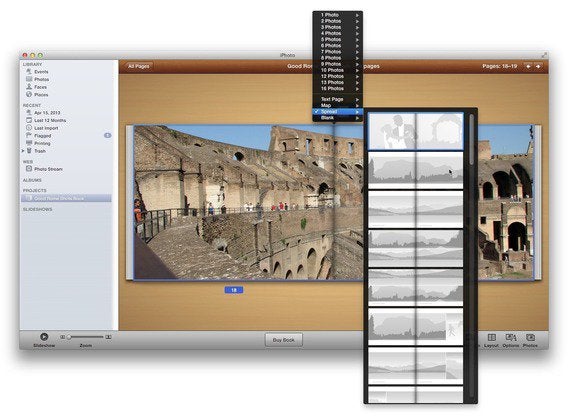 If you click an image on the page, you have the option to resize and frame it. To resize it (make it bigger or smaller), just drag the slider that appears above the image. When you're happy with its size, click and drag on it to place it exactly where you want it in the frame.
Layout: I'm afraid I've already given away the majority of the Layout pane's purposes. Click it, and you can choose a page's background color (you can also use another photo as the background image and then change its size and transparency using the controls that appear). You can choose the number of pictures that will appear on the page, as well. To change where they appear, just drag them to a new position on the page.
Options: Clicking this button produces controls for choosing a different border style for your images. For instance, you can select a style that includes an area for a caption. When you click that caption area, text tools appear, allowing you to change the text's style. Another style might add shadows so that your image appears to be a "real" photo not completely glued to the page, for example.
This pane also includes an Effects area, where you can quickly apply black-and-white, sepia, and antique effects to your selected image. And if the image needs a bit of touching up, just click Edit Photo to bring up iPhoto's editing tools.
It's in this pane that you'll additionally find the Book Settings button. Click it, and you'll see three options: Auto-layout pages, Include Apple logo at the end of the book, and Show page numbers. These are simple on/off options.
Photos: Maybe you'd like to take a more hands-on approach to creating your book. For example, you've selected your Last 12 Months album with the idea of creating a year-in-review book for your child's grandparents, but you don't want to create a book that includes every image from the past year. Sure, you could sort through those photos, create an album, and then work with what you've selected. But you have another way.
Select that Last 12 Months album, click Create, and then select Book. The usual Book interface appears. Click the Create button, and iPhoto produces a window declaring that you've selected a mean mess of photos. Choose the option to create an empty book, and click OK. Now click the Photos button.
A pane will appear that includes all the photos within that album. All you have to do is double-click the page you want to work with and drag photos from this pane onto the page, filling blank spaces or replacing existing photos. Repeat for other pages until your book is assembled. To help keep things straight, you can choose to view only unplaced photos. You can also view pictures that appear in the albums under the Recent heading in iPhoto's library pane.
Two buttons at the bottom of this pane offer some intriguing possibilities. Suppose you've allowed iPhoto to lay out your book automatically, and you're not entirely happy with the results. You'd like to try something different, but you don't want to edit each page. Try the following trick instead.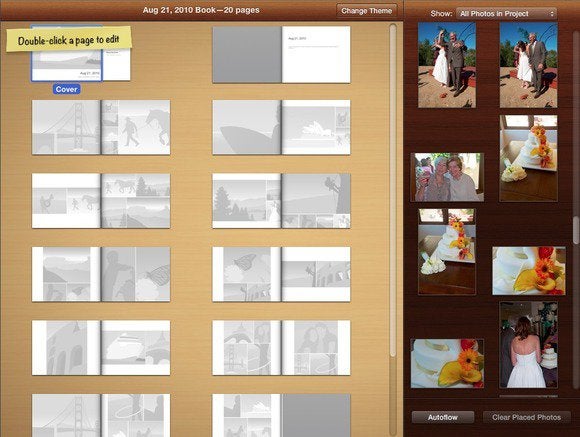 Click the Clear Placed Photos button. In the window that appears, click Remove. Now, in the Photos pane, drag your pictures around to place them in the order you'd like them to appear. When you've done that, click the Autoflow button. You'll see a window stating that any unplaced photos will be added to the end of your book. In this case, you have no placed images, because you've cleared them. Click Autoflow in this window, and iPhoto will lay out the book again, but this time using the order you just created.
Buy Book: Finally, your book is arranged just the way you want it. To complete the process, click Buy Book. On the Your Order page, you can see the details about your book—its kind, price, and number of pages. You can choose to order more than one copy and select a shipping method (as well as calculate tax and the delivery date). When you're ready to order, click Check Out. Apple will charge the order to the credit card associated with your Apple ID, and will ship the book to you (or to the address you designate) when it's ready.
Card
You can create photo cards with iPhoto, too. Choose Card from the Create menu, and you see an interface similar to the one that appears when you're creating a book. In this case you can choose from three styles of cards: Letterpress, Folded, and Flat. Letterpress cards are … well, let's have Apple explain the idea in its most glowing terms.
Each letterpress card is made from premium paper and produced using a centuries-old printing method that presses a design into the card for a unique look and texture. Then the card is digitally processed with your photos and text.
So, they're swanky, available in 31 different styles, and not terribly expensive at $2.99 a pop.
Folder cards are $1.49 each and come in a wide variety of styles, organized by category. The categories include Baby & Kids, Birthday, Congratulations, Father's Day, Formal & Wedding, Holidays, Mother's Day, Thank You, and Whimsical.
The same categories are available when you choose Flat, though such cards cost just 99 cents. As with Folder cards, you can choose a background color.
When you've selected a card type, click Create. In the layout window, you can choose the number of images for the card (the number depends on the theme you've selected). This window is also where you enter the card's text. Just click a text field to bring up text tools for choosing a font, its size, and its alignment. Do so, and then start typing.
iPhoto's Cards section also includes Layout, Options, and Photos buttons. They function here as they do with books.
Calendar
Calendars are fairly straightforward. iPhoto offers ten styles—Picture Calendar, Big Date, Colored Paper, Modern Lines, Classic, Travel, Vintage, Formal, Kids, and Seasons. They're wire-bound and cost $19.99 for a 12-month calendar. (You can add months for $1.49 each.)
Pick your style and click Create. In the window that appears, you can choose the month in which your calendar will begin, as well as the number of months the calendar will contain. You can additionally choose to show national holidays and print events that appear within your Calendar application—your child's soccer schedule, for instance. (You can choose which calendar events to print, such as those from your Home calendar but not from the one you use for work.) You can also add birthdays that appear in the Contacts application.
When you click OK in this window, thumbnail images of the calendar pages appear. As with the other projects, iPhoto will automatically lay out your images across the calendar's pages. Just as you can with a book, here you can double-click a particular page to edit its content and layout. Unlike with books, you don't have the option to add a text page. However, you still have zoom and frame controls. You can also add text to days on the calendar; just click the date you wish to edit, and text tools appear.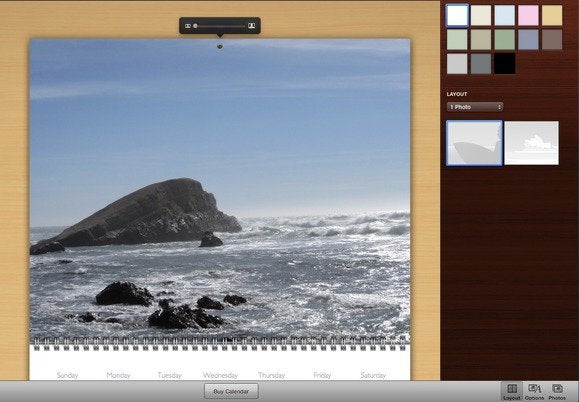 The Calendars section, like those for books and cards, includes Layout, Options, and Photos buttons. They work here as they do elsewhere. Worth noting: Although you can change the calendar's background color in the Layout pane, that color applies only to the pages on which images appear. Date pages are always white.
Lasting impressions
One need only look back a decade or so ago to understand how remarkable these features are. Imagine the cost and work involved in creating a custom and professionally printed picture book, card, or calendar. Now you can do it yourself with a few clicks, without breaking the bank.
I've seen the effects one of these items can have on a close relative or friend—wonder and joy not the least among them. If you have memories to share, these projects are worth exploring.
Next week: iPhoto sharing