Editor's note: The following review is part of Macworld's GemFest 2013. Every day (except Sunday) from mid-July until late September, the Macworld staff will use the Mac Gems blog to briefly cover a standout free or low-cost program. Learn more about GemFest in this Macworld podcast. You can view a list of this year's apps, updated daily, on our handy GemFest page, and you can visit the Mac Gems homepage for past Mac Gems reviews.
You run a website, or maybe you just have files on your computer and you need to get them up to your webserver that's somewhere in the cloud. Transmit 4 ( Mac App Store link), an FTP client from Panic, is one of your best options for making that journey there and back again.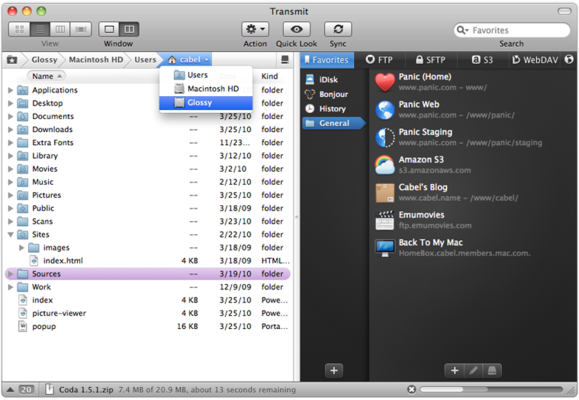 In simplest form, Transmit makes the process of moving files to and from your FTP, Amazon S3, or WebDAV server feel as familiar as working in the Finder. You get two panes—your local files on the left, your server on the right—and you can drag and drop files, use Quick Look on supported remote files, and organize all your websites and servers in folders to stay organized.
Transmit is jam-packed with file transfer features for the 21st century, but presents them in a surprisingly easy and accessible package. Give the free demo a try, as I think you'll find it's well worth its price.
Want to stay up to date with the latest Gems? You can follow Mac Gems on Twitter or on App.net. You can also subscribe to the Mac Gems RSS feed.