The Settings app is one of the most important on your phone, as it's where you customize and control everything your device can do. But it's also one of the most intimidating apps, given its many menus and sub-menus; as such, many people never realize when those options change. Here's a look at what's new and different in Settings in iOS 7, organized in the order in which sections appear on the app's main screen.
Minor reorganization
As happens in every new version of iOS, the Settings app's main screen has undergone some minor renovations that don't really affect its functionality. The icons have adopted iOS 7's flat-but-colorful look, with new designs for all top-level settings, and Apple has slightly tweaked some names—for example, iOS 6's Brightness & Wallpaper item has given way to Wallpapers & Brightness in iOS 7.
Wi-Fi
One change here, though minor, is nevertheless useful: iOS 6 and earlier listed all available networks under the Choose A Network section, with a checkmark designating the connected network.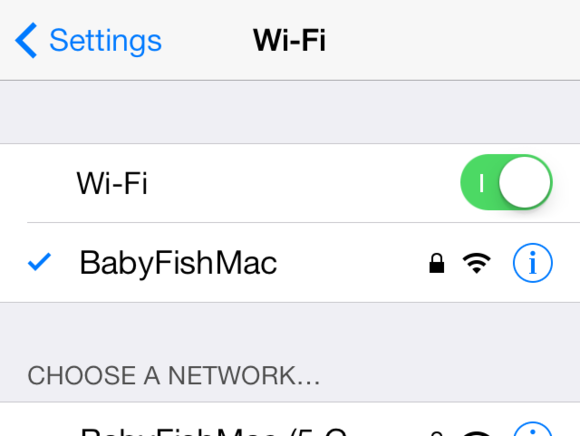 In iOS 7, your connected network appears at the top, just below the main Wi-Fi toggle, with all other available networks shown in the Choose A Network section. It's a more logical organization that also makes it easier to quickly determine your current network.
If the network in question is provided by an AirPort base station, and you have Apple's free AirPort Utility app installed, you can quickly tweak the base station's settings from here: Just tap the network's info icon (the i to the right of the network name), and then scroll down the screen that appears and tap Manage this Network. You'll need the base station's administrator password to make changes.
Cellular
If you're using an iPhone or iPad with cellular data, you'll see the Cellular screen on the top level of the Settings app; previously, it was hidden under the General section. Cellular continues to feature Cellular Data, LTE/4G, and Data Roaming toggles, along with a menu for setting up a Personal Hotspot.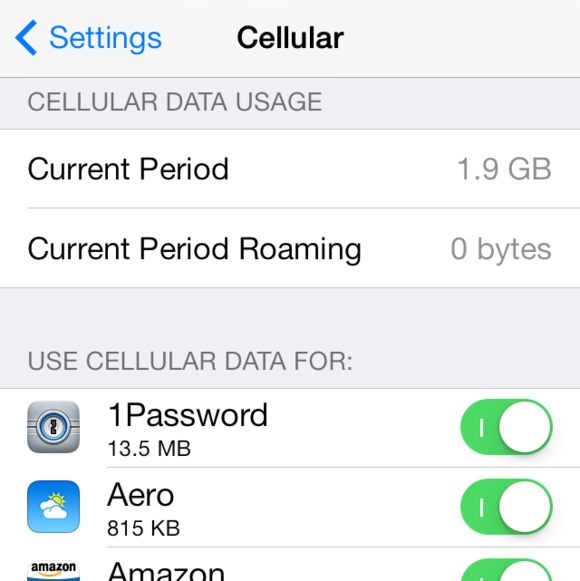 In addition, Cellular now shows your overall and roaming cellular-data usage (previously found under General in the Usage screen), and those numbers combine uploaded and downloaded data, rather than separating them into Upload and Download. This approach is especially useful for frequent travelers with a data budget, as you can quickly see the total amount of data you've used when roaming. You can reset these statistics by scrolling to the bottom of the screen and tapping 'Reset Statistics'.
The Cellular screen also lets you choose which apps get to use cellular data when downloading information, and which will be restricted to Wi-Fi downloading. By default, all apps can use cellular, but you can turn an app's cellular-data access off by tapping the toggle next to its name.
Tap System Services, found at the bottom of the list of apps, and you see a list of system services that use cellular data along with how much data each service is gulping. You may also see an Uninstalled Apps item at the bottom of the app list. If you've recently deleted apps that use cellular data, this item shows how much data those apps used during the current period.
Notification Center
The Notification Center screen boasts several changes: For one, there's its new name, which replaces the old Notifications listing. The settings for Do Not Disturb have moved and appear as a separate item on the main Settings screen, below Notification Center and Control Center.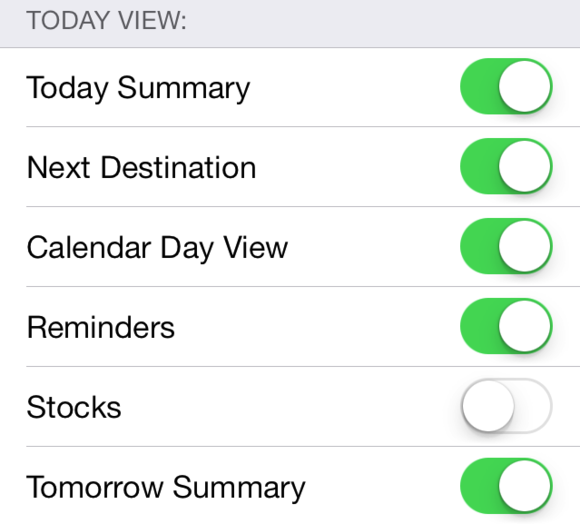 The other big change relates to Notification Center's new Today view, which lets you view various pieces of information about your upcoming day. Here you can adjust the information displayed by enabling or disabling a summary of the day, your upcoming calendar events, reminders, tomorrow's events, and (on an iPhone) your next destination and stocks status. You can also choose whether you can see the Today view—or Notification Center's other views—on your lock screen.
The app-specific screens within Notification Center have also undergone minor reorganizations, but the actual settings on those screens haven't changed. Instead of In Notification Center and Not In Notification Center sections, the app now uses the phrases Include and Do Not Include. In addition, you may spot a section that allows you to enable and disable Amber and emergency alerts, depending on your carrier.
Control Center
As mentioned in the Control Center section earlier in this chapter, this screen of Settings has two simple toggles for choosing whether you can access Control Center from the lock screen or within apps.
Do Not Disturb
Do Not Disturb has graduated to its own preference screen in iOS 7, shedding the top-level switch and notifications section it had in iOS 6. A new Manual switch lets you enable the feature at any time. In addition, you can now choose to silence calls and notifications only when your device is locked. With this option enabled, if your device is unlocked—in other words, if you're actively using it—you'll continue to hear calls and notifications, regardless of your Do Not Disturb setting.
General
Apple has reorganized the "settings that don't fit anywhere else" screen, removing several preferences (Cellular, for one) and replacing them with a couple new screens.
ABOUT The only change in the About section is the absence of the Advertising item, which has moved to the Privacy screen within Settings.
SIRI If you speak English, French, or German, you can choose between a male or a female voice for your device's personal assistant.
TEXT SIZE A new Text Size setting lets you choose your preferred reading-text size for apps that support iOS 7's new Dynamic Type feature.
ACCESSIBILITY The Accessibility screen gets a number of tweaks in iOS 7, including one major new feature called Switch Control. This feature lets someone with physical or motor challenges use a connected accessory to sequentially highlight items on the screen and activate the desired item. Under this heading, you can configure switches; tweak signal timing, stabilization, and scanning; and toggle audio and speech feedback.
Also in the Accessibility screen, under VoiceOver, there's a new Use Sound Effects option. Instead of the Use Phonetics on/off toggle of iOS 6, you now get a Phonetic Feedback feature that lets you choose between Off, Phonetics Only, and Characters And Phonetics; and the Braille screen gains a bunch of new options. The Rotor feature gets a few additional items (sounds, hints, handwriting, and containers), and there's now an option for Large Cursor.
Back on the main Accessibility screen, the Larger Type setting replaces iOS 6's Large Text feature, and it now offers a text-size slider rather than a list of numeric text sizes. And the On/Off Labels feature adds little On (|) and Off (o) icons to on/off sliders across the OS.
Under the Hearing section, a new Subtitles & Captioning entry lets you enable, and choose the style for, closed captions. In the Guided Access screen, when this feature is turned on, you can now enable the Home button triple-press shortcut directly. (You can still enable it at the top level of Accessibility under Accessibility Shortcut—formerly Triple-Click, which adds an option for the Switch Control feature.) Apple has removed the Enable Screen Sleep feature, as well as the Incoming Calls setting, which on iOS 6 determined whether incoming calls would default to an external speaker or a headset.

Also in Accessibility, but useful for everyone, are a few settings that let you tweak iOS 7's appearance. The Bold Text option makes all interface text slightly thicker and darker; interestingly, enabling this feature requires a restart of your device. A new Increase Contrast option makes iOS 7's new translucent-background interface elements a bit less translucent, rendering text and controls a bit more readable. Finally, a new Reduce Motion option reduces the parallax effect of icons and alerts across the OS.
USAGE Gone is the Cellular Usage screen, which Apple has moved to Cellular; additionally, some iPods may no longer show a toggle for displaying battery percentage in the menu bar.
BACKGROUND APP REFRESH New to iOS 7, and part of the operating system's improved multitasking support, the Background App Refresh screen lets you toggle the capability for apps—including stock apps such as Weather on the iPhone, as well as third-party apps such as Instapaper and news apps—to update their data in the background.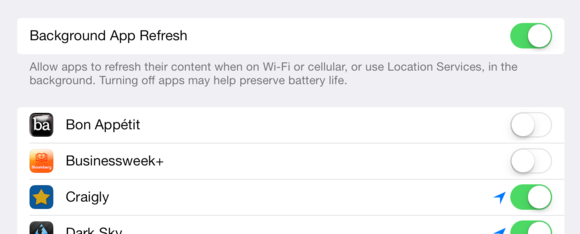 You can toggle this feature for each app individually, or quickly disable it for all apps at once. (This batch of toggles replaces iOS 6's Newsstand settings screen.)
PASSCODE LOCK In the Passcode Lock section on an iPhone, a new Voice Dial option lets you prevent voice dialing when the screen is locked.
RESTRICTIONS The Allow section loses the former toggle for Explicit Language, but gains a setting for allowing AirDrop transfers.

The Allowed Content section now includes options for limiting Siri (you can disallow explicit language and Web-search content, and the latter includes Wikipedia, Bing, and Twitter) and websites (you can limit adult content, or you can allow only specific websites that you choose). The Privacy subsection now allows you to control which apps can access or use your iPhone's microphone(s), and offers an Advertising opt-out setting. A new restriction prevents users from changing the Background App Refresh settings.
INTERNATIONAL The International section now offers two additional languages, Español (Mexico) and Australian English, as well as a number of additional region formats.
iTUNES WI-FI SYNC The screen now offers a list of all computers your device syncs to, along with what kind of information it syncs and when you last connected it.
Sounds
There's one new option here: You can choose the alert sound you hear when someone tries to send you a file or data using AirDrop. In addition, iOS 7 brings an entirely new alert soundscape to your device: earlier iOS sounds have been banished to a Classic folder in favor of 26 new ringtones and 12 shorter tones.
Wallpapers & Brightness
As previously mentioned, this section got a name change (from Brightness & Wallpaper), but it's otherwise largely unchanged from iOS 6.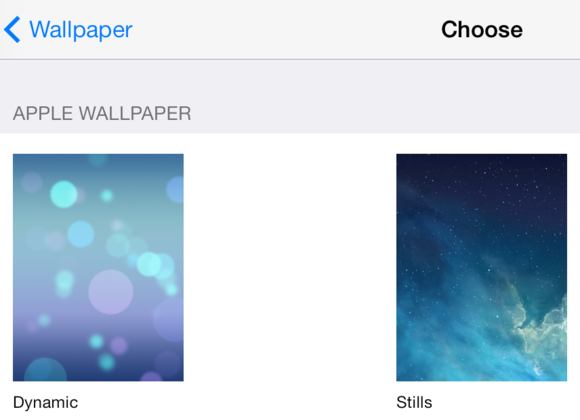 The one exception is that in iOS 7, you can now choose dynamic wallpapers that appear to move dramatically as you move and tilt your device. Apple provides just seven dynamic wallpapers, but you can add your own by taking panorama photos on your device or by creating images on your computer.
Privacy
There are a few new settings in the Privacy screen that relate to location, microphone usage, and advertising:
SYSTEM SERVICES This section, located at Privacy > Location Services > System Services (scroll all the way to the bottom of the Location Services screen), loses the Genius for Apps toggle. New here is the Popular Near Me setting, as well as the Frequent Locations screen (see the next item).
FREQUENT LOCATIONS Under Privacy > Location Services > Frequent Locations, Apple has added a way for your device to learn about the places you visit frequently (and, thus, provide location-related information and assistance).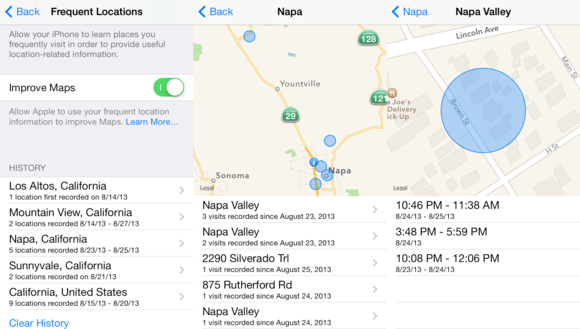 When you first upgrade to iOS 7, your device prompts you with an alert asking to remember the routes and places you visit; if you allow this, the Frequent Locations setting begins saving information to your device and anonymously transmitting it to Apple.
In theory, this setting should provide you with better map data and routes, and possibly even information for Notification Center's Today view. However, if you're uncomfortable with recording this level of data, you can turn this feature off at any time by visiting the Frequent Locations screen; alternatively, if you want to take advantage of the feature but not send your data anonymously to Apple, you can simply switch the Improve Maps toggle to Off.
If you decide to leave it enabled, Frequent Locations uses Wi-Fi, GPS, and cellular data to determine the locations you frequent, as well as when you visit. You can even view a list of all your places and times visited, broken down by geographic areas. Tap Clear History to clear your current location history and start anew.
MICROPHONE: Your device now asks apps for permission whenever a new app wants to use the microphone.
ADVERTISING: Apple has moved the setting for limiting ad tracking from the About screen to Privacy. You can enable it to prevent advertisers from tracking you with cookies and other location-based options.
iCloud
Among the types of data you can choose to sync using your iCloud account, you may also notice that Apple has renamed the Photo Stream item of iOS 6—it's now called Photos. However, the settings in this item are identical (though Shared Photo Streams is now called Photo Sharing).
Mail, Contacts, Calendars
The Mail section no longer has the option to choose how many recent messages, by default, are displayed in a message list, but you can choose how the Flagged indicator appears in mailboxes and messages: as a circle or as a flag icon. Under Contacts, you can now choose how iOS shortens contact names when it tries to fit more names on the screen: as Joe S., J. Smith, Joe, or Smith. Alternatively, you can tell iOS to use nicknames for those contacts to which you've assigned them.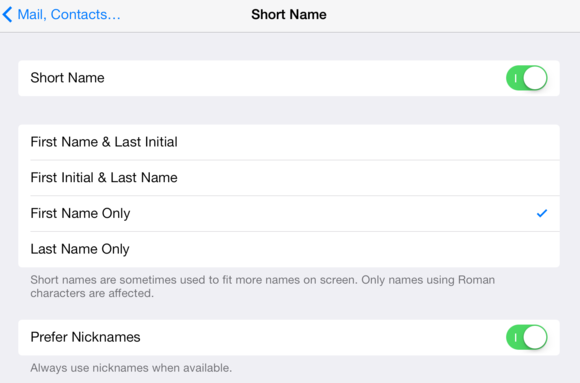 Minor changes under Mail, Contacts, Calendars include the elimination of Hotmail as an option when setting up a new account; and the per-account delivery options (push, fetch, or manual) now appear on the main Fetch New Data screen, instead of hidden behind an Advanced button.
The Calendar section also gains a Start Week On section, which lets you change the calendar start day from Sunday to any other day of the week (in case your work week doesn't really start until Wednesday.)
Notes
This screen loses iOS 6's setting for which font to use in the Notes app. (As Notes in iOS 7 has rid itself of the silly notepad-paper look, there's less need for a font that looks like handwriting.)
Phone
The Phone settings screen gains several new toggles. First up is an option that lets you add contact photos to your favorites list. You can also view contacts you've blocked and add to that list in the new Blocked section, and you can change your voicemail password. In terms of cosmetic changes, the 'Reply with Message' setting has been renamed 'Respond with Text'.
Messages
The Messages screen also gains the new Blocked section.
FaceTime
FaceTime, too, gains a Blocked section.
Maps
New to the Maps screen is a setting to choose your preferred type of directions, walking or driving, reflecting Maps's addition of turn-by-turn pedestrian directions.

Unfortunately, Maps's settings screen loses map label sizing, which you can now control only through the new system-wide text-size setting (in Settings > General > Text Size).
Compass
The Compass app finally gets its own preference screen, but it's limited to a single toggle that sets whether to use true north.
Safari
The biggest change here is to iOS 6's AutoFill screen, now called Passwords & AutoFill.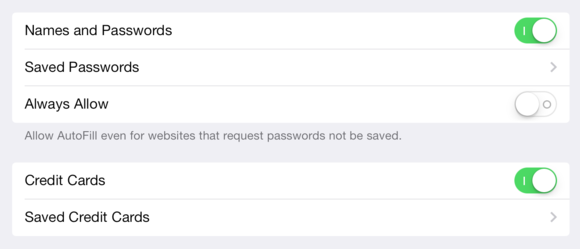 As in iOS 6, you can choose to allow Safari to autofill your contact information, user names, and passwords. But in iOS 7, you can view and edit every saved website login and password, and you can force websites to allow Safari to autofill, even if the website is coded to prevent it. Additionally, you can now add and edit credit card information that Safari can autofill. You can even change this information—but you'll need your device passcode first.
Another new Safari option in iOS 7 is Favorites. With this enabled, Safari displays your Favorites list (née Bookmarks Bar bookmarks in iOS 6) whenever you open a new tab. The Favorites section lets you choose a different folder of bookmarks for display if you prefer not to use your Bookmarks Bar.
Also new here is Do Not Track. Enable this feature, and Safari will do its best to prevent sites from tracking your Internet activities with a cookie. You have further control of this below by choosing to block cookies from everyone, only from third parties and advertisers, or never. Below Do Not Track, a new Smart Search Field screen lets you toggle search suggestions and select the feature that preloads the top search result.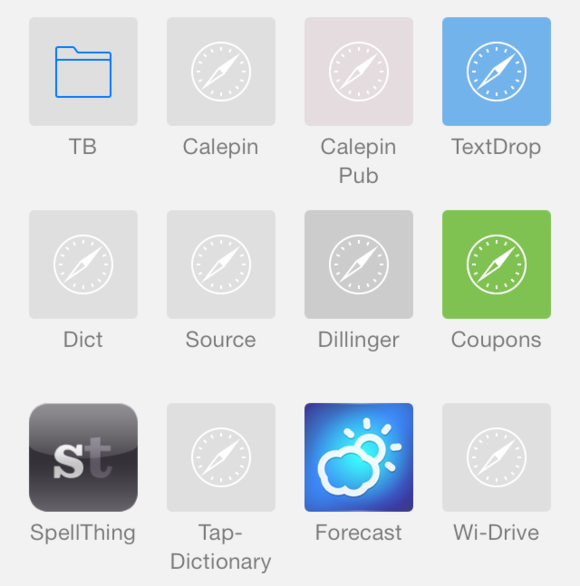 Apple has removed the Private Browsing toggle from the Settings app in iOS 7, but that's for the better—it's now more conveniently located within Safari itself. Open your bookmarks in Safari, and tap the Private button at the bottom of the screen to enable private browsing. (Safari's toolbars turn black during private-browsing sessions.)
You can also toggle whether to use cellular data when using Safari's Reading List feature, and, under the Advanced screen, you can enable or disable JavaScript.
iTunes & App Store
The big change in this screen relates to iCloud media: iOS 6 gave you the option to show all of your music, including tracks stored only in iCloud; in iOS 7, you gain the same option for videos.
You can also enable or disable automatic downloads for your App Store updates in this preference screen, as well as choose whether to do so via cellular data.
Videos
This screen sees only two minor changes. First, it gains the Show All Videos setting for iCloud—a duplicate of the toggle in iTunes & App Store. Second, it loses iOS 6's Closed Captioning toggle, which Apple has moved to Accessibility.
Photos & Camera
New in this preference screen is a Summarize Photos option. With this enabled, the Collections and Years views in the Photos app display a more-compact summary of photos, rather than a tiny version of every photo. (Once you open a Moment, you'll still see all photos—this setting just makes it easier to browse collections and years.)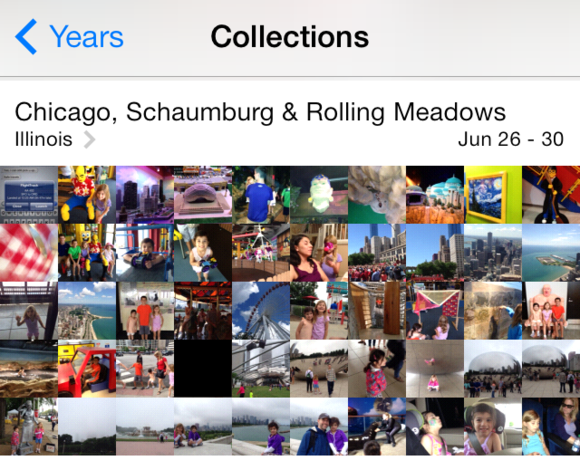 Additionally, Apple has hidden away the Camera app's Grid option in this settings screen. And as in iCloud settings, Apple has renamed Shared Photo Streams to Photo Sharing.
Game Center
New in iOS 7, this screen lets you log in to your Game Center account, allow game invites from friends, allow nearby Game Center players to see you and invite you to games (over Wi-Fi or Bluetooth), edit your Game Center profile, and enable friend recommendations based on your contacts and your Facebook friends.
Newsstand begone
This Settings item, which in iOS 6 let you choose which publications could automatically download new content, is gone in iOS 7. Its publication-specific toggles now reside in the Background App Refresh screen of General settings.
New social options
iOS 7 integrates Flickr and Vimeo, each of which gets a settings section where you can log in to your account for each service. This makes them available as options when you're sharing photos or videos using iOS 7's Sharing sheet.