iTunes Radio, Apple's new Internet radio service that launches alongside iOS 7, gives you some limited control over what you hear—and what you don't. Here's how to make sure Miley Cyrus stays out of your stations.
Play more songs like your favorites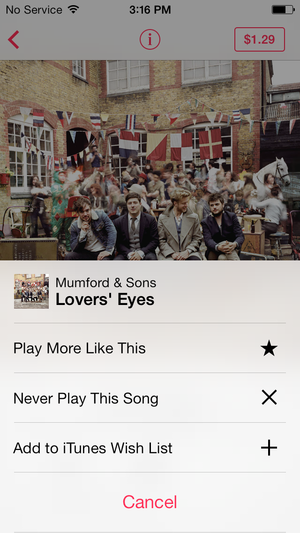 If you can't get enough of Imagine Dragons' hit song " Radioactive" and want to hear more songs like it in your station, tap the star in iTunes Radio's Now Playing screen, then tap Play More Like This. This will adjust the mix of songs you hear to include more songs that are similar in nature to that song.
Block songs
OK, maybe you can't stand Imagine Dragons. Who am I to judge? It's just as easy to block songs you don't ever want to hear again. Ever. Tap the star, then tap Never Play This Song, and iTunes Radio will banish that track from your station. Unfortunately, it doesn't appear that you can block artists entirely, so while you might be able to block "Radioactive," You still might have " It's Time" pop up in your station.
Mix it up
In addition to specifying what specific tracks you want or don't want to hear, you can also adjust your station's general mix of songs to include only hits, or to also include more obscure songs.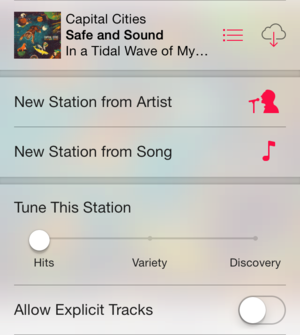 To do so, tap the "i" at the top of the iTunes Radio Now Playing screen. Under Tune This Station, you'll see a slider that lets you choose your station's breadth of song choice. Select Hits if you only want to play hits (this is the default), select Discovery if you want to only listen to lesser known tracks, and select Variety if you want a mix of both.
By default, iTunes Radio excludes tracks with explicit language, but if you aren't easily offended, tap the switch next to Allow Explicit Tracks. Just don't blame us if you want to wash your iPhone's mouth out with soap, so to speak.
There is one catch: If you're listening to one of Apple's Featured Stations, you can't block songs—you're stuck with whatever Apple gives you, though you can still disallow explicit songs.