Fractals are a force of nature—mystifying and bewitching—and iter9's new Frax for iOS, released today, is an intensely immersive, creative, and visual app that lets nontechnical aficionados experience the beauty of fractals anywhere they can tote an iPhone or iPad.
What sets the arresting Frax apart is its comprehensive use of the devices' gyroscope and accelerometer for creating and controlling fractal designs. Frax is the first 2D fractal app to use a tilt-to-steer movement and a full complement of touch-based gestures: You alter the lighting with a swipe, augment textures with a twist, and zoom with a series of taps.
While there's no shortage of inspired fractal apps, Frax, which has both standard and pro versions for both the iPhone ($2) and iPad ($4), buries its mathematical underpinnings deeply under the hood, shielding users from complexity for a totally hands-on experience. Frax is ever dynamic and constantly animated in rendering and refining the view you see, letting you choose where and when to get involved in the process.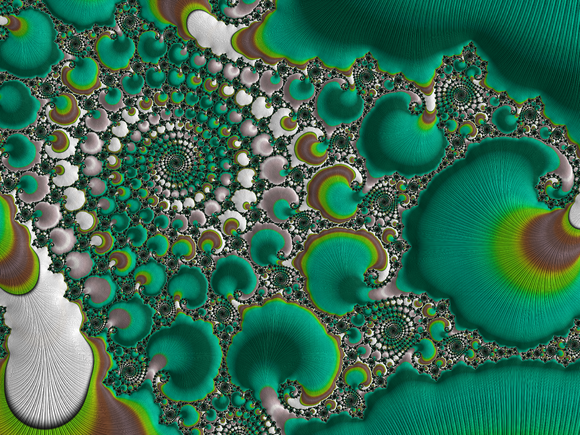 Four major controls
As you launch the app, you meet a familiar Mandelbrot splash screen. The app's built-in library of fractals provides a starting point for creating your own designs. Tapping the screen brings up a minimalist interface consisting of four translucent buttons: Motion, Colors, Lights, and Texture, each with flyout wings at the top and bottom. Leave the screen untouched for a few seconds, and the buttons disappear even as the fractal continues to render.
Gestures apply only to the part of the fractal controlled by the button, so that with the Motion button, for example, only movement is affected, and with the Color button, only hue. Each button's top wing controls animation. The bottom wing's shuffle icon lets you sample endless random permutations generated by the app's presets.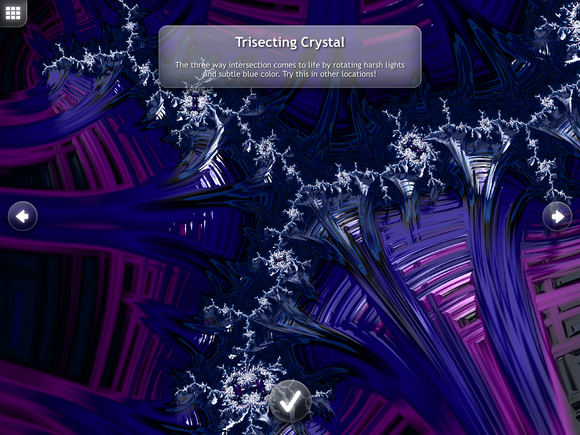 Controlling Frax is easy. Tapping a button's arrow wing immediately changes the fractal, and then you swipe, pinch, spread, or lift and tilt the device for accelerated navigation and visualization. Double- and triple-tapping dynamically zooms the design in and out of closeups, where you can observe the animated self-replication of the fractal form. Tapping the screen once halts all movement, tapping twice magnifies the image, and tapping three times initiates a hyperzoom where the fractal sinks back to its original dimension and then magnifies itself again complete with a 360-degree spiral rotation.
Within their respective button modes, a swipe activates built-in color gradients. A two-finger twist changes hues. Pinching and zooming self-replicates the design. The Lights button governs the overall luminance of the composition. Here, pinching and zooming lets you change the position and brightness while experimenting with glossy droplets, matte sheens, metallic effects, and more.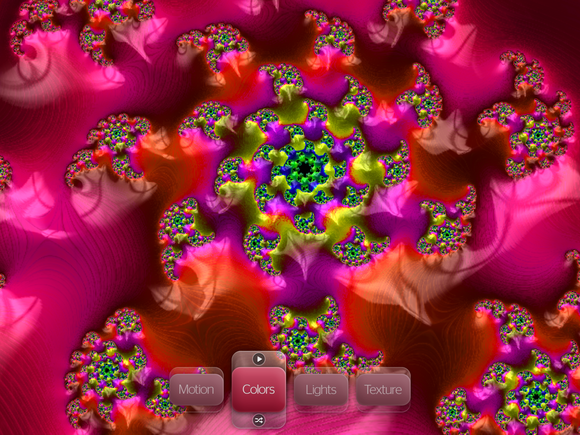 If you regret a decision, an Undo button takes you back to the last move.
Frax on the iPhone or iPod touch is much the same as the iPad version. It operates in both landscape and portrait orientation and offers an identical set of translucent controls that subtly vanish from the screen after a short while without gestures, and then reappear with a tap.
The share button in the upper-right offers a panel with render and save options, as well as the usual sharing to email, text, cloud storage, Facebook, and Twitter.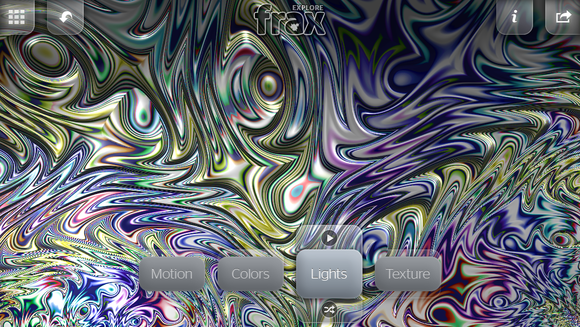 It's easy to get started with Frax without reading a single line of the 27-page manual. But when you're ready to crack open the book, you'll enjoy your toy even more. You can save any image you create to your Camera Roll or, for higher resolution images, via the Frax Cloud. Print quality images come in three sizes, ranging from 3.1 to 50.3 megapixels.
It may take some time for ordinary users to graduate to Frax Pro, but after you spend some time with the standard Explore version of the app, you may very well want to see how much you can stretch it. The Pro version offers a mind-blowing profusion of additional parameters, presets, and creation capabilities.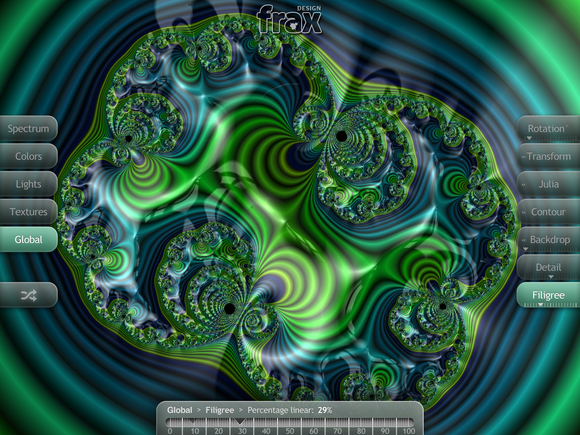 Bottom line
Frax is exquisite—a work of artistic inspiration fueled by scientific and mathematical obsession. You can spend many hours gazing at fractals both on your iPhone and iPad, and you can even hook everything into your HDTV and watch on the big screen. Its potential practical uses are endless, such as designing fabrics or wallpapers, creating art prints, background visuals at clubs or concerts, you name it. The great part of the app is learning about fractals and using the super easy interface to create your own inspired visions.
To celebrate their new app, the Frax developers have given TechHive and Macworld readers exclusive high-resolution fractal files for their viewing and creative pleasure.
Be sure to read our profile of the Frax team and listen to today's Macworld podcast featuring developers Ben Weiss and Tom Beddard.