Sick of seeing the little red circle on your App Store icon? You'll love the new iOS 7 feature that lets your iPhone, iPod touch, or iPad automatically download and install app updates as soon as they become available.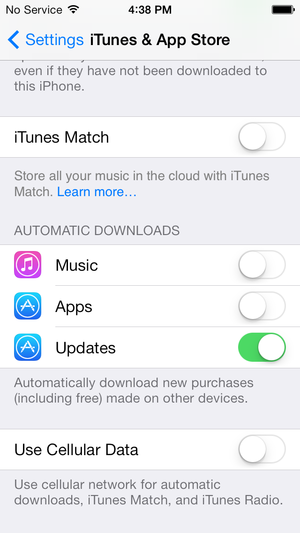 To start, open the Settings app, then scroll down to and select iTunes & App Store. Next, scroll down to the Automatic Downloads heading; there you'll see options to automatically download music you've purchased from iTunes, apps you've downloaded and installed on any other iOS devices, and app updates for the apps you have installed on that particular device. Automatic updates are on by default, but you can tap the slider to toggle the setting on and off.
By default, iOS 7 will only download automatic updates when you have a Wi-Fi connection, but you can download them while on a cellular network if you really want to. To do this, look for the Use Cellular Data switch in the iTunes & App Store settings screen, and slide it to the right. Unfortunately, this is an all-or-nothing setting: You can't tell your iPhone to stream iTunes Radio while on a cellular network but restrict automatic app updates to Wi-Fi, so be aware of this catch if you don't have an unlimited data plan.
Also, there's no way of preventing iOS 7 from updating a particular app if you use automatic updates; for example, if you like the old version of an app but think the new one is terrible, you can't prevent it from getting updated unless you switch off automatic updates entirely.