New in iOS 7's Notification Center is the Today view, which, as its name suggests, provides highlights about today. Be default, it will provide that day's weather forecast, your calendar, reminders on your to-do list, your stock quotes, and any events on your calendar for tomorrow. But perhaps you don't need to know where stocks stand, and maybe you don't have enough going on in your life to have the calendar appear. Here's how to adjust it to show what you want it to.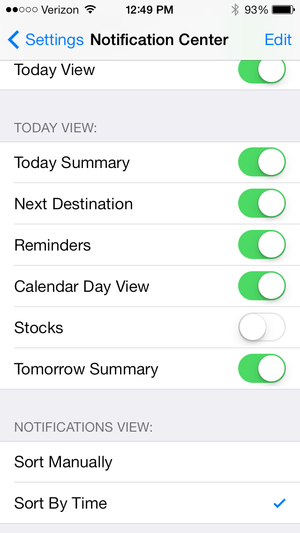 To tweak what appears in the Today view, make your way over to the Settings app, tap the Notification Center settings, then scroll to the Today View heading. There, you can pick and choose what appears on the Today screen by flipping a few toggle switches.
Today Summary: This gives you an overview of today's weather conditions, and tells you what's next on your agenda.
Next Destination: Is your next calendar appointment across town? This will give you an estimate of how long it will take to get there, or how long it will take to get home at the end of the day.
Calendar Day View: Shows the iOS Calendar app's appointments for today.
Reminders: Shows anything you have in the Reminders app that you want to be nagged about today.
Stocks: Current stock prices as listed in the Stocks app.
Tomorrow Summary: A brief overview of what you have to do tomorrow.
You can shuffle the order in which items appear—to a limited extent, anyway. Tap Edit in the upper right corner of the Notification Center settings screen and then drag around the items using the "grabbers"—the three lines next to each item in the list. You can only reorder Calendar Day View, Reminders, and Stocks, though; the other sections stay in place. Once you're done shuffling things around, tap Done.
For now, that's all you can have appear in Today view, and if you want to hide Today view entirely, you can't—even if you disable all Today view items, the panel will still be there, empty and lonely.