iOS 7 lets you find out which apps are popular near you. As gimmicky as it may seem, it could help you discover some interesting new apps you might not have otherwise used, and it may tip you off to some apps—such as local public transit apps—that will help you find your way around a new city.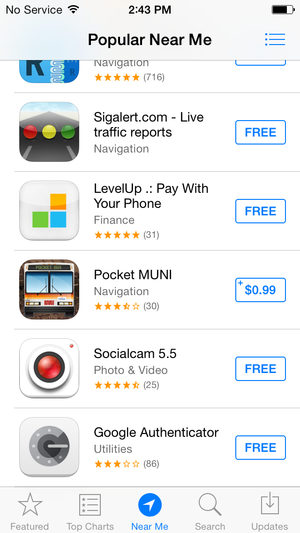 To discover these apps of local interest, navigate to the App Store, then tap Near Me in the toolbar at the bottom of the screen (it replaces Genius from iOS 6). You'll then be presented with a list of apps that are popular among those in your current geographic area.
Here in San Francisco's South of Market neighborhood, popular apps include Socailcam (a video recording and sharing app) and LevelUp (a mobile payment app) as well as Pocket MUNI, a navigation app for San Francisco's public transit system.
We can't guarantee any of the apps popular near you are of any actual use to you—much less any good—but it's a fun new way to explore the App Store.