Introduced in Mac OS X Lion, AirDrop is a feature that lets you easily share files with other Mac users on your local network. With iOS 7, iPhone, iPad, and iPod touch users get to join in the fun. AirDrop on iOS devices can share photos, videos, web pages, map directions, and more. You can't share with Mac computers, though.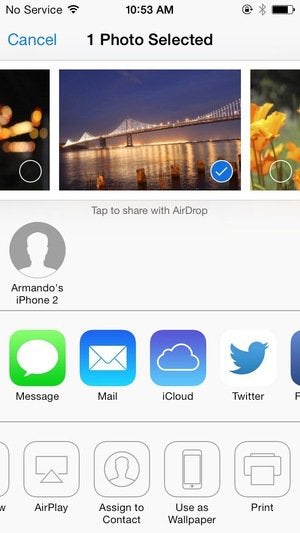 To use it, you need to make sure you and the person you want to share something with have AirDrop turned on. Swipe up from the bottom of the screen to open Control Center, then tap AirDrop. To receive AirDrop shares only from people who are in your contacts list, tap Contacts Only; to share with anyone nearby, tap Everyone. Ask the person you want to share with to do the same.
Next, open an app that supports sharing via AirDrop—in this case, let's use the Photos app as an example. Open a photo, then locate the share button (it's a square with an upward-pointing arrow). If the other person has AirDrop turned on and is nearby, they should show up along the top of the sharing panel. Tap the name of the person you want to share, and they'll get a message asking to accept the photo. Once the person you're sharing with taps the Accept button, your phone will beam the photo to theirs.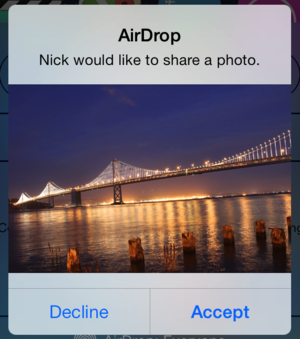 AirDrop works over Wi-Fi and Bluetooth, but it doesn't work over the cellular networks. You don't even need to be on the same Wi-Fi network for it to work—you'll automatically create an temporary direct connection to the other person, so long as you're within a close proximity to one another.
Bear in mind that AirDrop does not work on all iOS 7-compatible devices: It only works with the iPhone 5 and newer, the 4th-generation iPad and iPad Mini, and the 5th-generation iPod Touch and newer. You'll also need an iCloud account in order to use it. AirDrop's transfers are encrypted, too.