Like the Calendar app, Photos benefits from this implicit hierarchy. It makes organizational sense, and it's a more logical way to view photos. Yes, you can still create and access existing albums if you want to (that's where your camera roll and Photo Stream have been relegated to, along with albums that automatically collect videos and panorama images you've taken), but really, why put in that work if you don't have to?
Crossing the streams: Was it just in iOS 6 that Apple introduced Shared Photo Streams? In that case, I suppose we should be glad it only took a year for the company to turn them into what they should have been all along.
In iOS 7, if you want to share photos between two or more people, you no longer need separate shared streams for everybody who wants to add a picture; instead, you simply invite other people to your stream and flip on the Subscribers Can Post switch in the People tab.
Those shared streams aren't limited to photos anymore, either; you can now add videos into the mix as well. With these additions, Shared Streams almost become private social networks where you can share pictures and videos with your iOS-device-using friends—without having to get them all to use a specific app or service.
It's also easy to add a Moment into an existing Shared Stream or create a brand-new stream based on that Moment.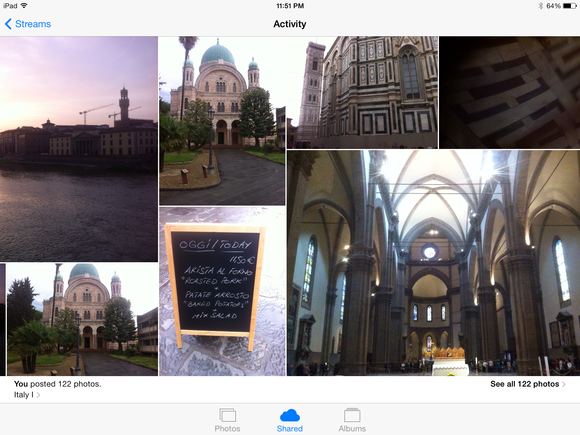 In case all these streams get to be too much to keep track of, Apple has also added an Activity entry, a scrollable list of everything that has transpired in your streams (to continue the "private social network" metaphor, think of it like a Facebook wall or Twitter timeline for your shared streams). It's handy on the iPhone, but it really looks its best on the iPad, where you get a tiled view that's a bit like viewing the public website version of a Shared Stream.
Oversaturated market There's nary a camera app on the market that doesn't have at least some photo filters (thanks, Instagram). And though Apple isn't known for adhering to the "me, too" school, the opportunity was apparently too good to pass up in iOS 7.
On the upside, these features are at least a) available for live preview (on the iPhone 5 and later), so that you can see what a picture will look like as you take it, and b) nondestructive, so you can remove the filter. There are eight filters, ranging from the monochromatic to the instant-camera-inspired, and you can of course apply them to any photo in your library by using the Edit interface. If you know you like filters, you might like these; if you can't be bothered, at least they won't get in your way. (One note: You can't apply filters to panorama shots or videos.)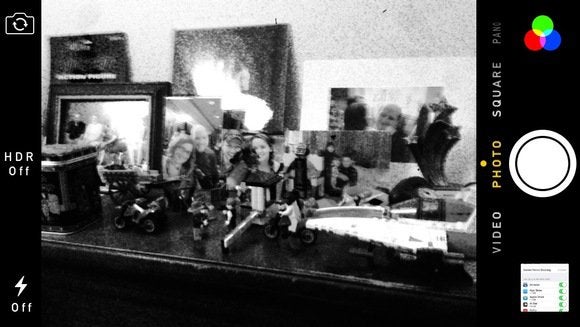 Speaking of Instagram-inspired innovations, there's a new Square mode in the camera that shoots—you guessed it—square images. Innovation, ladies and gentlemen.
But if there's one major improvement in iOS 7's Camera app that I'd tout, it's the performance. After years and years of being promised speedier photo-snapping, Apple has finally delivered. I'd argue that's in large part due to the demise of the shutter animation that previous versions of iOS insisted on. Photos snap so fast that you may find yourself mashing the button a couple times before you realize that you've already taken the picture. While that may not be a flashy new addition, it's among the best tweaks in iOS 7.
Drop and give me 20
Ah, AirDrop. I'm a fan—one of the few, perhaps—of AirDrop on my Mac: I use it not-infrequently to transfer files between multiple computers or with others. I think it's one of the most underappreciated features of OS X.
I don't think that will be a problem on iOS.
Previously, sharing photos, videos, and other files between iOS devices required that you know the person—that is, that you had their contact information. You could send pictures via email or instant message, but if you wanted to send files to someone, you had to have their address or phone number.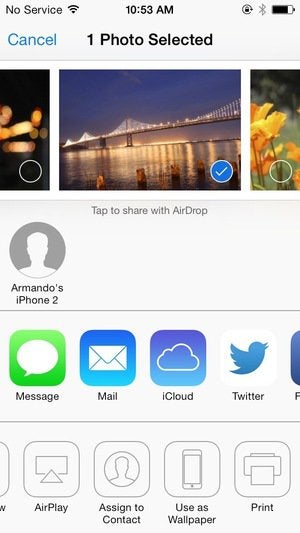 AirDrop's ability to exchange files wirelessly via a peer-to-peer connection should solve that problem. You'll see it as an option at the top of the redesigned share sheet whenever you choose the share option. Anybody else in the vicinity running iOS 7 should show up as an icon; tap that (or tap multiple contacts), and you can send one or more files to them via the magic of radio waves.
While Apple has focused on using this feature to share photos, AirDrop shows up in other places, too. For example, you can share a location using Maps, which could be useful if you want to send driving directions to your gathered friends so they don't have to look up the destination themselves.
Note: When you purchase something after clicking links in our articles, we may earn a small commission. Read our affiliate link policy for more details.