Reader Dale Cardoza would like a unified interface experience among his iOS devices. He writes:
I have an iPad and an iPhone. I've become accustomed to using multitasking gestures on my iPad's screen—pinching with four fingers to return to the Home screen, for example. I then move to my iPhone, try the gesture, and it doesn't work. Is there anything I can do to have gesture control over some of the iPhone's features?
In an effort to not begin and end my answer with "No"—thus making this an almost entirely useless waste of a browser page—I'll instead respond with "Sort of."
Multitasking gestures are not available on the iPhone or iPod touch—no, not even in iOS 7. But if you have an aversion to the current avenues for accessing the Home screen and other features, I can offer another means.
That means is the iOS's Assistive Touch feature. Designed to help those who have difficulty manipulating the interface with their hands, it's a feature that can help those who prefer to avoid the Home button (or can't use the Home button because it works intermittently or not at all). You'll find it by going to Settings > General > Accessibility in both iOS 6 and iOS 7.
Scroll down this screen and tap Assistive Touch. On the resulting screen toggle the Assistive Touch switch to On. When you do this a gray square will appear on the bottom-left of your iPhone's screen and will remain on the screen regardless of which app you're using. It will fade shortly after it appears. You can move it around the screen by tapping and dragging it.
Tap this square and the Assistive Touch window appears. Here you'll find Siri, Device, Home, and Favorites items. To travel to the Home screen, tap Home. To engage Siri, tap that button. To see other options, tap on Device. (From the Device screens you can tap buttons for Lock Screen, Rotate Screen, Volume Down, Volume Up, Gestures, Shake, Screenshot, and Multitasking.)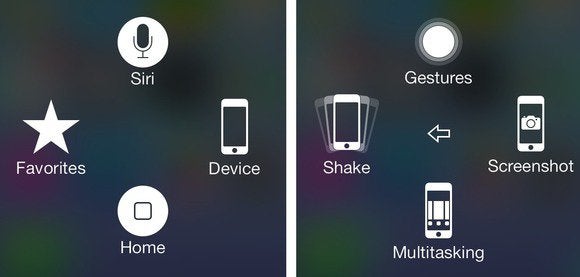 It hardly mimics mutitasking gestures and some may find the idea of having to tap their iPhone's screen twice versus pressing a Home button once a waste of a perfectly good tap. But it's there and available should you need or desire it.