Notification Center, first introduced in iOS 5 as a central hub for your app notifications, has gotten both a facelift and some slick new features, while shedding a few vestigial ones. Pull down from the top center of your iOS device, and Notification Center slides into view, rounding up your recently received notifications and alerts.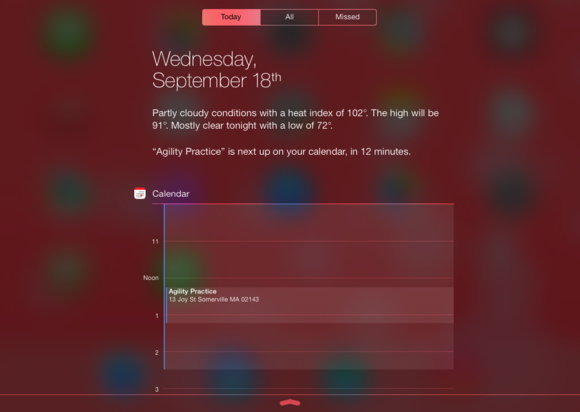 The new pane contains three tabs: Today, All, and Missed. You can switch between the tabs by tapping the headers themselves, or by swiping horizontally between sections.
Also new in iOS 7 is the ability to access Notification Center from the lock screen; you can disable that option in Settings > Notification Center.
The All tab mirrors the Notification Center of yesteryear: It assembles all of your notifications, grouped by app. The only difference is the removal of a couple features: You can no longer post to Twitter and Facebook from Notification Center, and the stock and weather modules no longer show up here.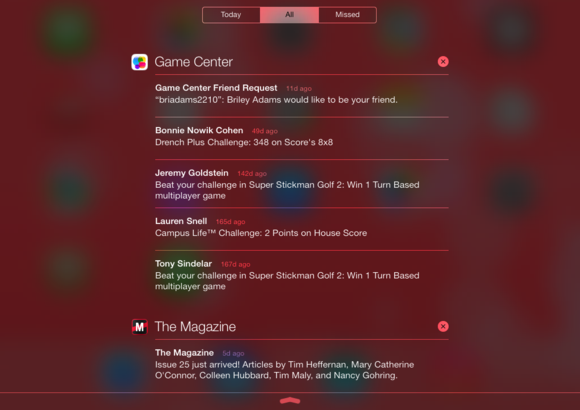 Instead, those modules appear—albeit in dramatically redesigned form—within the Today tab. This section aims to give you a summary of your day, replete with appointments and traffic estimations. You'll see the date, weather forecast, your next appointment, traffic details, your calendar, stocks, reminders, and—at the tail end of the list—a quick preview of the following day.
The Today view is fairly customizable; you can tweak which details it includes in Notification Center's Settings, and optionally disable the summary at the top, your next destination, the calendar view, reminders, stocks, and the tomorrow preview.
While Today shows promise, it doesn't quite feel perfectly implemented yet. It's a nice start, but perhaps even deeper integrations—notifications when your iPhone thinks you ought to leave for your next appointment, integration with Passbook, a reminder to eat lunch early because you have a noon meeting—could make it more powerful.
The third tab in Notification Center, Missed, takes a cue from your lock screen notifications. The Missed tab collects every notification you receive and don't act on, and sorts them in reverse chronological order. Older notifications fall off the bottom of the list after 24 hours. The Notification Center of old never really offered a time-based sort, leaving that solely to lock screen notifications; the Missed tab captures those time-based missed notifications and displays them for you to act on. If you've ever hesitated to swipe on a lock screen notification because you haven't reviewed all the other notifications you received already, you'll love Missed; it's a backup copy of all those lock screen alerts.