If you were hoping that the Videos app would make a breakthrough in iOS 7, you're in luck, at least to some extent—the app does receive some visual improvements, easier navigation, and support for iCloud-stored videos.
For a few years, the Videos app has lagged behind the Music app on the iPhone. It even lacked a tabbed interface on the iPhone, instead offering a long scrolling list of your movies, TV shows, and music videos. No longer: The app now presents a tab for each video category on both iPhone and iPad, along with a new Shared tab.
If you don't have any videos on your device, but you previously purchased videos via iTunes, the app now properly displays iCloud-stored content you haven't downloaded locally; this feature has been present on the Mac for a year, so it's nice to see the option make its way to iOS.
Movies
The Movies tab displays the posters of any films you've downloaded or purchased, whether they're on your device or not. Tap a poster to see a larger version of it followed by the movie's name and rating, as well as a play button.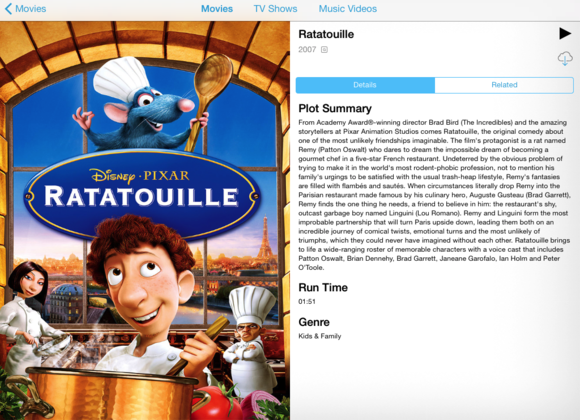 Additionally, if you purchased the film through iTunes, you may also see a summary, run time, and genre. Tap the Related tab, and you'll get iTunes recommendations for movies similar to the one you own. You can stream your film by tapping the play button, or if you want to download it, you can tap the cloud icon.
TV Shows
Like Movies, the TV Shows tab displays your shows by season art; blue circles in the top-right corner let you know how many unwatched episodes of that show you have available.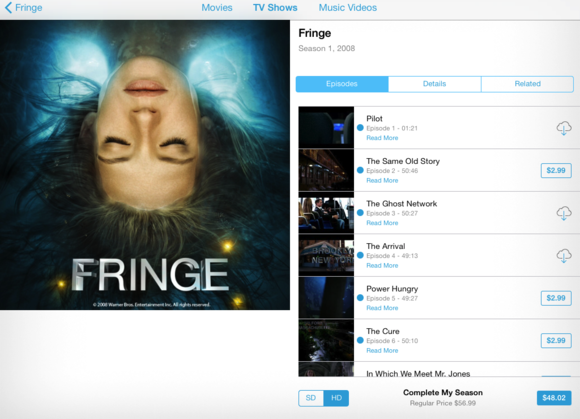 Tap the show art, and you're brought either to a list of multiple seasons or to a single season listing; once you're in a single season, you see full-size show art, along with the show name, season number, year, along with tabs for Episodes, Details, and Related. The episodes you own are displayed underneath the Episodes tab, with an option to Show Complete Season, which fills in your missing episodes with purchase buttons from the iTunes Store. A Complete My Season pop-up menu also appears, offering you the option to buy the entire season's episodes in SD or HD.
Tap the Details tab to read any other information about the show that iTunes has available; tap Related to view similar TV shows iTunes has in its collection.
Music Videos
Music videos are displayed in a list on the iPhone, rather than in the grid structure assigned to movies and TV shows (on the iPad, however, they remain in grid form). Tap a video, and it instantly begins streaming; you can also tap the cloud icon next to the listing if you would rather download it first.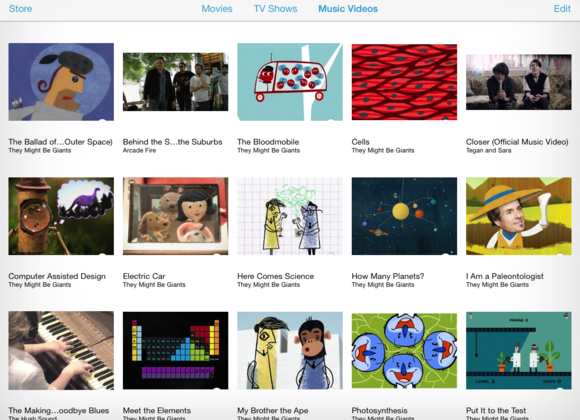 Once the video is finished, you're brought to the video's page, which displays its cover art, name, artist, a play button, details about the video, and any related videos available on iTunes.
Shared
As in iOS 6, the Shared tab lets you access iTunes libraries on other computers using Home Sharing, assuming you have it enabled.
If a library is available, the Shared tab appears; tap the library to load it, and that computer's data replaces anything you have in the Movies, TV Shows, or Music Videos tabs. You can always switch back to your own library by revisiting the Shared tab.