iOS 7 abolished many of the design paradigms of its prior versions in its main design, and that has filtered down to every major app built in to your device. But user interface isn't the only thing that's gotten an overhaul—some apps have new features as well as a new look. Here are some of the more minor stock app redesigns and updates in iOS 7.
Calculator
If you need your calculator apps to have skeuomorphic buttons and shiny entry fields, the new iOS 7 Calculator app (available for the iPhone and iPod touch only) may disappoint you: Apple has re-skinned the entire program to be smooth and flat, using colors and shades to differentiate the number pad.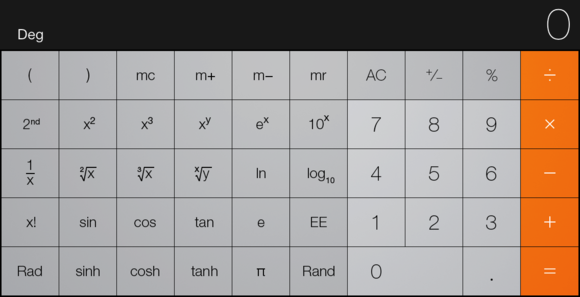 Apple has opted to remove the memory buttons on the calculator in portrait view; instead, you get a larger number pad and a percentage function—good for calculating quick tips. Landscape view, as always, brings you into scientific calculator mode, where Apple has added a few new functions. The lineup now includes buttons for the square root, cubed root, and Euler's number functions.
You can also access the Calculator app more quickly in iOS 7, as Control Center has a built-in shortcut button.
Clock
Not only does the Clock app pick up a nice redesign in iOS 7, it also sports a few useful upgrades to each of its features.
World Clock On the iPhone, you tap the screen to switch from clock to numerical time view; previously, you could view both at once. The clock instead uses that extra screen space to keep track of time changes—underneath each city, you get a readout that lets you know how far ahead or behind you are in comparison with the other cities on your list.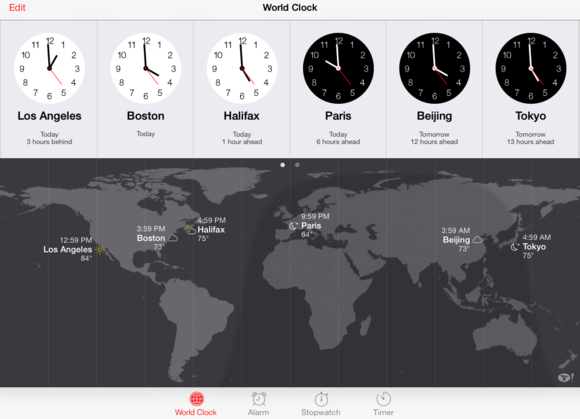 The iPad sports sets of six clocks along the top half of the screen, with a world map along the bottom showing all of your locations, their current time, and the current weather. You can tap on a clock face to see it full screen; here you can swipe between full screen clocks or pinch to return to the World Clock screen.
Alarm Though the Alarm tab itself has no noticeable changes, alarms now trigger in a slightly different way than in the past. When the screen is locked and an alarm goes off, you can tap your screen to snooze your device in addition to pressing the On/Off or Home button. When you do snooze an alarm, a lock screen notification appears with a Snoozing label and counts down the minutes remaining on your snooze (the default is ten minutes for the first snooze).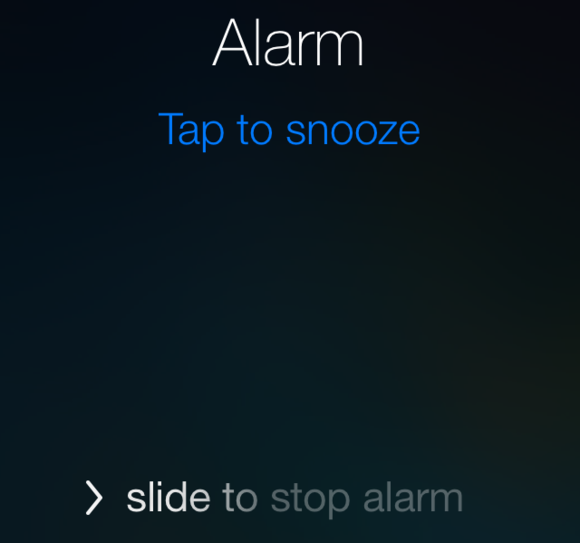 If you want to turn off the alarm entirely, you can slide to unlock your device as you normally would. On the iPad, you can drag alarms on the calendar like you would calendar events; when you let go, the alarm turns on.
Stopwatch There's one small change in the Stopwatch tab—the stopwatch now goes to two decimal places rather than one.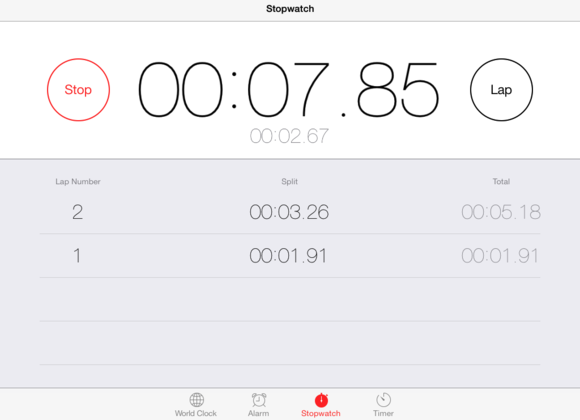 Timer The Timer tab is virtually unchanged aside from its overall design, but, like the Alarm tab, it has a new lock screen action. Set a timer via Siri or via the Clock app, and then lock your phone, and that timer displays and counts down on the lock screen.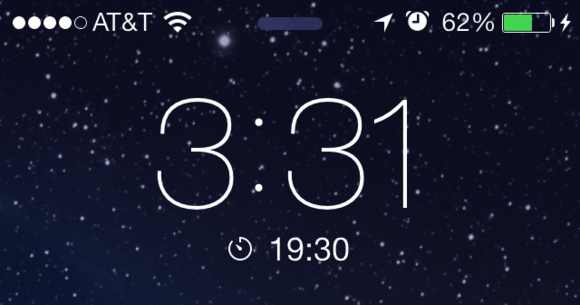 You can also quickly access the Timer tab through a shortcut button in Control Center.
Game Center
Game Center was perhaps one of the most ostentatiously skeuomorphic apps in iOS, with its green felt and burnished wood. In iOS 7, it's gotten a complete reworking, with plenty of colorful bubbles and the same minimalist interface you'll find throughout the rest of the OS. But in terms of new features, the list is pretty short.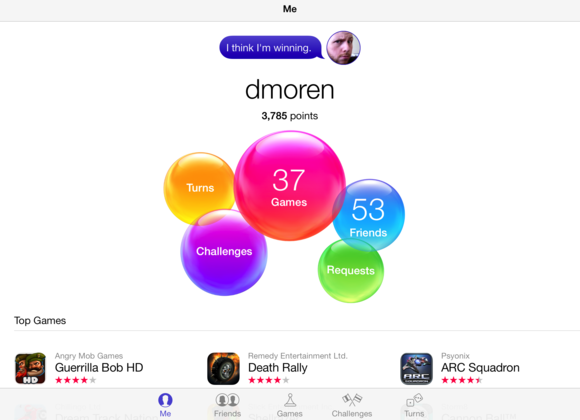 When you first launch Game Center in iOS 7, you'll see a new profile screen with your status in a word bubble (tap it once to edit it) and a circular profile picture (tap this to choose a new one from your photos or to take a new picture on the spot). Large colorful bubbles show your number of games, friends, requests, challenges, and turns. Tapping any of those takes you to the relevant screen in Game Center; you can also use a toolbar at the bottom of the screen.
The only truly new feature in Game Center is Turns, a screen that shows all your current turns in games you're playing, assuming those games are using Apple's turn-based game system and not their own private system.
Passbook
While Passbook's icon and opening screen get much-needed redesigns, the cards itself look very similar to their iOS 6 counterparts, with fewer light reflections. (The app is still only available for the iPhone and iPod touch, unfortunately.)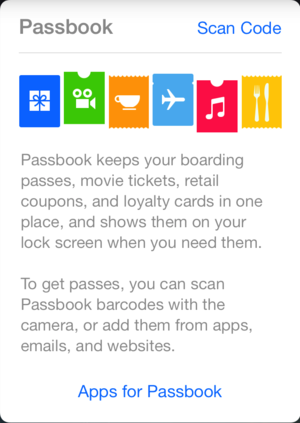 In addition, Apple has moved the Welcome card from the bottom of the stack to the top and has relabeled it Passbook. A Scan Code link turns on your back camera so that you can scan QR codes to turn them into Passbook passes. (Unfortunately, you can't use the scanner to scan QR codes that result in other sources, like URLs.)
You can share your Passbook passes, as well—tap the Share button on an individual pass to send it via Mail, iMessage, or AirDrop.
Stocks
Continuing Apple's focus on redesign and simplification in iOS 7, the Stocks app (available on the iPhone and iPod touch only) gets a new mostly black interface, with white text and red and green highlights.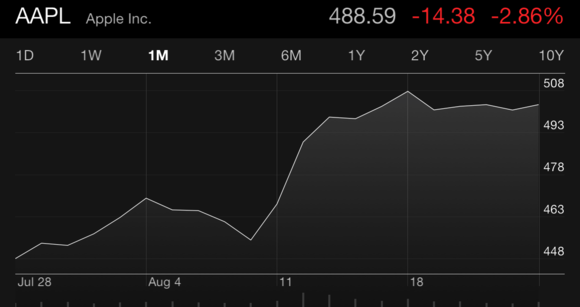 Functionally, the remainder of the app is identical—to add or edit stocks, you use the list icon instead of the info icon, but otherwise there are no changes.
Weather
The Weather app has a few new tricks up its sleeve in iOS 7, though it's still only available for the iPhone and iPod touch. At first glance, the most obvious change is the animated photo backgrounds reflecting the weather conditions of whatever city you're looking at. Apple has also revamped the way Weather presents information and how much data it makes available.
iOS 6 presented the current weather conditions in icon form, along with the current temperature and the high and low temperatures for the week; tapping the current day gave you an hour-by-hour breakdown. That information is all present in iOS 7, but Weather shows the hourly breakdown by default, as a scrollable horizontal list. The simplified iconography uses line drawings rather than more realistic-looking images.
However, in iOS 7, if you tap the current conditions and current temperature, you'll get more information, including the current humidity, chance of rain, wind speed, and the "feels like" temperature.
The other major new addition is the list button in the bottom right—tapping it provides you with an overview of the weather conditions and temperature in all the locations you're tracking. You can rearrange their order by tapping and holding on any of the locations and dragging it to a new position (your Current Location, if you haven't disabled it in Settings > Privacy > Location Services, is always at the top.) A toggle button at the bottom of that list mode switches between Fahrenheit and Celsius, and a plus (+) button lets you search for and add a new location.