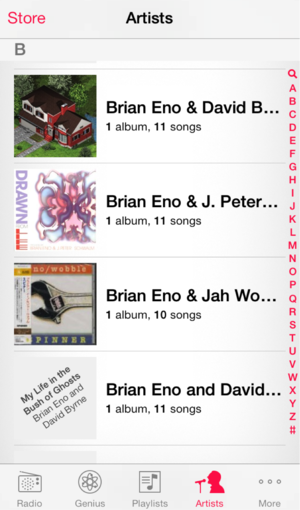 Some detractors criticized iOS 6's Music app for its reliance on album art. Cover art dominated its Playlists, Artists, Albums, Composers, and Genres screens, while its Songs screen eschewed any sort of art. The iOS 7 version takes a different approach. These screens now show album art on the left side of the screen and information on the right. For example, on the Artists screen you'll see representative art delivered from Apple, culled from an album, or—as a last resort—a text box that includes the associated album's title and artist. To the right you'll see how many albums and tracks are available for each artist.
The Albums screen likewise places cover art to the left, lists the artist's name, and displays the number of tracks the album contains and its total playtime. Even the Song screen gets its share of album art (though it's smaller than on other screens).
iOS 7's use of smaller and thinner fonts makes it possible to fit more controls in the Music app's main screen. For example, the old Music app on an iPad displayed entries along the bottom of the screen for Store, Playlists, Songs, Artists, Albums, and More. (Tapping More brought up Shared, Genres, and Composers entries.) In iOS 7's Music app on an iPad, you now spy Radio, Genius, Playlists, Artists, Songs, Albums, Genres, and More (the More screen shows Compilations, Composers, and Shared). And Apple has removed the Store button—there's no need for it, since the Info screen now leads directly to the iTunes Store.
The new Music app handles creating Genius playlists differently. Where once you went to a track's Now Playing screen on an iPhone or iPod touch and tapped a Genius button to create a playlist of related tracks, you now go to the Now Playing screen and tap a Create entry on the bottom of the screen. A menu appears with three options—Genius Playlist, New Station From Artist, and New Station From Song. Tap Genius Playlist and the app will create a playlist of 25 related tracks. This playlist appears when you tap the Playlists button, not the Genius button. You can't create Genius Playlists from tracks playing through iTunes Radio.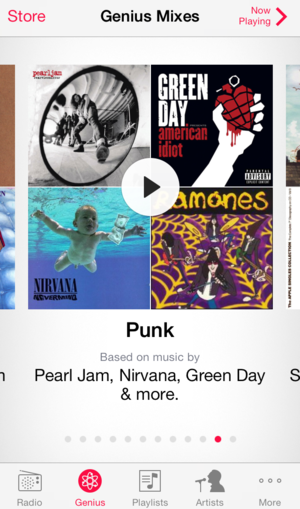 On an iPad, you'll find Create (as well as Repeat and Shuffle) at the top of most of the app's screens, not just on the Now Playing screen. Regardless of which device you're using, if you tap the album art on the Now Playing screen, you can rate the track by dragging across the five dots that represent star ratings.
So what is the Genius button about if not to play Genius playlists you've created on your device? As in iTunes on the Mac and Windows, tapping it displays genre-based playlists based on the contents of your device's library (whether stored locally or in the cloud via iTunes Match). So, if you're in the mood for folk, jazz, or electronica, it's an easy way to access that music with the tap of a finger.
Cover flow view on an iPhone or iPod touch has also changed. In iOS 6, pivoting these devices into landscape orientation while working with the Music app invoked a view where you could swipe between album covers to choose music. This behavior remains, but it's a bit different. Instead of seeing one row of albums, you can see up to four.
Spread two fingers, and the covers expand to fill three rows. Spread them again, and you see two rows. (There doesn't appear to be a single-row option.) To reverse the process to see more rows, pinch those fingers rather than spread them. Also, when you tap an album cover to select it, the album art moves to the left side of the screen and the track list appears to the right. Abbreviated transport controls (back, play/pause, and next) appear below the album art. The Info button present in earlier versions of iOS no longer appears in this view.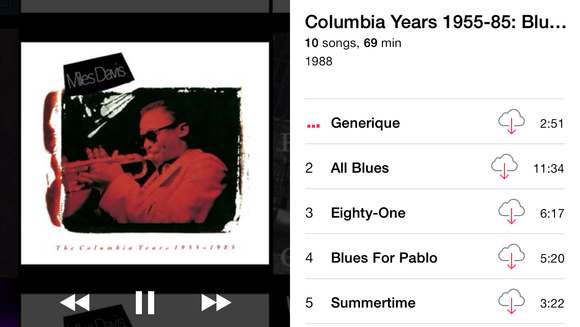 Creating playlists on these devices hasn't changed much. Tap Playlists, and then, in the resulting screen, tap New Playlist. Enter a name for your playlist and tap Save, and you'll see a screen that lists all the tracks available to you. You can then tap the plus button next to any tracks you want to add. What this version of the app lacks is an Add All Songs option, which was part of the Music app in iOS 6. This was a handy way to add all of an artist's or album's tracks to a playlist.
iTunes Radio
While the Music app's design has changed as radically as that of iOS itself, the most significant new feature—and the one that offers the most potential to change our minds about how we consume music—is iTunes Radio. This is the first instance where Apple has broken away from the traditional "we sell, you buy" music model. Instead, with an iOS 7 device in hand (or a Mac running OS X 10.7 or later and a copy of iTunes 11.1) and an Internet connection, you can stream music based on a song, artist, or genre of your choosing (or play one of Apple's preconfigured stations) without paying a nickel for the privilege.
If this sounds similar to the popular Pandora service, it is. iTunes Radio is offered in two forms. You can listen to streaming music for free, with the understanding that you'll sit through the occasional advertisement. Or, if you pay $25 a year for an iTunes Match subscription, you can listen to iTunes Radio ad free. Unlike services such as Spotify, Rhapsody, Rdio, and Mog, it doesn't give you an option to choose exactly what tracks you listen to or to download tracks for later listening.
Interacting With iTunes Radio: You access iTunes Radio through iOS 7's Music app. Regardless of whether you open this app on an iPhone, iPod touch, or iPad, the Radio icon occupies the bottom-left corner of the app's screen. Tap it to go to the iTunes Radio screen. Along the top of this screen are Featured Stations entries. These stations are actually playlists assembled by Apple. Unlike the stations you create, you can't rate songs or "tune" them to play more hits or more obscure tracks. Some of these playlists feature music associated by theme—'90s Dance Music, Hair Metal, If You Like name of artist, and Opera, for example. Others are assembled by musicians and DJs. And still others are "If you like" playlists, where you're played music in the style of a particular artist—If You Like Drake, for instance.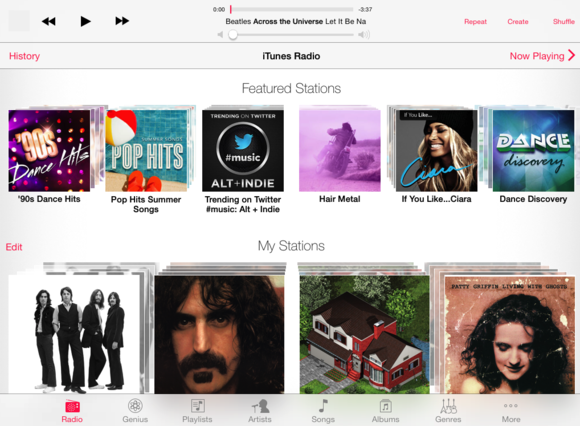 Below this is the My Stations entry, where you create stations of your own. To do so, tap the Add a Station entry, represented by a large plus sign (+). In the New Station screen that appears, choose one of the genres, and then, on the succeeding screen, a subgenre, or enter an artist, genre, or song name in the Search field and tap Search. iTunes Radio creates that station, places some representative album art on the screen, and then plays the station. (You can also create stations based on tracks in your iTunes Library.)
On an iPad, the top of the Radio screen shows a small thumbnail of the currently playing track's album art, a star menu, and play/pause and skip buttons. Tap the star menu and you see entries including Play More Like This, Never Play This Song, and Add to iTunes Wish List. The first two options are for teaching iTunes Radio about what you do and don't like. These options work only for the stations you create. To the right of these controls is a timeline and volume slider, in addition to an Info button.
Tap the Info button and you see a pane that displays the artist, track title, and album title for the currently playing track. Below this area you find New Station From Artist and New Station From Song commands. In stations that you create (but not ones offered by Apple in the Featured Stations area) you'll next find a Tune This Station entry. Using a slider you can choose how familiar the station's tracks are likely to be. Your choices are Hits, Variety, and Discovery. If you find that the station plays the same-old same-old, try adjusting this slider. Regardless of which kind of station you're listening to, you'll find an Allow Explicit Tracks option and a Share Station button, which allows you to share a link to the station via AirDrop, the Message app, Mail, Twitter, or Facebook. You can also tap Copy Link to do just that (should you wish to embed the link on your blog, for example).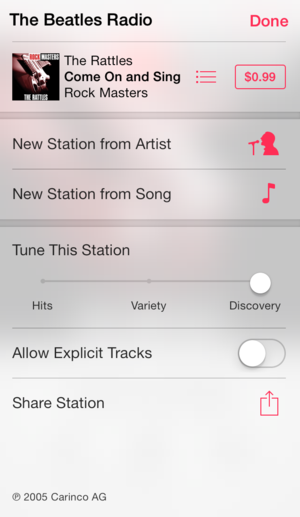 To the right of the track information area is a Track List button, as well as a Buy button for purchasing the track from the iTunes Store. When you tap the Track List button, you expose a window where you can see details about the album from which the currently playing track comes. iTunes pulls all this information from the iTunes Store, so you can read reviews about the album, preview tracks, view related albums, purchase other tracks on the album, or purchase the entire album just as you would at the Store. You can also tap the ubiquitous Share button and share information about the album via AirDrop, the Message app, Mail, Twitter, or Facebook. You can additionally copy a link to the album or gift the album.
All of these features are also available on an iPhone or iPod touch, where you can access them from a track's Now Playing screen.
How Smart Is It? If you've listened to Pandora, you know how gratifying this kind of music streaming can be. Punch in an artist and before you know it you're hearing music you've never encountered before and, most likely, enjoying a lot of it. But Pandora has been at it for years and has had plenty of time to tweak its technologies (as well as gather a lot of useful user feedback in the form of Thumbs Up and Thumbs Down ratings and skip counts).
Apple is new to the business, and that newness is likely to show for a while. In the early days of the service, we found some fairly obvious holes. For example, from the earliest beta days of the service, we heard no Beatles music at all. Later, a few pre-EMI tracks snuck in along with some covers of Beatles tracks before the Fab Four's music was finally approved in full. Today you'll hear the real-deal Beatles tracks, but not a lot of them.
In these early days iTunes Radio's classical capabilities are wanting. We created a Johann Sebastian Bach station, with disappointing results. Not only did the station incorporate classical music's most overplayed chestnuts (if we never hear Pachelbel's "Canon in D" or Beethoven's "Moonlight" sonata again, it will be too soon), but the station wandered all over 300 years of music—from the Baroque to the Contemporary period (there was even a piece of New Age piano noodling). We heard one piece—the Prelude from Bach's first cello suite—four times in an hour. Similarly, "O Sole Mio" and "Clair de Lune" were played repeatedly. When attempting to add a Bach track from our iTunes library in the hopes of getting a more focused station we were told it couldn't be done.
How smart is it? In this case, not very. While many people think of any music composed from 1600 to 1900 as "classical," bundling all of it together based on a single composer is like mixing Frank Sinatra and the Sex Pistols because they performed in the same century. While Apple's stations are quite good (as they're programmed playlists), the company has a lot of work to do to match the intelligence of Pandora's generated stations.
Will iTunes Radio Take Off? Apple has signed on major advertisers for the service, which puts more money in the company's pocket. The appearance of Buy buttons throughout Radio's interface should result in increased music sales, which is a boon for labels and artists. And consumers have the opportunity to listen to music they might never otherwise hear. Provided that Apple creates compelling music collections, improved the intelligence of its station creation technology, and can work out agreements so Radio's catalog is reasonably complete, this looks likely to be one of iOS 7's finest features.