Updated at 11:26 a.m. Pacific: Chipworks has located the M7 processor. Hurrah!
Apple doesn't like to show off the insides of its iPhones, but that hasn't stopped iFixit from cracking open the new iPhone 5s and iPhone 5c .
Although the teardowns didn't reveal too many big secrets, as usual there are a couple of tidbits worth pointing out: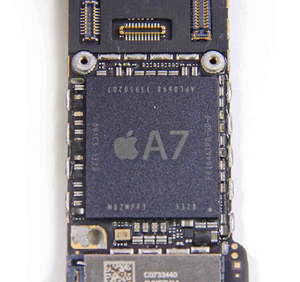 For one thing, Apple's ballyhooed M7 "coprocessor" doesn't appear to be a separate component within the iPhone 5s. The M7 is supposed to collect sensor data in the background, enabling new types of apps for fitness and public transit. For instance, Apple could tell when you've gotten out of your car during turn-by-turn navigation and switch to walking directions.
"Maybe the 'M' stands for 'magical,' the M7 is invisible, and Apple does use pixie dust to hold the device together," the site quipped. "Or perhaps the 'M' stands for 'marketing' …"
In lieu of a dedicated component, iFixit speculates that the 'coprocessor' is actually additional functionality built into Apple's A7 chip. The group won't know for sure until it cracks open the A7 itself—a much more time-consuming process.
The other key takeaway from iFixit's teardown is that the battery in both the iPhone 5s and 5c is a little tougher to remove compared to last year's iPhone 5. Due to a more resilient adhesive, users who want to replace their own batteries will need to apply heat to pry the battery out.
Still, iFixit says the battery itself is fairly easy to access, tucked away just underneath the screen assembly. Users will just need to be careful suctioning the assembly apart on the iPhone 5s, as a cable from the new Touch ID fingerprint sensor runs between the two parts of the device.
Apple didn't announce how much RAM is in the iPhone 5s, but iFixit believes it's the same 1GB found in the iPhone 5c and iPhone 5, based on a bit of speculation at MacRumors. However, the iPhone 5s appears to use DDR3 RAM instead of DDR2.
Overall, both the iPhone 5s and 5c earned repairability scores of 6—one point less than the iPhone 5. The phones' designs are not modular, so you could have replace mutiple components at once if one component fails. As with last year's model, the front glass, digitizer and LCD must all be replaced together, making for a more expensive repair, so try extra hard not to crack that screen.