When you pick up your very first iPhone, it can be a little daunting to get started with new technology—especially if you've never before used iOS, Apple's mobile operating system. But don't panic: Your iPhone makes it easy to get up and running in no time.
But before you start playing around, you'll want to know the basics of working with iOS and your apps, and what they can (and can't) do. We'll show you some basic gestures and help you get the hang of navigating the home screen, multitasking, and working with notifications.
Gestures and techniques
If you've never before owned a Multi-Touch device from Apple, you may be unfamiliar with crazy phrases like pinch to zoom and the difference between flick and swipe. Have no fear: Although some of these gestures may have odd names, they're easy enough to pick up.
TAP As clicking is to a desktop computer, so is tapping to an iOS device. Tapping is the most common and basic gesture: You tap to open apps, bring up controls, make choices from menus, and more.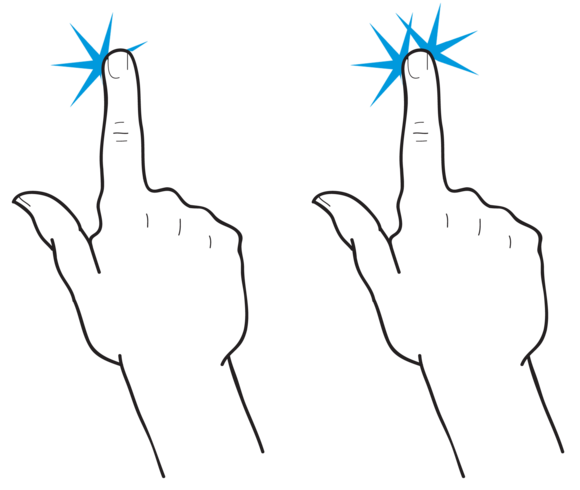 DOUBLE-TAP Tap an object twice in succession to effect a double-tap. Double-taps are primarily used for zooming in or out on text, but third-party apps also use the double-tap for various purposes.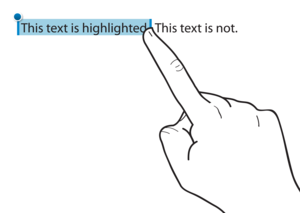 TAP, HOLD, AND DRAG For some functions' such as highlighting text, copying and pasting, or deleting and moving apps' you need to tap and hold down on the screen. When you do this on a piece of text, it highlights in blue, and editing handles—vertical lines with blue dots—appear on either side of the highlighted area. You can tap, hold, and, while holding down, drag your finger to increase or decrease the selection. Dragging also comes into play for moving objects in apps, drawing, and swiping and flicking.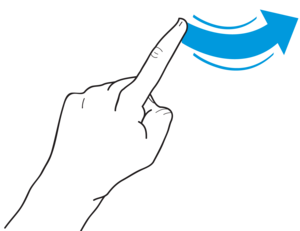 FLICK AND SWIPE Drag your finger across the screen—up, down, left, or right—to swipe. Swiping is one of your primary navigational tools: You use a left or right swipe to move through home screens or images in the Photos app; you use an up or down swipe to read text in Safari, iBooks, Newsstand, or elsewhere. It's one of the easiest gestures to learn. A flick is just like a swipe, only faster: Your device supports inertial scrolling, which means that the faster or slower you move your finger, the faster or slower content will move. If you want to get to the bottom of a page quickly, just flick your finger upward in a fast motion.
One note of caution: All flicking and swiping on your device is inverse, meaning that when you move your finger down (in other words, swipe down), you're actually moving whatever is on the screen upward. This makes perfect sense in the real world, but coming from a computer, where scrolling down on a trackpad or mouse actually scrolls the window down, it can be a bit disorienting at first. Why make the clarification? In this book, we refer several times to "swiping right" to bring up a left navigational bar—which can be confusing if you don't know about inverse gestures.

PINCH To zoom in or out, use the pinch gesture (also referred to as a pinch-to-zoom gesture). To zoom in or to open something, place your thumb and index finger, pinched together, on screen and spread them apart. To zoom out, do the reverse: Start with your thumb and index finger further apart, and then pinch them together.

ROTATE You can even rotate some elements with two or more fingers. Just place two fingers on screen and make a circular gesture' clockwise or counter-clockwise.
Navigate your iPhone
Now that you've taken your first step into the iOS world of Multi-Touch gestures, it's time to learn how to navigate your device. We'll go over the various status symbols you'll see on your iPhone and describe where your apps are stored, as well as how to organize them, search for them, and delete them.
Meet the status bar
The status bar is a mainstay on the iPhone's screen—it shows up anytime your device is awake or otherwise on, banished only by specific third-party apps that require the entirety of your screen (like a game or full-screen video). Within that tiny little bar, however, live many status icons—all of which are there to let you know about various enabled settings and connections. Here's a quick rundown of the ones you're likely to see on your new iPhone.

SIGNAL STRENGTH These circles reflect the cellular voice and data signal in your area. They fluctuate between all empty circles (little to no service) to five filled circles (a strong signal).
The name of your cellular carrier (in the United States, the major carriers are AT&T, Verizon, and Sprint) shows up next to the signal-strength circles; next to this, an icon indicates the kind of data connection you have: LTE, 4G, 3G, EDGE/EvDO, or, in limited connection areas, GPRS (General Packet Radio Service). These are represented by the LTE, 4G, 3G, E, and O icons, respectively.

AIRPLANE MODE When you turn on Airplane Mode in the Settings app, your device turns off all phone, Internet, and Bluetooth connections and displays this icon. While in Airplane Mode, you can still use Wi-Fi and Bluetooth—you just have to manually reenable the settings.

WI-FI STRENGTH When your device is connected to a Wi-Fi network, the Network Type icon disappears and the Wi-Fi strength indicator appears in its place. The stronger the signal, the more bars are illuminated.

TETHERING If you connect your device to another iOS device's Personal Hotspot to share a cellular data connection, the status bar turns blue.

CALL FORWARDING When you turn on Call Forwarding in the Settings app, this icon appears to the right of the Network Type icon.

VPN If your device is connected to a virtual private network (VPN), this icon appears.

PROCESSING ICON This icon appears whenever your device is processing any sort of request over a data connection (syncing RSS feeds, connecting to Wi-Fi or Bluetooth, updating your Twitter stream, and so forth) or syncing with your computer over USB or Wi-Fi.

DO NOT DISTURB If you've enabled Do Not Disturb to silence any incoming text messages, calls, or notifications, you'll see this icon next to the clock.

CLOCK When your iPhone is unlocked, the current time appears in the center of the menu bar; when your phone is locked, the time displays directly on the main screen.

ORIENTATION LOCK This icon lets you know if your device is locked in portrait orientation. To lock or unlock it, swipe up from the bottom of the screen to open Control Center, then tap the Orientation Lock/Unlock button.

LOCATION SERVICES When an application or system service is using your location, this arrow appears in the menu bar. If you're using an app with geofencing (location-based reminders, for instance), the icon turns into an arrow outline.

ALARM CLOCK When you have an alarm set in the Clock app, you see this icon in the menu bar.

BLUETOOTH Turn on Bluetooth, and you see this icon. By default, the symbol is gray, but if you make a Bluetooth connection, it blinks and changes color.

AIRPLAY If you mirror your iPhone's display, you get this icon. Additionally, the status bar turns blue.

BATTERY STATUS Located in the far right corner of the status bar, the battery-status icon shows how much charge your device has left. If you're charging the battery, you see a small lightning bolt to the right of the battery icon. (Once your battery is fully charged, the lightning bolt transforms into a plug icon.) You can also choose to have your device report the percentage of the battery charge.
Get to know your home screen
When you first turn on your device, you're brought to the home screen. Here, you see an assortment of icons grouped into five rows, and four icons grouped in the translucent Dock along the bottom of the screen.
The home screen is where your apps live and where you can launch them. Only 20 apps will fit on one home screen, but you can organize your apps in multiple home screens (up to 11). (The apps in the Dock stay the same no matter what home screen you're on.) Above the Dock are several dots signifying the number of home screens you have; the currently selected one is highlighted in white. Swipe left or right to go from screen to screen.
The Dock
The translucent bar along the bottom of your home screen is called the Dock. If you swipe between home screens, you'll notice that the icons in the Dock don't change. That's because the Dock is for the apps you most frequently use; instead of having to swipe from screen to screen to find an app, you can drop it directly into the Dock for easy access. You can store up to four apps in the Dock.

Open and close an app
Want to launch an app? Just tap its icon. Once it's open, you can return to the home screen at any time by pressing the Home button.
Rearrange and Delete Apps
To rearrange the order of your icons, tap and hold on any icon on a home screen. After a few seconds, all your app icons' including the one you're holding on' start to wiggle, and a small X pops up in each icon's top left corner.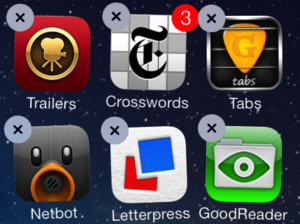 Then you can rearrange any apps on the home screen, or even drag them into or out of the Dock. If you've installed a third-party app you don't want anymore, you can tap the X to delete it (you cannot delete the apps that came preinstalled on your iPhone). When you're finished, press the Home button to make the app icons stop wiggling and stay in their new location. You can also rearrange your icons and home screens through iTunes when you connect your device to your computer.
Search in Spotlight
You can search for every email message, webpage, and app on your device, or search through Google or Wikipedia, by swiping down on your home screen to bring the Spotlight menu into view. To search, just type your query in the text box. If you search for an app, Spotlight will also show if the app is in a folder.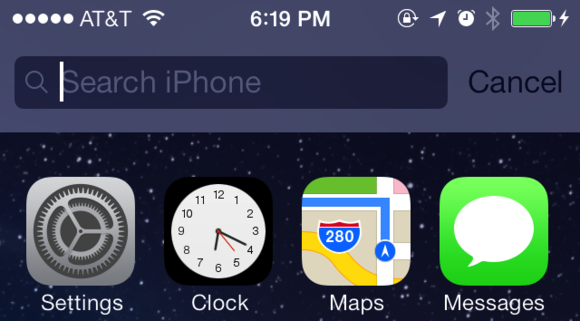 Use Folders to Organize Apps
When you start amassing a collection of apps on your iPhone, organizing them can get tricky. Luckily, you can use app folders.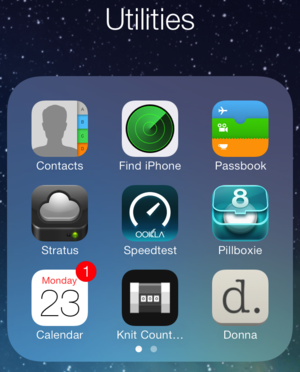 A folder is a group of apps, represented by a single icon, on a home screen. Each folder sports miniature icons representing the apps inside, along with an overall name, such as Games or Photography. When you tap a folder, the screen zooms in to a view of the folder's contents. Within the folder, you find the name and icon for each app. Tap any app to launch it, or tap anywhere outside the folder to return to the home screen.
To create a folder, start by tapping and holding any app icon to enter Edit mode; after the icons begin to wiggle, drag an app on top of another app. When you release the app, you create a folder, which opens and displays both apps. By default, the folder's name is based on the App Store category for one of the first two apps in the folder. If you want to customize this name, just tap inside the field (while still in Edit mode) and enter something new. When you're done, press the Home button to exit Edit mode.
To add another app to the folder, reenter Edit mode and drag the desired app onto the folder icon. Repeat until you've added all the apps you want—you can have nine in a single screen of a folder, but infinite screns—and then press the Home button to exit Edit mode.
To edit the folder itself—its name, contents, or the layout of the apps inside—you can either enter Edit mode and then tap the folder, or, while the folder is open, tap and hold any icon inside. You can then tap the folder's name to change it, drag apps within the folder to rearrange them, drag an app out of the folder to return it to the home screen, or tap an app's Delete button to completely delete it from your device. Unlike apps, folders don't have a Delete button; to delete a folder, you must remove all the apps from it.
Multitask on your iPhone
Opening and closing an app is easy: Tap the app to open it, and then press the Home button to close it. But when you exit, you're not actually shutting down the app: You're freezing it in place, or sending it to run in the background. This means you can have multiple active apps running at any one time, and you can even switch between active apps without returning to the home screen. You can choose which apps can run in the background by going to Settings > General > Background App Refresh.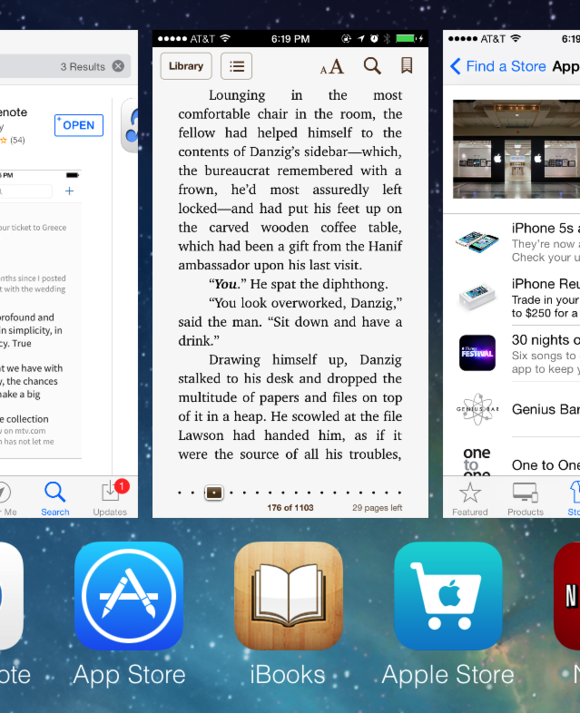 You can switch between apps fast by bringing up the multitasking interface. To do so, quickly double-press the Home button; you'll see the interface zoom out, revealing "cards" that show the apps you've most recently run. To switch to a different app, tap its screen or its icon. You can swipe to the left (or back to the right) to see more apps.
Take control of Control Center and check for missed notifications
If you swipe from the bottom or the top of the screen, you may discover two of your home screen's hidden features: Control Center and Notification Center.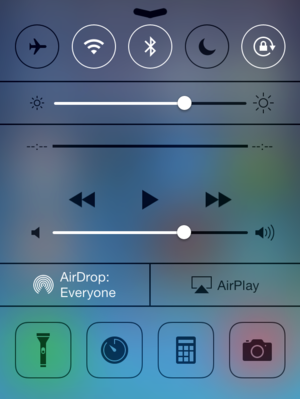 Swipe up from the bottom and you'll find Control Center: It holds a bevy of often-used preferences and controls, including those for Airplane mode, Wi-Fi, Bluetooth, Do Not Disturb, Orientation Lock, Brightness, music controls, AirDrop, and AirPlay; in addition, it has four buttons to quickly turn on your LED flashlight, set a timer, open Calculator, and launch the Camera app. ( Read more about Control Center in our hands-on.)
Do the reverse gesture (swipe from the top down) to open Notification Center, which holds your iPhone's notifications and a summary of your day. The screen is divided up into three panes: Today, All, and Missed. Today provides an overview of the current day, including weather, calendar info, and potential transit times; All collects any notifications you've received, and Missed captures any notifications you may not have seen. ( Read more about Notification Center in our hands-on.)